New Resident Evil 2 Remake Images Show HUNK & Tofu Bonus Modes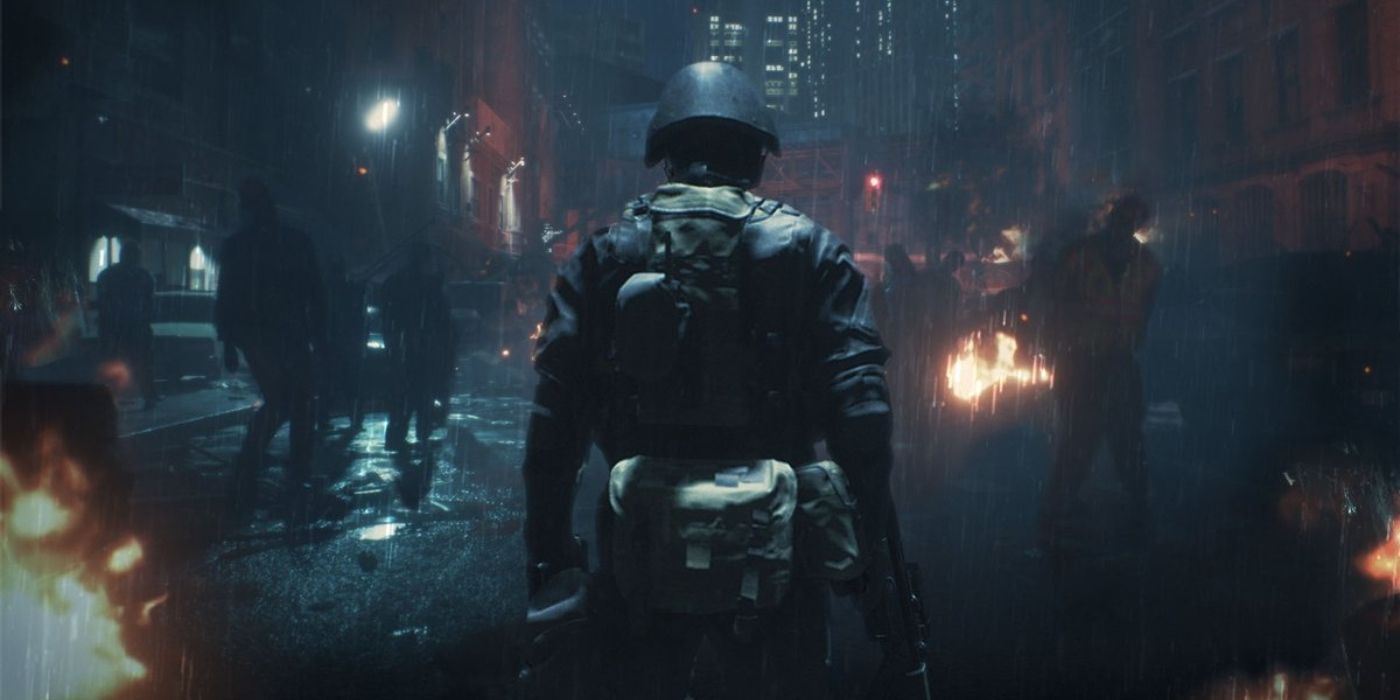 Capcom has revealed new images from their remake of Resident Evil 2 that take a closer look at the returning HUNK & Tofu bonus modes. The original Resident Evil 2 offered two playable heroes in Leon Kennedy and Claire Redfield and playing through the game as one character unlocked a second playthrough for the other that offered unique enemies and locations. That amounted to four unique scenarios in total, but gamers could also unlock two further bonus modes for added value.
The first bonus mode was The 4th Survivor, which follows HUNK, the lone survivor of an Umbrella operation in Raccoon City. This mode challenged players to run through a gauntlet of enemies with limited ammo and health and made for a robust challenge for even skilled gamers. The second unlockable mode was The Tofu Survivor, which is the exact same scenario as HUNK's, except players take control of a giant piece of Tofu that's only armed with a knife. Fans had hoped both characters would make a comeback in Resident Evil 2's remake, with Capcom later confirming their inclusion.
Related: New Resident Evil 2 Trailer Reveals Alligator, HUNK & Tofu
A recent cinematic trailer for Resident Evil 2 gave players a brief glimpse at both HUNK and Tofu, in addition to the game's famous alligator boss. Now Capcom has taken to Twitter to reveal new screenshots from their bonus modes, which shows the scope of their scenarios has expanded somewhat. Instead of being confined solely to the RPD building, they'll be venturing out into the ruined streets of Raccoon City too.
Hopefully, both scenarios will retain their original gameplay, where players had to think on their feet and conserve items as much as possible. The Resident Evil 2 remake has been in development for over three years, and Capcom seems to have done a great job retaining what fans loved about the original while updating the gameplay. They recently released a one-shot demo that gave players exactly 30 minutes to roam around the game before the teaser expired for good. That said, some gamers have already found creative workarounds to bypass that strict time limit.
Resident Evil 2 shows the franchise is fully embracing its survival horror roots after a long period where it focused on action and co-op instead. Resident Evil VII: Biohazard also put the emphasis firmly on tension and suspense, and reports suggest the upcoming movie reboot may take its cues from that game. Johannes Roberts (The Strangers: Prey At Night) was recently confirmed as the director of the next Resident Evil movie, though no casting or story details have been revealed.
Source: Resident Evil
This entry was posted by Screen Rant on January 15, 2019 at 10:01 am, and is filed under TV News. Follow any responses to this post through RSS 2.0. You can skip to the end and leave a response. Pinging is currently not allowed.