New Resident Evil 2 Trailer Reveals Alligator, HUNK & Tofu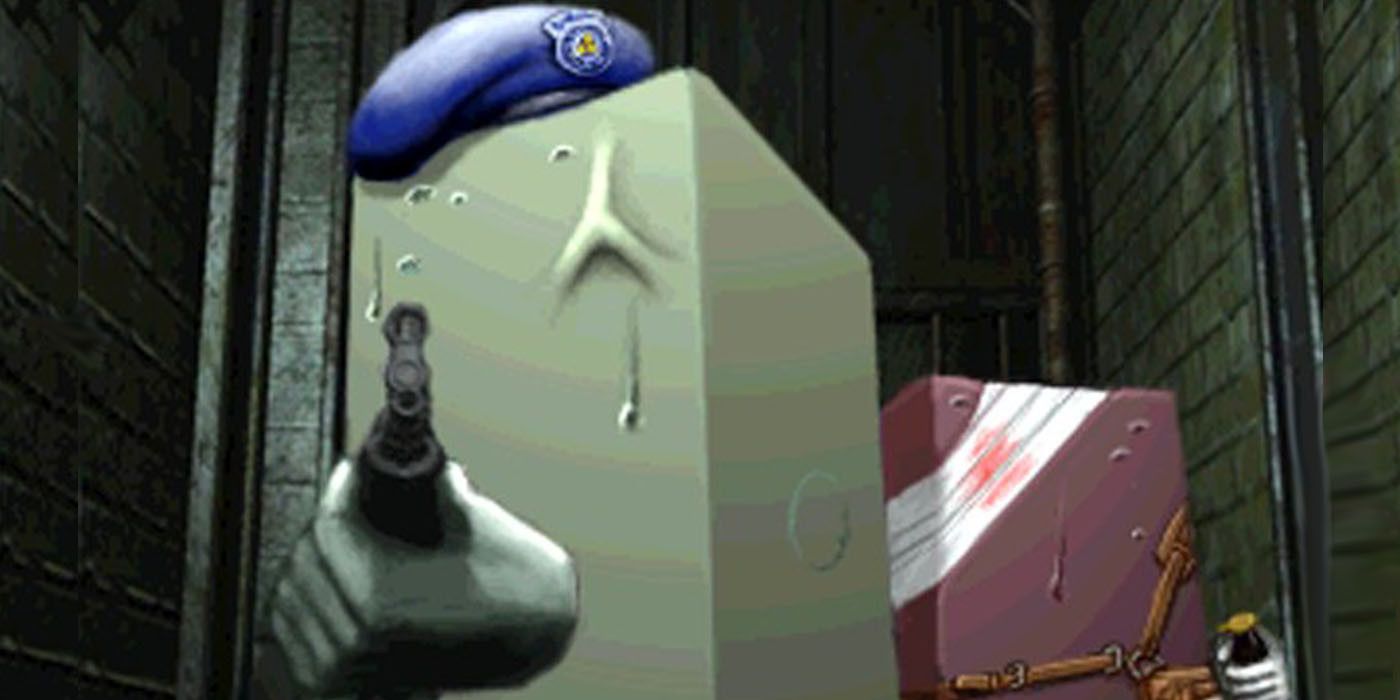 A new trailer for the remake of Resident Evil 2 reveals the new designs for bonus characters HUNK and Tofu, in addition to the famous giant alligator boss. Despite Capcom confirming the Resident Evil 2 remake was in development back in 2015, fans had to wait until E3 2018 for the title to be unveiled. The game will be a darker, bloodier take on the original, and while many of the environments and enemies will be familiar to fans, Capcom has promised the game will hold lots of surprises too.
Capcom has admitted they were worried about how the remake would be received, especially in regards to the switch from a fixed camera to an over the shoulder view, but fans are very excited for the new Resident Evil 2. The game's producers also admitted they considered cutting the giant alligator boss since they struggled to find a way to make it work with the game's more grounded tone. Once they realized fans would miss this battle if it was gone, they found a way to make it work.
Related: Resident Evil 2 One Shot Demo Only Lasts 30 Minutes
Capcom recently released a one-shot demo for Resident Evil 2, which allows players to experience the remake for 30 minutes before it expires. The demo also ends with a new cinematic trailer for the game, which has now made its way online courtesy of Residence Of Evil. This teaser provides a brief glimpse of major setpieces, in addition to revealing the redesigned takes on the alligator boss, HUNK and Tofu.
Prior to Resident Evil 2's reveal, reports suggested both HUNK and Tofu had been cut, but it was later confirmed their bonus scenarios were returning also. HUNK's bonus mission - dubbed The 4th Survivor - found the lone survivor of an Umbrella assault team having to escape Raccoon City with a sample of the G-virus. Players had to guide HUNK through areas swarming with enemies with only limited ammo and health items and it made for a robust challenge. The Tofu bonus game was the exact same as HUNK's - only the main character is a giant stick of tofu who is only armed with a knife.
Given the level of hype surrounding the Resident Evil 2 remake, it's almost a certainty the game will be a hit. Capcom is also rumored to be developing a remake of Resident Evil 3: Nemesis, in addition to other famous titles from their back catalogue. The movie series is also set to be rebooted, with Johannes Roberts recently hired to direct.
Source: Residence Of Evil
This entry was posted by Screen Rant on January 11, 2019 at 7:01 am, and is filed under TV News. Follow any responses to this post through RSS 2.0. You can skip to the end and leave a response. Pinging is currently not allowed.