Oscars 2019: Best Actor Winner Predictions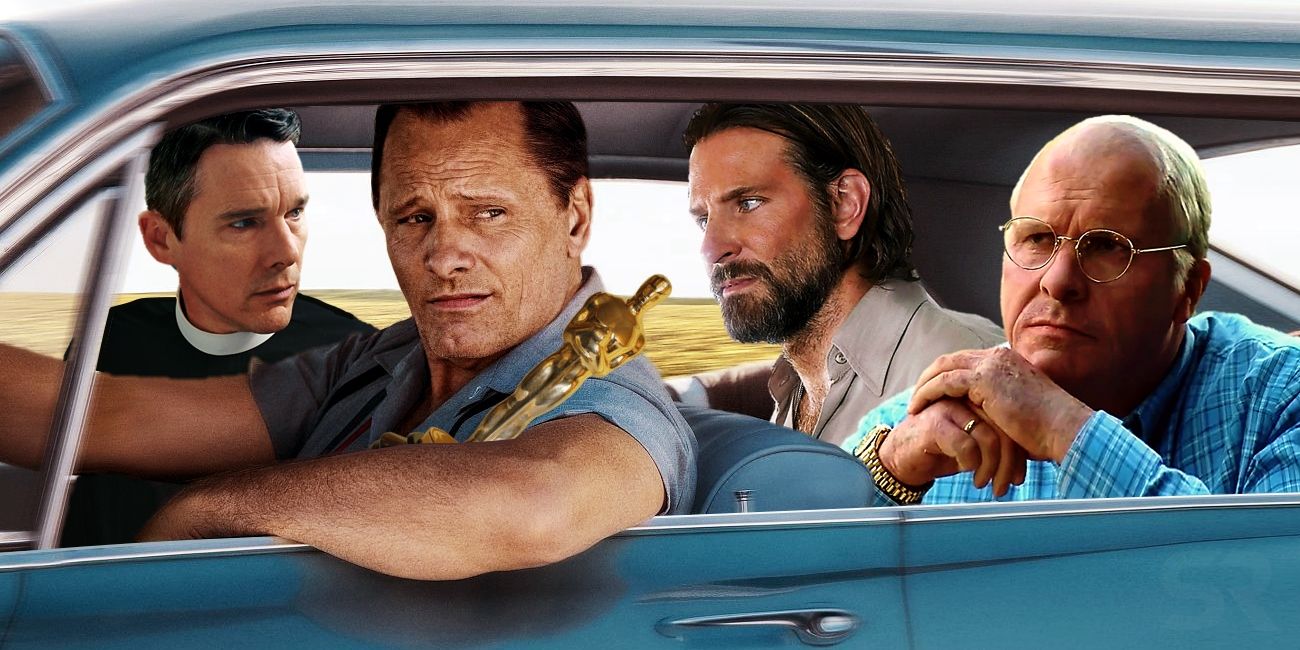 Last Updated: January 28, 2019
The 2019 Oscar nominations have been announced, so it's time to take a look at who has the best chance of winning Best Actor. Another awards season is winding down to a close, and cinephiles are trying to predict how the Academy Awards will shake out. More so than recently, this year was very unpredictable and threw numerous curveballs at moviegoers as they looked to keep up with all the titles in contention. For a long stretch, several of the major races were up in the air, with no clear frontrunner emerging.
Things have changed now that most of the notable Oscar precursors have weighed in. In the build-up to the Oscars, the various industry guilds hand out their awards, including the Screen Actors Guild (SAG). Their wins usually have much overlap with the Academy, so now the picture is becoming clearer. Here are our predictions for Best Actor, ranking the five nominees in order of most likely to least likely to take home the gold.
Related: Screen Rant's Best Supporting Actor 2019 Predictions
Rami Malek - Bohemian Rhapsody
A surefire way for an actor to launch themselves into the awards race is to portray a beloved historical figure. Enter Rami Malek, who embodied late Queen font man Freddie Mercury in Bohemian Rhapsody, which became a strong box office hit. The film itself earned mixed reviews from critics, but Malek was universally praised as its strongest aspect. Carrying himself with the necessary swagger and bravado, the Mr. Robot star is the true MVP of the piece, severely outshining the rest of the ensemble (to the movie's detriment) and even doing some of his own singing. It's a very impressive turn that even the Bohemian Rhapsody detractors enjoyed.
Bohemian Rhapsody was able to overcome its lukewarm reception and become a major player on the awards circuit, winning Best Picture - Drama at the Golden Globes and earning Best Picture nominations from the Producers Guild and Oscars. Malek has also picked several accolades along the way, including a key win for Best Actor - Drama at the Golden Globes. While Malek was unable to emerge victorious at the Critics' Choice Awards, his Oscar prospects got a major shot in the arm when he received the SAG award for Best Actor. Since 2004, SAG and Oscar have aligned 13 times - with the lone outlier being Denzel Washington over Casey Affleck in 2016. Malek still has stiff competition from one name in particular, but right now he's the favorite.
Christian Bale - Vice
Bale already won Best Supporting Actor for his performance as Dicky Eklund in David O. Russell's The Fighter, and now he could be in line for his first Best Actor win for Adam McKay's Vice. In the dark comedy, Bale plays former U.S. vice president Dick Cheney, and in just the trailer alone, he announced his Oscar candidacy. As has become typical for Bale, he completely threw himself into his craft, pulling off yet another incredible physical transformation. His Cheney is eerily authentic, nailing the politician's appearance and mannerisms. Even those who know it's Bale in makeup do double-takes at the footage.
Related: Vice's Ending and Post-Credits Scene Completely Misses the Point
Like Bohemian Rhapsody, Vice didn't enjoy overly enthusiastic reviews from critics, but still emerged as one of the year's top contenders. Bale (unsurprisingly) is one of the film's most acclaimed elements, as he won both the Golden Globe for Best Actor - Comedy or Musical and the Critics' Choice Award for Best Actor. Those victories made him a legitimate threat for the Oscar, but it's the loss at SAG that puts him at a disadvantage. Bale now has history working against him, and he'll need to buck a trend in order to earn his second career Oscar. However, it's not that farfetched a scenario. In the year Casey Affleck lost the SAG, he won the Golden Globe and Critics' Choice Award before getting the Oscar, so that's the playbook for Bale and the Vice team.
Bradley Cooper - A Star is Born
Earlier this decade, Cooper reinvented himself as an awards darling in Silver Linings Playbook and scored an Oscar nomination in three consecutive years (Playbook, American Hustle, American Sniper). He found himself back in the thick of things with A Star is Born, his remake of the classic Hollywood drama. In the film, Cooper portrays aging country-rocker Jackson Maine and delivered some of the finest work of his career. He was able to tap into the character's self-destructive tendencies in a way that felt sympathetic and authentic, allowing Jackson to become a likable presence audiences could gravitate towards. To top it all off, Cooper even did his own signing - the result of an 18-month training period.
Cooper's efforts didn't go unnoticed by awards voters, as he scored nominations from the Golden Globes, Critics' Choice Awards, and SAG awards. However, he came up short in all those races, losing to either Malek or Bale. That basically puts him out of the running to win an acting Oscar this year, and he'll have to hope he has better luck in either Best Picture or Best Adapted Screenplay. It's also incredibly rare for a filmmaker to direct themselves to a Best Actor win - something that's only happened twice in the history of the Oscars. Whichever way you look at it, the odds are really stacked against Cooper.
Viggo Mortensen - Green Book
After earning nominations for Eastern Promises and Captain Fantastic, Mortensen once again demonstrated his incredible range in Peter Farrelly's Green Book. Here, the actor brings to life Italian-American bouncer Tony "Lip" Vallelonga, who's tasked with driving African-American pianist Dr. Don Shirley (Mahershala Ali) through a concert tour in the deep South. The performances of the two actors are a huge reason why the film works as well as it does. Mortensen disappears into the role of Tony, letting loose and having fun in a different kind of turn. Vallelonga easily could have slid into over-the-top caricature, but Mortensen was able to bring gravitas to the part and never lost sight of Tony's underlying heart and humanity. He handled the comedic and dramatic aspects of the film with grace.
Related: What Green Book Controversially Changed About The True Story
Mortensen won Best Actor at NBR and followed that up with nominations at the Golden Globes, Critics' Choice Awards, and SAG awards. But, like Cooper, Mortensen lost those big three, so it's highly unlikely he wins the Oscar. Perhaps one year soon he'll have a better shot. The Lord of the Rings star is starting to build up a nice overdue narrative for himself with a trio of Oscar nods and a plethora of other great performances that did not earn Academy nominations. Awards voters are fond of his work, but this year just isn't his time, apparently.
Willem Dafoe - At Eternity's Gate
One of the bigger surprises of nominations morning, Dafoe found himself among the five for Best Actor. In At Eternity's Gate, he plays painter Vincent van Gough and picked up a Golden Globe nomination for his excellent performance. But after that, he didn't gain much traction in the precursors. Dafoe was snubbed by the Critics' Choice Awards and SAG awards, which at the time looked to severely hurt his Oscar chances. Other contenders like John David Washington in BlacKkKlansman were picking up steam, though the respected veteran was able to garner enough support and earn his fourth career nomination.
Sadly for Dafoe and his fans, he'll have to wait for next time to hear his name on Oscar Sunday. This isn't anything against his turn, but At Eternity's Gate wasn't a big enough player on the awards circuit to get the actor across the finish line. Dafoe's nomination is its lone Oscar nod and since 2010, every Best Actor winner has starred in a Best Picture nominee. To be fair to Dafoe, there have been instances where there isn't overlap between Best Actor and Picture (Denzel Washington in Training Day, Jeff Bridges in Crazy Heart), but those are few and far between and require success at the precursors.
-
This entry was posted by Screen Rant on January 11, 2019 at 7:01 am, and is filed under TV News. Follow any responses to this post through RSS 2.0. You can skip to the end and leave a response. Pinging is currently not allowed.