Oscars 2019: Best Actress Winner Predictions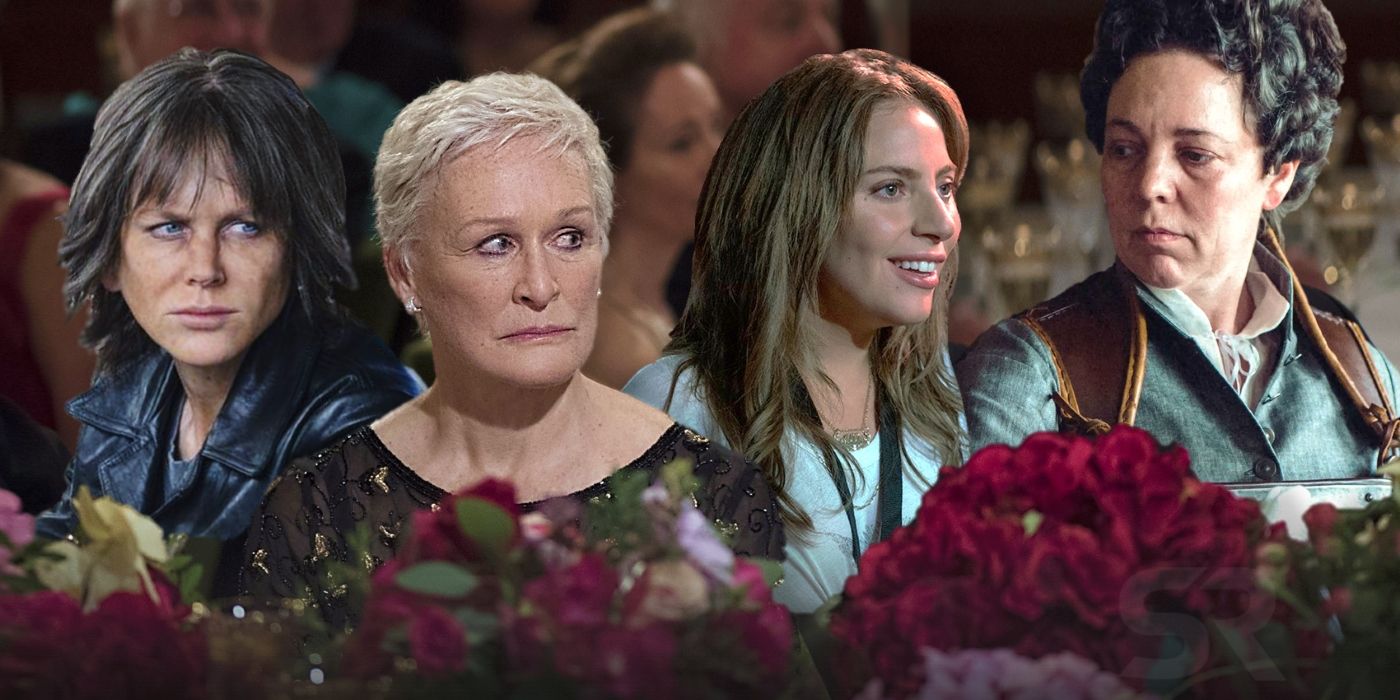 Last Update: January 29, 2019
With the Oscars right around the corner, it's time to take a look at who has the best chances of winning Best Actress. With the recent Screen Actors Guild Awards taking place, this year's awards picture is starting to come into clearer focus. For a good stretch, several of the key races were up in the air (and some still remain that way), but others are essentially locked up now. Best Actress falls into the latter group, especially considering how the precursors shaped up.
What this field lacks in drama, it makes up in star power, with everyone from a longtime veteran to one of today's hottest pop stars in the running for the award. Here, we take a look at the five leading ladies nominated for Best Actress at the 2019 Oscars and rank them in order of most likely to least likely to take home the golden statue.
Related: Screen Rant's 2019 Best Picture Predictions
Glenn Close - The Wife
The veteran actress has been nominated six previous times in her career and has never won. That's an extraordinary statistic and definitely gives Close the classic "overdue" narrative to play up on the campaign. Historically, whenever an Academy favorite stacks up this many nods and keeps coming up short, it's only a matter a matter of time before that changes. A recent example of this is Leonardo DiCaprio, who won his elusive first Best Actor trophy back in 2015 for The Revenant. DiCaprio had been nominated in the acting categories four times prior in his illustrious career, and it was his time.
After passing Close up a near-record of times, it looks like the Academy is finally ready to give the esteemed actress her due. In one of the wildest, most unpredictable award seasons in recent memory, Close has been a rare constant and is very much the ironclad frontrunner in this category. She won Best Actress at the Golden Globes, Critics' Choice Awards, and SAG, a hat trick that all but ensures her Oscar victory. It's true The Wife wasn't much of a player on the awards circuit overall (Best Actress is its lone nomination), but Close was able to stand out among the competition. This decade, only once has there not been overlap between the SAG and Oscar winners (2011; Viola Davis won SAG, Meryl Streep won Oscar).
Olivia Colman - The Favourite
Director Yorgos Lanthimos is an acquired taste that's definitely not for everyone, but awards voters are loving his period costume drama. The Favourite is one of the top films of the season, in large part because of the trio of excellent performances at its center. Colman stars as the frail Queen Anne, who relies heavily on her close friend Sarah (Rachel Weisz) to run the country. When Sarah's cousin Abigail (Emma Stone) arrives to the palace in search of work, the two younger women find themselves in a competition for Anne's affections. Critics praised it for its unique approach on a classic genre, and it's doing well with the precursors.
Related: Read Screen Rant's The Favourite Review
Colman won the Golden Globe for Best Actress - Comedy or Musical this year, making her the closest rival to Close. Colman also received Best Actress in a Comedy at the Critics' Choice Awards and earned nominations from SAG and the BAFTAs (the British Oscars). She's certainly deserving of her first career Oscar nomination and all the other accolades she's received this year, but the SAG loss is monumental and puts her at a distinct disadvantage. To be fair, Colman is not mathematically eliminated, but the odds are very much stacked against her. Unless there's a real upset, she'll have to settle for second place. Only five times in the history has a Best Actress candidate lost SAG and went on to win the Academy Award.
Lady Gaga - A Star is Born
Bradley Cooper's remake of A Star is Born was one of the defining titles of awards season, and Gaga's performance as rising pop star Ally is a main reason why. Gaga proved to be a perfect fit for the role, shedding her extravagant and elaborate stage image to portray a humble, down-to-Earth aspiring artist yearning for her big break. Her chemistry with Cooper felt very natural and grounded, and she of course handled the numerous musical set pieces with all the expected skill fans expected. All in all, it's a very well-rounded performance that proves Gaga has a future in acting if she chooses. Yes, the role felt tailor-made for her, but she still knocked it out of the park.
Gaga won Best Actress from the National Board of Review and later went on to score nominations from the Golden Globes, BAFTA, and SAG. Her biggest win on the circuit so far is a tie for Best Actress at the Critics' Choice Awards, which gives her a puncher's chance. In four of the lat five years, the Critics' Choice Movie Award winner for Best Actress also scored the Oscar. That being said, Gaga's losses are more significant than her lone win, and coming up short at SAG makes her a long shot at best. One thing still working in her favor is sometimes Best Actress can go to the lady of "the moment" (see: Jennifer Lawrence in Silver Linings Playbook), but Gaga is all but guaranteed to win Best Original Song for "Shallow." The Academy may just reward her there and go for Close or Colman here.
Melissa McCarthy - Can You Ever Forgive Me?
With her typical comedy schtick falling short in critical and commercial disappointments Life of the Party and The Happytime Murders, it became clear McCarthy needed a change-of-pace to get her career back on track. Fortunately for her, such a project came out at the end of 2018 in the form of Can You Ever Forgive Me?, in which McCarthy stars as Lee Israel, an author who falls into a get-rich-quick scheme by forging letters she claims to be from famous people. The film received a lot of love during its tour of the fall festivals, with McCarthy and co-star Richard E. Grant ranking as the highlights.
Related: Read Screen Rant's Can You Ever Forgive Me? Review
Comedic actors and actresses making the leap to more dramatic fare is a tried and true Hollywood tradition that's worked out well before (Robin Williams in Good Will Hunting, for instance). McCarthy was already a Supporting Actress nominee for Bridesmaids and is now in the running for Best Actress. Can You Ever Forgive Me? allowed McCarthy to tap into her humorous sensibilities, but there was also a lot of depth and nuance for her to explore. McCarthy earned nominations from all the big precursors, including the Golden Globes and SAG, but went home empty-handed at each. Perhaps she'll have better luck next time she finds herself in an awards contender.
Yalitza Aparicio - Roma
Most people expected Alfonso Cuarón's Roma to be a big player at this year's Oscars, but few prognosticators would have pegged it for acting nominations. Aparicio was one of the most pleasant surprises of nominations morning, rising above the likes of Emily Blunt and others to score her first Oscar nod. In the film, she portrays Cleo, one of the maids of the middle-class family. Roma was Aparicio's first acting credit, but she was able to deliver a captivating performance in a role that bucks traditional trends in movies. It was refreshing to see a character from Cleo's perspective take the lead.
Aparicio did find herself among the Critics' Choice Awards nominees for Best Actress this year, but outside of a handful of other nods from critics associations, she didn't gain much traction on the circuit. Aparicio was snubbed by the Golden Globes, BAFTA, and SAG, making it extremely unlikely she wins the Oscar. Those are simply too many hurdles for her to overcome, especially considering how much of her competition has fared during the precursors.
-
This entry was posted by Screen Rant on January 15, 2019 at 2:01 am, and is filed under TV News. Follow any responses to this post through RSS 2.0. You can skip to the end and leave a response. Pinging is currently not allowed.