Portland Police Warn Against Doing Bird Box Challenge While Driving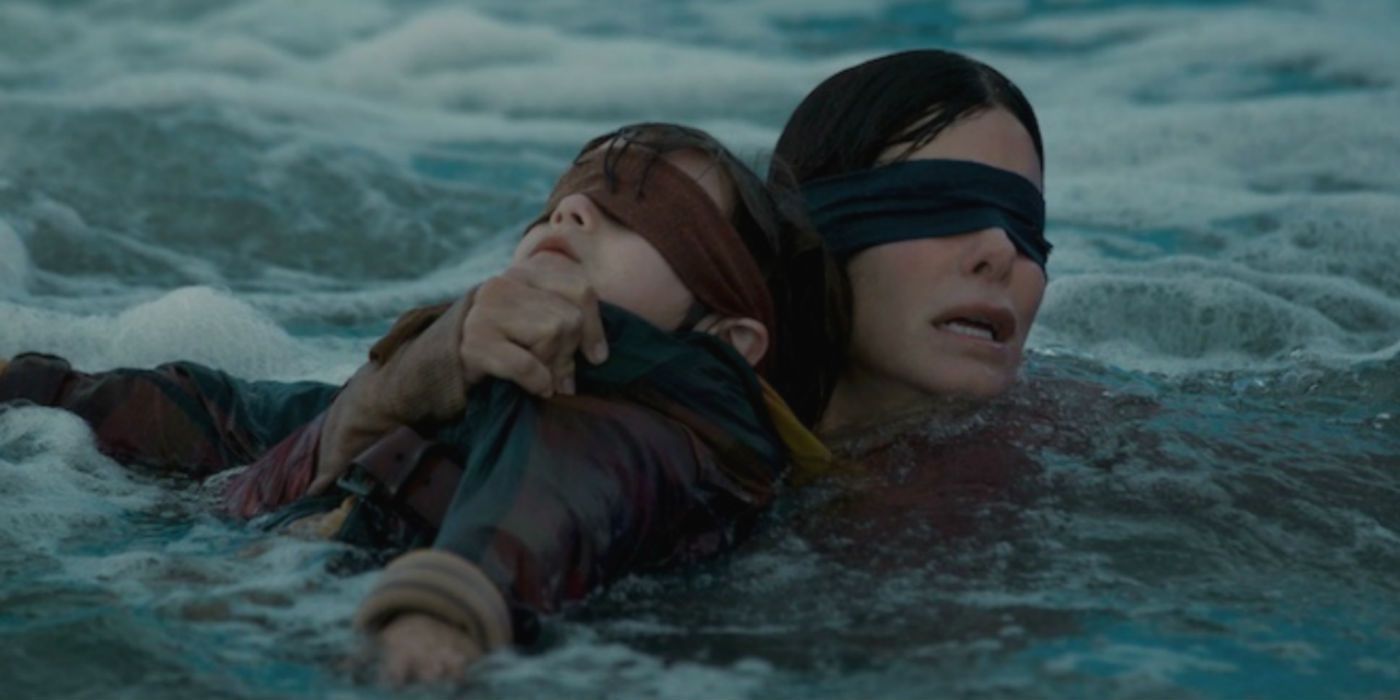 The Portland Police have released a warning against doing the Bird Box Challenge while driving. The unofficial challenge was inspired by Netflix's recent thriller, becoming a viral trend that has led to fans attempting everyday tasks while blindfolded.
Bird Box is a post-apocalyptic film based on the 2014 novel by Josh Malerman. Directed by Susanne Bier, the movie takes place following an alien invasion, in which the sight of said aliens drives people to commit suicide. In order to survive, the film's protagonist, Malorie (Sandra Bullock) remains blindfolded while moving her two young children to safety. The film has garnered considerable attention since its December release, and it's also inspired fans to attempt tasks blindfolded - the results of which have been as disastrous as expected. In response, Netflix released a warning to not attempt the challenge, though some people responded by upping the ante. As a result, the Portland Police Department has attempted to deter others from making a potentially dangerous mistake.
Related: Bird Box Director Won't Rule Out Netflix Sequel
The Bird Box Challenge has led to numerous videos of people trying to navigate the world blindfolded. Many participants have filmed themselves washing dishes, walking outside, using an escalator, and hitting a baseball, among other things. However, when someone crashed their car during the challenge, the Maine's Portland Police Department issued a warning on its official Twitter account. The tweet says:
"Let's talk 'bird box challenge'. Don't do it. Don't think about doing it. Watch the movie, be happy that's not your reality, but please don't blindfold yourself to relate. Especially not while driving. Most of us have a hard enough time driving safely with unobstructed vision."
A seventeen-year-old girl from Utah crashed her vehicle  while attempting to drive blindfolded. The crash thankfully did not result in any serious injuries, but she wasn't the only one to attempt the challenge in such a dangerous way. YouTuber Jake Paul filmed himself driving blindfolded, as well as walking into the middle of a busy street in Los Angeles while blindfolded, but the video has since been removed for violating YouTube's community guidelines.
While it can be tempting to join in on the latest viral trends, challenges that put people at risk should obviously be avoided at all cost. That said, as the first few weeks of 2019 have shown, some people need a helpful reminder. So, seeing as Bird Box is also the inspiration for countless memes, fans might instead consider showing their appreciation for the film by creating one of their own. That would clearly be the far less life-threatening approach to viral enthusiasm - before someone gets hurt.
Source: Portland Police
This entry was posted by Screen Rant on January 13, 2019 at 9:01 am, and is filed under TV News. Follow any responses to this post through RSS 2.0. You can skip to the end and leave a response. Pinging is currently not allowed.