Recasting Young Loki For His MCU TV Show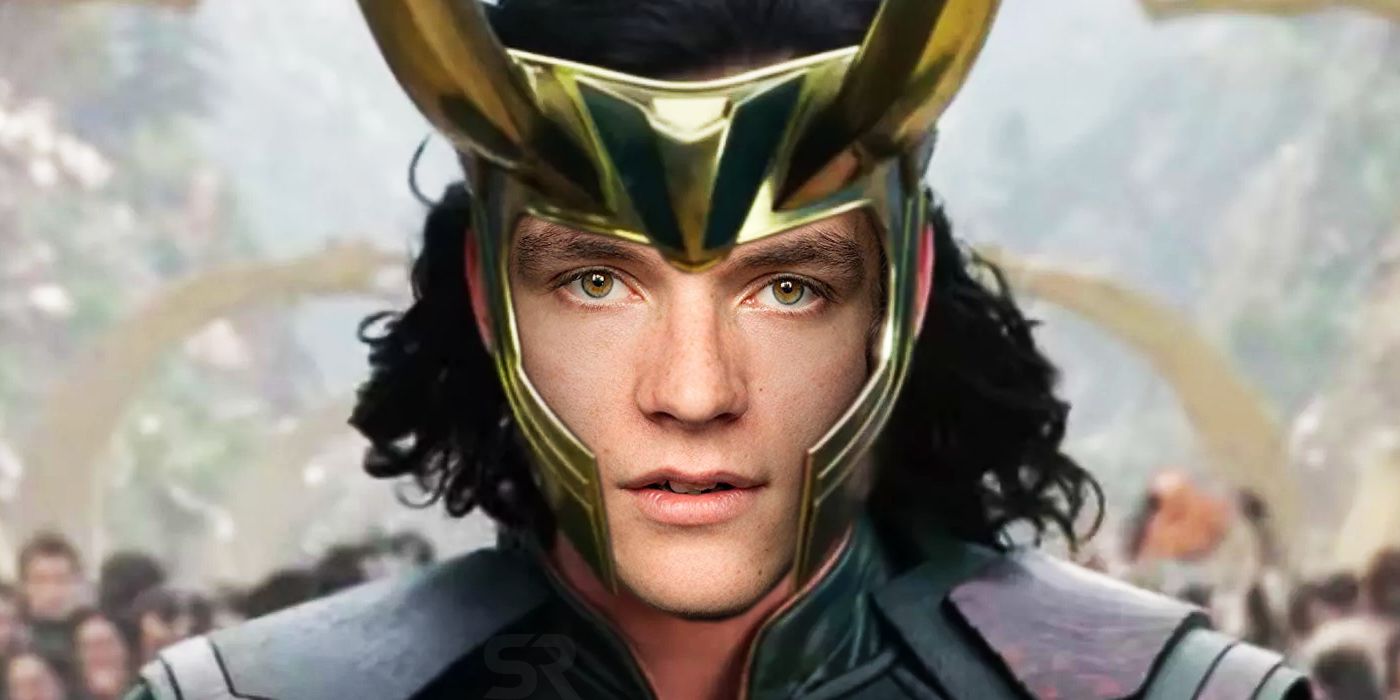 A younger Loki is rumored to appear in the character's forthcoming Disney Plus series set within the Marvel Cinematic Universe, but who should play a fresher-faced Tom Hiddleston? Loki has been an integral part of the MCU ever since his debut in 2011's Thor and has mischievously flitted between good and evil ever since. After three Thor movies and two Avengers appearances, Loki looked to finally meet his demise at the hands of Thanos in Avengers: Infinity War.
In November last year, Disney CEO Bob Iger confirmed that a Loki spinoff would appear on the Disney Plus streaming service as part of the platform's selection of MCU-branded content. To the delight of many, it was also announced that Tom Hiddleston would be reprising his role as Asgard's greatest antihero.
Related: Marvel Confirm Loki Was Mind Controlled In Avengers
However, rumors have continued to suggest that Hiddleston won't be the only actor playing Loki in the series, with the show supposedly acting as a prequel and featuring a younger version of the character as the original actor narrates. With Marvel Studios increasing their use of digital de-aging technology, it's possible that Hiddleston would play both the present and past Loki, although it's perhaps more likely that a second actor will be cast. Here are a few potential faces who could be in consideration, some well known within the world of television and film and other low-key newcomers to the business.
Fionn Whitehead
The current favorite to play a younger Loki will be familiar to anyone who watched Netflix's recent Black Mirror: Bandersnatch. Fionn Whitehead was the groundbreaking choose-your-own-adventure's Stefan Butler, the aspiring video game programmer who viewers desperately tried to keep alive and out of jail, usually without success. In Bandersnatch, Whitehead demonstrated an ability to get the audience rooting for his character, even after performing some fairly grisly actions. This trait is arguably the key to Loki's success in the MCU and a quality that has always been present in Tom Hiddleston's portrayal.
If anyone can continue the MCU's "lovable, misunderstood rogue" iteration of Loki, it's the actor who had Netflix viewers going in circles trying to stop Stefan throwing tea over his computer and killing his Dad. Outside of Black Mirror, Whitehead was the young protagonist of Christopher Nolan's Dunkirk, a critically acclaimed role for which the actor underwent grueling military-based training. Fionn Whitehead is still in the early stages of his on-screen career, but with the Nolan seal of approval, it's hard to see how Marvel could go wrong by casting him as their young Loki.
Robbie Kay
Robbie Kay will perhaps be most widely recognized from his stint as Tommy Clark in Heroes Reborn, where he played an over-powered protagonist in the mold of the original series' Peter Petrelli (Milo Ventimiglia). Arguably one of the highlights of the entire series, Kay didn't get to stretch his acting muscles a great deal in Heroes Reborn and thus wasn't able to exhibit the light and shade necessary for playing Loki. Those who witnessed Kay's performance as Peter Pan in Once Upon a Time, however, would've seen the actor exude a more cunning and scheming figure to great effect.
Related: How Thanos May Have Got The Mind Stone For Loki In The Avengers
Likewise, Kay's performance in the 2007 movie Fugitive Pieces attracted plenty of attention and praise at an extremely young age, hinting at his potential for nuanced and emotionally moving acting. Some would say that Kay's more recent roles haven't given him a platform to build on that early buzz, but joining a highly popular franchise such as the MCU could swiftly change that. After all, the actor's ability to effortlessly switch from heroic to threatening is a key element of the modern Loki character.
Freddie Highmore
Many will remember Freddie Highmore as the fresh-faced, softly spoken titular star of Tim Burton's Charlie and the Chocolate Factory remake and while the youngster's performance as Roald Dahl's Charlie Bucket was full of innocent charm and Burton's trademark sense of childhood wonder, it didn't exactly hint at a future invader of Earth. Fans of Bates Motel, however, would have seen a completely different side to Highmore's acting repertoire - one far closer to that of Tom Hiddleston's Loki.
Highmore portrayed an alternate version of Psycho's Norman Bates for five season and, several award nominations later, his transition from child actor to a genuine, grown-up talent has been completed. Since checking out of Bates Motel, Highmore has received a Golden Globes Best Actor nomination for The Good Doctor, cementing his on-screen credentials as a top young star, and with his in the ascendancy, Marvel may want to sign Freddie into the MCU before his reputation enhances further.
Bill Milner
Unlike many on this list, Bill Milner already has experience of playing a younger version of an iconic comic book character in a popular superhero movie franchise. Back in 2011, Milner portrayed Magneto as a child in the opening concentration camp scene of X-Men: First Class, channeling all of the mutant rage and latent power of the future Brotherhood leader and throwing it back in the face of his Nazi oppressors in one of the film's most memorable sequences.
Related: Loki Has Become the Thor Franchise's Magneto
Still only 23, Milner has since appeared in Broken, Apostle and starred alongside Maisie Williams in Netflix's iBoy, carving out a solid career for himself as a dramatic film actor capable of conveying anguish, menace and heroism, all with a subtle hint of comedy when needed. While this versatility and range would be instrumental in any younger incarnation of Loki, the fact that Milner looks somewhat older than his years may work against the actor in being believable as a younger Tom Hiddleston.
Isaac Hempstead-Wright
Isaac Hempstead-Wright is, of course, best known as Bran Stark in Game of Thrones, where he specializes in ominously telling the future and riding on peoples' backs. Since Thrones began, it's been fascinating to witness the development of the show's youngster cast members and while Hempstead-Wright may have been overshadowed by fellow Stark actors Sophie Turner and Maisie Williams, there's no doubt that he has developed hugely as an actor over the course of playing Bran Stark.
Game of Thrones is finally set to conclude with this year's season 8 and, like the rest of the cast, Hempstead-Wright will soon be seeking pastures new. In terms of both age and appearance, Hempstead-Wright already lends himself naturally to the role of young Loki and his experience on GOT also means that the actor is well-versed in the pressures that come with starring in an internationally popular franchise. Hempstead-Wright's time playing Bran Stark has also seen him excel with a character possessing a cold heart, devoid of emotion - a trait not all that unfamiliar to Thor's adopted brother.
Aneurin Barnard
Another member of Christopher Nolan's impressive Dunkirk cast, 31 year old Aneurin Barnard is considerably older than the other entries on this list, but a youthful face betrays Barnard's actual age. In terms of actors who actually resemble a younger Tom Hiddleston, it's difficult to imagine a more accurate pick than Barnard, who boasts the same chiseled cheekbones, haunting blue eyes and devilish dark hair that originally turned Loki into the MCU's most swoon-worthy villain.
Related: How Loki Could Return To a Bigger Role in THOR 4
Despite his obvious talent, Barnard has yet to land that big breakthrough mainstream role and would be an ideal option if Marvel are looking to avoid an actor who is already closely associated with another popular franchise. Indeed, the only obvious drawback to casting Barnard as a young Loki would be the fact that, in reality, the actor isn't too much younger than Hiddleston. This may not be a problem in the short term, but if Marvel Studios are hoping their Loki series will run for several seasons, Barnard's age could eventually present more of an issue.
Asa Butterfield
Currently one of 2019's hottest acting properties thanks to his starring role as awkward high school student/sex therapist Otis in the Netflix smash Sex Education, Asa Butterfield has already enjoyed a tremendous career, despite his tender years. From his award winning turn in the title role of Martin Scorsese's Hugo to his more recent part in Simon Pegg and Nick Frost's horror/comedy Slaughterhouse Rulez, Butterfield has already amassed plenty of screen experience and has tackled a wide variety of roles.
Due to the success of Sex Education however, Asa Butterfield's profile may be rising faster than Marvel's TV division can keep up with, and it may not be long before the young actor has moved onto considerably bigger things. Nevertheless, there's no doubting Butterfield's acting credentials and he would almost certainly succeed as a more youthful Loki.
Alex Lawther
Not only is Alex Lawther another former Black Mirror star, the actor played a younger version of Alan Turing in 2014's The Imitation Game, tasked with portraying a junior Benedict Cumberbatch. Lawther also featured in Morgan Matthews' X+Y alongside Asa Butterfield but is perhaps most widely known as James in Netflix's The End of the F**king World, a young teen who runs away with a girl, harboring the morbid intention of killing her just for the experience.
Related: Loki's TV Show Means His Infinity War Death Should Be Undone
In the wake of that role, Lawther began to draw attention as a serious up-and-coming acting talent, playing a lead character with a sinister streak, while simultaneously captivating an audience and inviting them to learn more about his character. At 23, Lawther is ideally positioned to take the next step in his acting career and a big opportunity within the MCU as young Loki would perhaps represent a natural progression from Lawther's success in The End Of The F**king World. As testament to the youngster's prodigious talent, the great Dame Maggie Smith herself is reportedly a big fan.
This entry was posted by Screen Rant on January 23, 2019 at 7:01 am, and is filed under TV News. Follow any responses to this post through RSS 2.0. You can skip to the end and leave a response. Pinging is currently not allowed.