Rocket League Is the Second Game Ever to Support Full Cross-Platform Play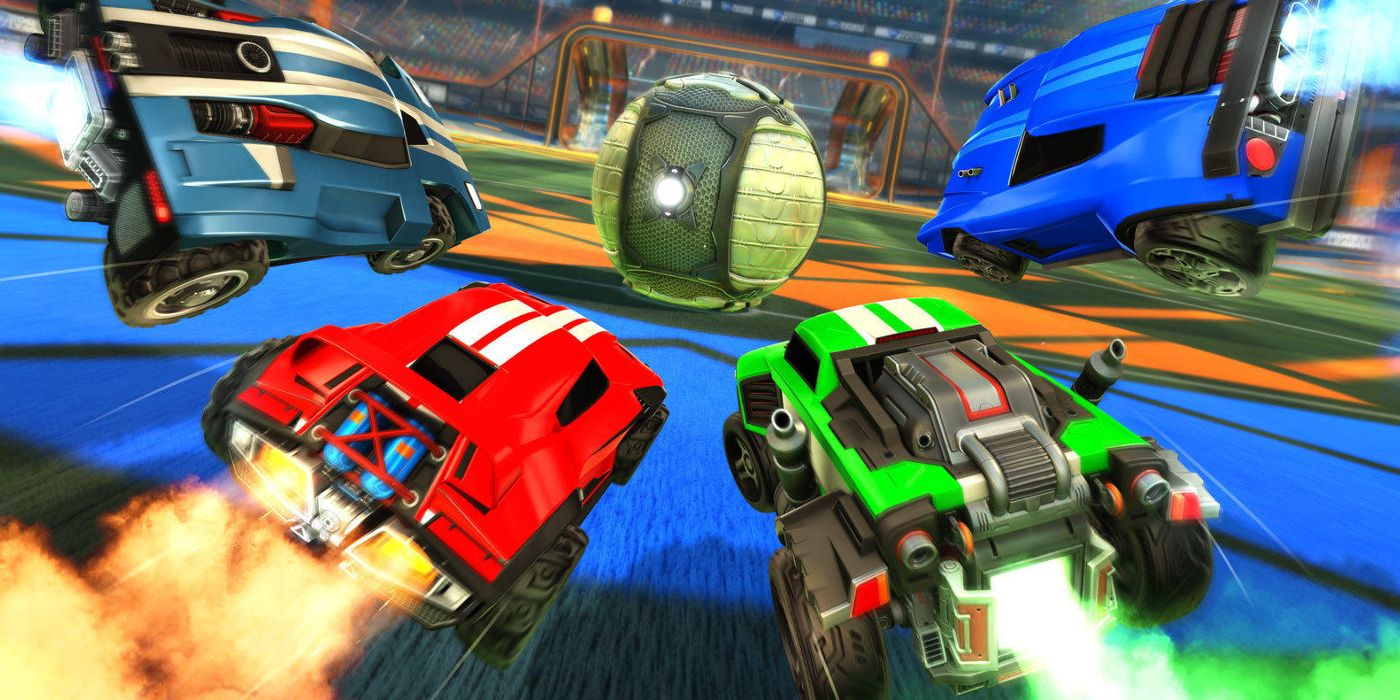 Rocket League fans, rejoice: everyone's favorite rocket-powered motor sports title is becoming the second game in history to support cross-platform play across all of its platforms. After years of waiting, Sony has finally authorized developer Psyonix to enable full cross-platform functionality, allowing gamers that own Rocket League on PS4, Xbox One, Switch, and Steam to freely play with one another.
For a long time, it was rumored that Rocket League would be the first game to achieve the monumental landmark of full cross-platform play, but Epic Games' runaway hit Fortnite instead was given the honor in September 2018. Epic Games was only able to achieve this with Fortnite after months of waiting for Sony to stop dragging its feet in greenlighting cross-platform play with Xbox One and Switch users, which it only did after considerable and prolonged public outcry. The story of Rocket League's path to cross-platform nirvana has been very similar to Fortnite's, but stretched across a much longer span of time. Rocket League has been an industry leader in cross-platform efforts since its 2015 release, and prior to this exciting bit of news developer Psyonix had brought together almost all of its players, regardless of platform, under one roof - all except for Sony's PS4.
Related: Fortnite Maker Epic Games Really Wants All Games to Be Cross-Platform
That changes as of January 14 with Psyonix Vice President Jeremy Dunham's announcement that Rocket League is becoming the second game to enter the PlayStation Cross-Play Beta program, meaning that PS4 players will at last be permitted to play the game with their counterparts on Xbox One, Switch, and Steam. In a celebratory tone fitting of a developer that has fought for years to unite their formerly discrete player bases, Dunham expresses:
"Today's announcement is an important one for us here at Psyonix, because we know how much our community has wanted FULL cross-platform support for quite some time. It's because of YOU, our fans, and our generous partners on all systems and services that have made this possible in the first place."
The Psyonix press release also discloses the ins-and-outs of Rocket League's newfound full cross-play functionality, explaining how players can ensure that cross-platform play is enabled but clarifying that cross-play matchmaking is active by default. Though Rocket League now supports private matches and matchmaking between players on different platforms, it currently lacks a means of allowing players that don't share a platform to party up or join one another's clubs. Psyonix has been promising a solution to this for a while (and, in all likelihood, have been waiting for this latest development to occur in order to provide it), and in the cross-platform announcement the developer vows that players will at last be able to form cross-platform parties when the "first update of the year" hits.
This milestone has been a long time coming, and very few developers are as deserving of their games becoming some of the first in industry history to achieve full cross-platform support as Psyonix is. An online game like Rocket League lives and dies based on its ability to retain a player base, and as the game approaches its fourth year, its global player count is still going strong due to Psyonix's hard-to-match flow of free content and their persistence in bringing all of its players together. It's unknown for how much longer Psyonix will continue to provide such ample and dynamic support to Rocket League, but Psyonix's first major success has grown into an industry trendsetter while always putting its players first and doesn't show any signs of slowing down any time soon.
This entry was posted by Screen Rant on January 15, 2019 at 5:01 am, and is filed under TV News. Follow any responses to this post through RSS 2.0. You can skip to the end and leave a response. Pinging is currently not allowed.