Ronda Rousey Possibly Leaving WWE After WrestleMania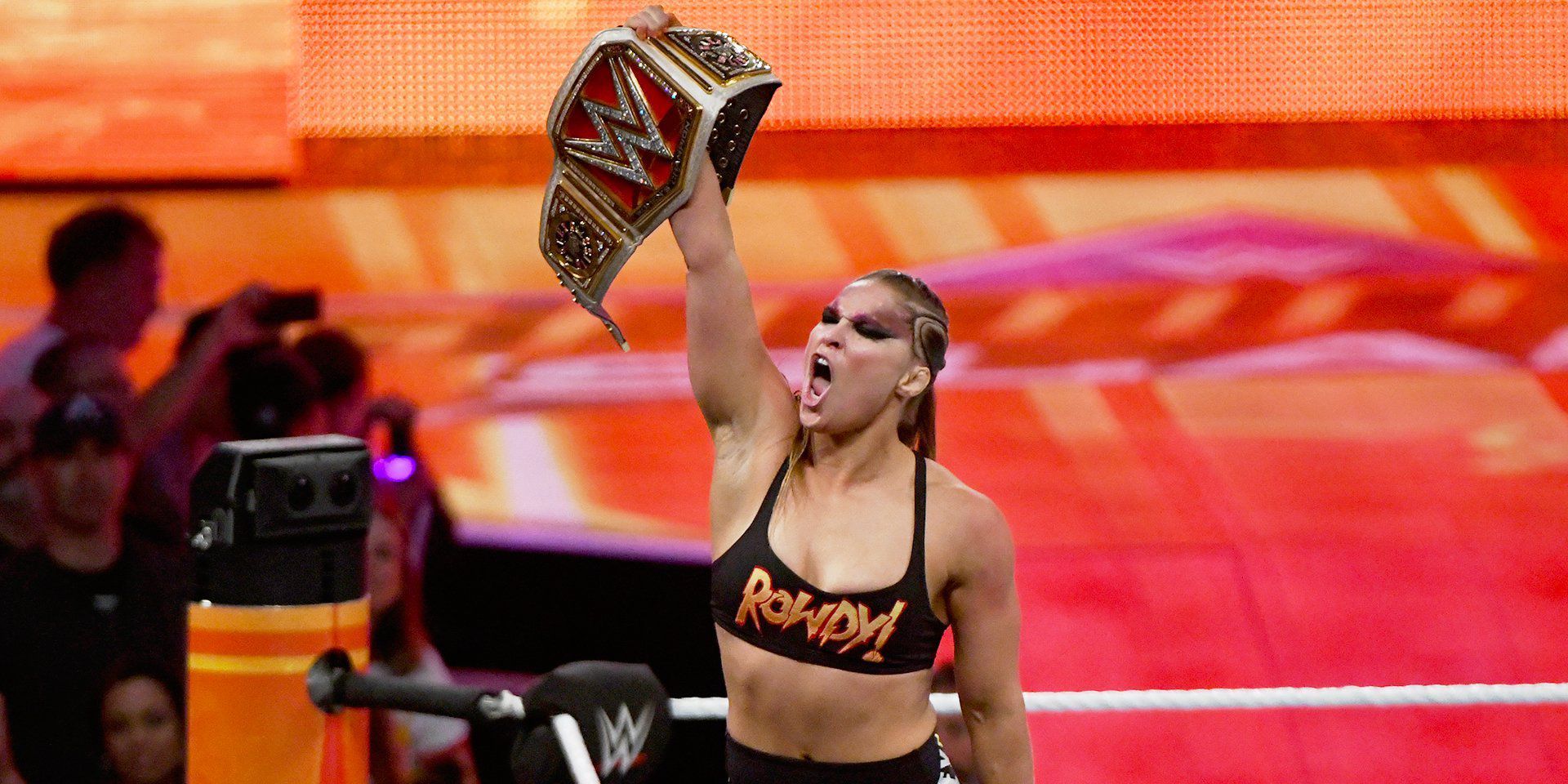 Current Raw women's champion and former UFC star Ronda Rousey reportedly might be leaving WWE after April's WrestleMania XXXV pay-per-view. Rousey of course burst onto the WWE scene at the end of the 2018 Royal Rumble event, making a surprise appearance following the conclusion of the first ever 30-woman Royal Rumble match. That match was won by Asuka, who went on to unsuccessfully challenge SmackDown women's champion Charlotte Flair at WrestleMania XXXIV. On the Raw side of things though, 2018 ultimately belonged to Rousey, at least as far as the women's division is concerned.
Rousey had her first official WWE match at WrestleMania XXXIV, teaming up with WWE hall of famer Kurt Angle to take on WWE's top power couple, Triple H and Stephanie McMahon. Many weren't sure what to expect out of Rousey in the pro wrestling ring, but her debut performance quickly silenced the critics, helping deliver one of the most entertaining matches on the card. Rousey would go on to win the Raw women's championship from Alexa Bliss at SummerSlam in August, utterly dominating Bliss.
Related: John Cena Reportedly Injured, Might Miss WWE Royal Rumble
At this point, Rousey has still had less than two dozen televised WWE matches, as WWE understandably prefers to save most of her bouts for pay-per-view. That said, Rousey's rookie year has been one of the best in recent memory, including great encounters with her buddy Natalya, the gargantuan Nia Jax, and modern legend Mickie James. Unfortunately, if a new report from The Wrestling Observer newsletter (via What Culture) is to be believed, Rousey might be on her way out of WWE after WrestleMania XXV.
While the report doesn't offer much detail beyond the belief that Rousey is leaving WWE soon, it wouldn't be entirely surprising, as Rousey herself has commented on just how grueling WWE's schedule has been. While Rousey doesn't wrestle every Monday night, she at least appears on Raw most weeks, and is also often used as a draw on WWE's non-televised live events. That's obviously a much more rigorous travel schedule than Rousey had to deal with in the world of MMA.
If Rousey is indeed planning to exit WWE, she'll at least go out with a bang. Rousey is next set to defend her Raw women's championship at this Sunday's Royal Rumble, against one of her personal favorite wrestlers, Sasha Banks. It's a match fans have been clamoring to see. Rousey is also heavily rumored to be having a triple threat encounter with Becky Lynch and Charlotte Flair at WrestleMania, a match that some suggest will finally be the first time women headline WWE's biggest showcase of the year.
Source: The Wrestling Observer (via What Culture)
This entry was posted by Screen Rant on January 24, 2019 at 11:01 am, and is filed under TV News. Follow any responses to this post through RSS 2.0. You can skip to the end and leave a response. Pinging is currently not allowed.