Roswell, New Mexico: Biggest Changes From The Original Series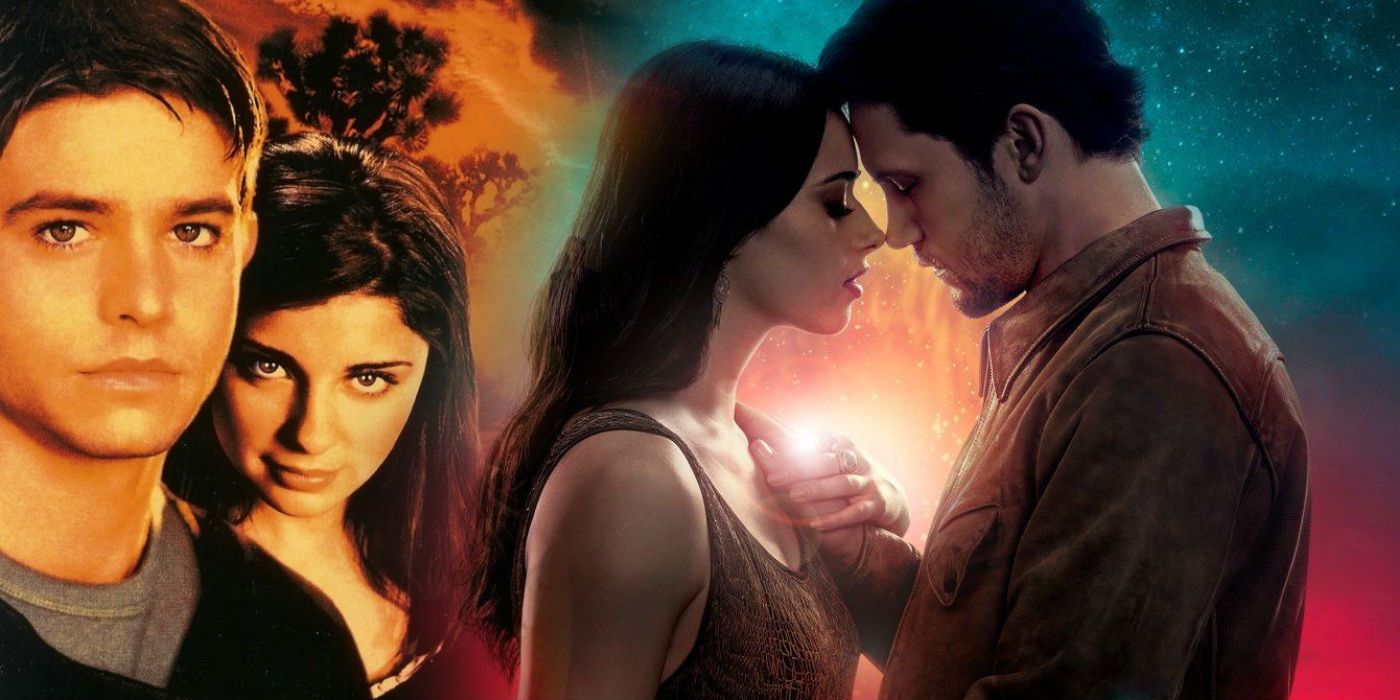 Roswell, New Mexico has landed on The CW, and there are a number of major changes to the story and characters from the original series that aired in the late 1990s and early 2000s. Roswell, New Mexico stars Jeanine Mason as protagonist Liz (the role formerly played by Shiri Appleby), and Nathan Parsons, Michael Vlamis and Lily Cowles as alien siblings Max, Michael and Isobel (respectively). The series also features Michael Trevino as Kyle Valenti, Tyler Blackburn as Alex Manes, and Heather Hemmens as Maria DeLuca.
Both shows are based on the Roswell High young adult novels by Melinda Metz, and Roswell, New Mexico includes several details from the books that weren't present in the original TV series. The major plot beats of the pilot remain the same: Liz, while working at her family's tourist trap diner in Roswell, gets shot in the torso and begins bleeding out. Max, who is actually an alien from the original crash landing, uses his powers to heal her and then splashes her with ketchup to disguise the fact that she was shot. However, his healing touch leaves behind a glowing handprint as proof that something strange happened, and ultimately Max decides to tell Liz about his true nature - against the advice of his siblings.
Related: Roswell, New Mexico Reboot Trailer Debuts at Comic-Con 2018
The aliens also seem to have the same powers as in the original series, with each of them having specialities (like Isobel's ability to manipulate people's minds). Beyond those similarities, though, let's take a look at the biggest differences between Roswell and Roswell, New Mexico.
This Page: The Characters' Ages and Liz's Sister
The Characters Are Adults, Not Teenagers
One major immediate change from the original TV series is that Roswell, New Mexico's characters have all been aged up and are approaching their thirties, whereas the characters in Roswell were high school teens. Max has a steady job as one of Roswell's cops, Isobel is married, and Michael lives in a trailer and seems to frequently get into trouble. Mason's Liz is called Liz Ortecho, like in the novels, whereas the original series changed her name to Liz Parker. Ortecho's Latinx heritage has so far played a key role in Roswell, New Mexico's commentary on immigration politics, with references to President Trump's planned border wall and fears that Liz's father, Arturo, will be deported.
Roswell, New Mexico begins with Liz returning to her home town after being absent for ten years, where she's reunited with two old flames: Kyle Valenti, who is now a doctor rather than a high school jock; and Max, who is trying to lead a normal life as a cop - so much so that he doesn't even use his powers to help people who finds hurt while on the job.
Liz's Late Sister, Rosa
A key plot point in Roswell, New Mexico's pilot episode is the death of Liz's sister, Rosa, who was supposedly driving under the influence of drugs and crashed her car, killing two other girls. This tragedy has caused a great deal of animosity among the locals towards Liz and her family, and may have been the motivation behind the shooting at the Crashdown Café. However, at the end of the episode it's revealed that Max and Isobel know something more about what happened to Rosa, with Max ominously saying that Liz can never know the truth. It's possible that Rosa found out about the aliens' identity and had her mind messed with by Isobel in order to keep their secret.
Rosa's death is actually a plot element lifted from the original Roswell High books, in which Liz's older sister died from a drug overdose, leading to her father being extremely protective. In the books, however, there was no car accident and no indication of foul play in Rosa's death.
Master Sergeant Manes Replaces Sheriff Valenti
There is actually a Sheriff Valenti in Roswell, New Mexico (played by Rosa Arredondo), but it doesn't appear as though she'll have as large a role to play as Sheriff Jim Valenti, the dogged lawman played by William Sadler in the original series. Though he eventually came to be an ally for the Pod Squad, Jim Valenti started out as Roswell's main antagonist and was an intimidating presence, seemingly always one step away from uncovering proof of the aliens' existence.
In Roswell, New Mexico, the authority figure trying to hunt down the aliens is Alex's father, Master Sergeant Manes. Again, this is a detail taken from the original novels, where Alex's father (usually referred to simply as "The Major") is in charge of the secret alien monitoring organization Project Clean Slate. It's indicated that Kyle's father was still involved in the hunt for aliens in Roswell, since on his deathbed he told Alex to "go to Manes" if he ever saw "the handprint." Through this instruction, Kyle ends up getting roped into Manes' hunt when he approaches him to discuss the glowing handprint on Liz's chest.
Michael's Relationship With Alex
One of the big reveals in Roswell, New Mexico's pilot was that of Michael's romantic relationship with Alex Manes. In the original series, Michael was straight and had a tumultuous but fan-favorite romance with Liz's best friend, Maria, so some Michael/Maria shippers were dismayed to see the show's reboot going in a different direction. However, showrunner Carina Adly McKenzie has confirmed in an interview with THR that Michael is bisexual and that the show "will be exploring Michael's relationships with women" as well, so don't rule out the possibility of Michael and Maria getting together down the line. In the meantime, Michael's relationship with Alex is a risky one, given that Alex's father is trying to hunt down the aliens in Roswell.
Alex Manes shares a first name with Alex Whitman, Liz's friend from the original series, who was played by Colin Hanks. However, the similarities appear to begin and end there. Alex Whitman was wise-cracking and nerdy, and definitely not a stoic soldier, and he had a romantic relationship with Isabel, not Michael. Alex Manes is a lot closer to his character in the novel (also called Alex Manes, not Whitman), whose father was "obsessed with his future military career," and it seems as though this version of Alex gave in to his father's wishes... at the cost of his leg. At the moment, Alex Manes' alliances are unclear: will his feelings for Michael overcome his desire to please his father, or could he prove to be a secondary antagonist?
-
Already in the pilot it's clear that Roswell, New Mexico will diverge from the story of Roswell, though it remains to be seen how much, and whether other classic characters like Tess will show up. Let us know in the comments what you thought of Roswell, New Mexico's pilot, and whether you're planning to keep watching.
This entry was posted by Screen Rant on January 16, 2019 at 7:01 am, and is filed under TV News. Follow any responses to this post through RSS 2.0. You can skip to the end and leave a response. Pinging is currently not allowed.