Rotten Tomatoes' Golden Tomato Award Winners Include Black Panther & Spider-Verse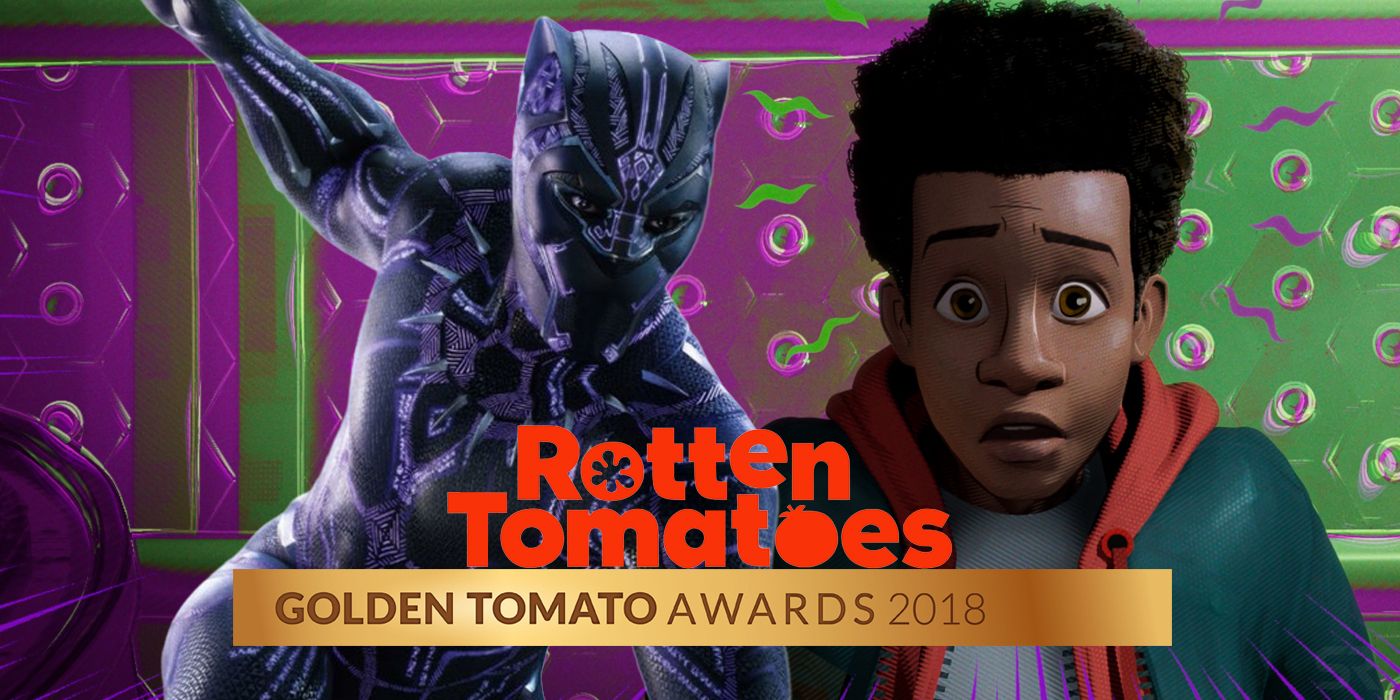 The 2018 Golden Tomato Awards have been announced, with Marvel Studios' Black Panther and Spider-Man: Into the Spider-Verse coming out strong as winners. Both films recently earned Golden Globe nominations and are expected to be recognized by the Academy Awards later this month.
Established in 1998, Rotten Tomatoes collects movie reviews from approved critics, and then attributes either a "Fresh" or "Rotten" rating to the film. For a film to receive a "Fresh" rating, it must receive at least 60 percent positive reviews. Movies that earn a 75 percent rating or better from at least 80 critics (40 critics for limited releases) are considered "Certified Fresh." In 2000, Rotten Tomatoes introduced the 1st Annual Golden Tomato Awards, with films being divided into "wide release" and "limited release" categories," as well as being separated by genre. Last year, Jordan Peele's Get Out was honored as the best-reviewed wide release film of 2017, and Luca Guadagnino''s Call Me by Your Name landed the top honor for the limited release category. 
Related: Black Panther Named Best-Reviewed Wide Release Of 2018 By Rotten Tomatoes
For the 20th Annual Golden Tomato Awards, Rotten Tomatoes has announced the official winners. Marvel's Black Panther won for Best Movie Wide Release, while Alfonso Cuarón's Netflix film Roma won for Best Movie Limited Release. Marvel earned another accolade for Spider-Man: Into the Spider-Verse, which won for Best Animated Movie. In the major television categories, FX's Atlanta won for Best Returning TV Show and Amazon's Homecoming earned an award for Best New TV Show. 
Best Movies/TV
Wide Release: Black Panther
Limited Release: Roma
Directorial Debut: A Star Is Born
Spanish-Language: Roma
Australia: Sweet Country
United Kingdom: Paddington 2
Best New TV Show: Homecoming:
Best Returning TV Show: Atlanta
Movies by Genre
TV by Genre
Best TV Comedy 2018: Barry
Best Comedy Special 2018: Hannah Gadsby: Nanette
Best Docuseries 2018: America to Me
Best TV Drama 2018: Cobra Kai
Best TV Horror 2018: The Terror
Best Miniseries, Limited Series & Anthology TV Show 2018: Sharp Objects
Best TV Sci-Fi/Fantasy 2018: Doctor Who
Best Superhero TV Show 2018: Daredevil
Best TV Thriller, Mystery & Suspense 2018: Homecoming
Best TV Movie 2018: The Tale
While the Golden Tomato Awards are helpful when identifying the best films that receive the most reviews, they don't necessarily shine a spotlight on smaller films that are "Certified Fresh" and included in critics' year-end Top 10 lists. For example, Debra Granik's Leave No Trace currently has a 100 percent Rotten Tomatoes score, but was not included on the list. With that said, Rotten Tomatoes and the Golden Tomato Awards offer insight into which films make the biggest cultural impact from year to year, and also show that films like Black Panther and Spider-Man: Into the Spider-Verse are not only popular but also highly regarded by critics.
As cinematic trends continue to change and streaming platforms allow for immediate viewing, the Golden Tomato Awards represent a helpful tool, but hopefully moviegoers will look beyond the "Fresh" tags to find hidden gems as well.
Source: Rotten Tomatoes
This entry was posted by Screen Rant on January 12, 2019 at 11:01 am, and is filed under TV News. Follow any responses to this post through RSS 2.0. You can skip to the end and leave a response. Pinging is currently not allowed.