Scott Mosier Interview: The Grinch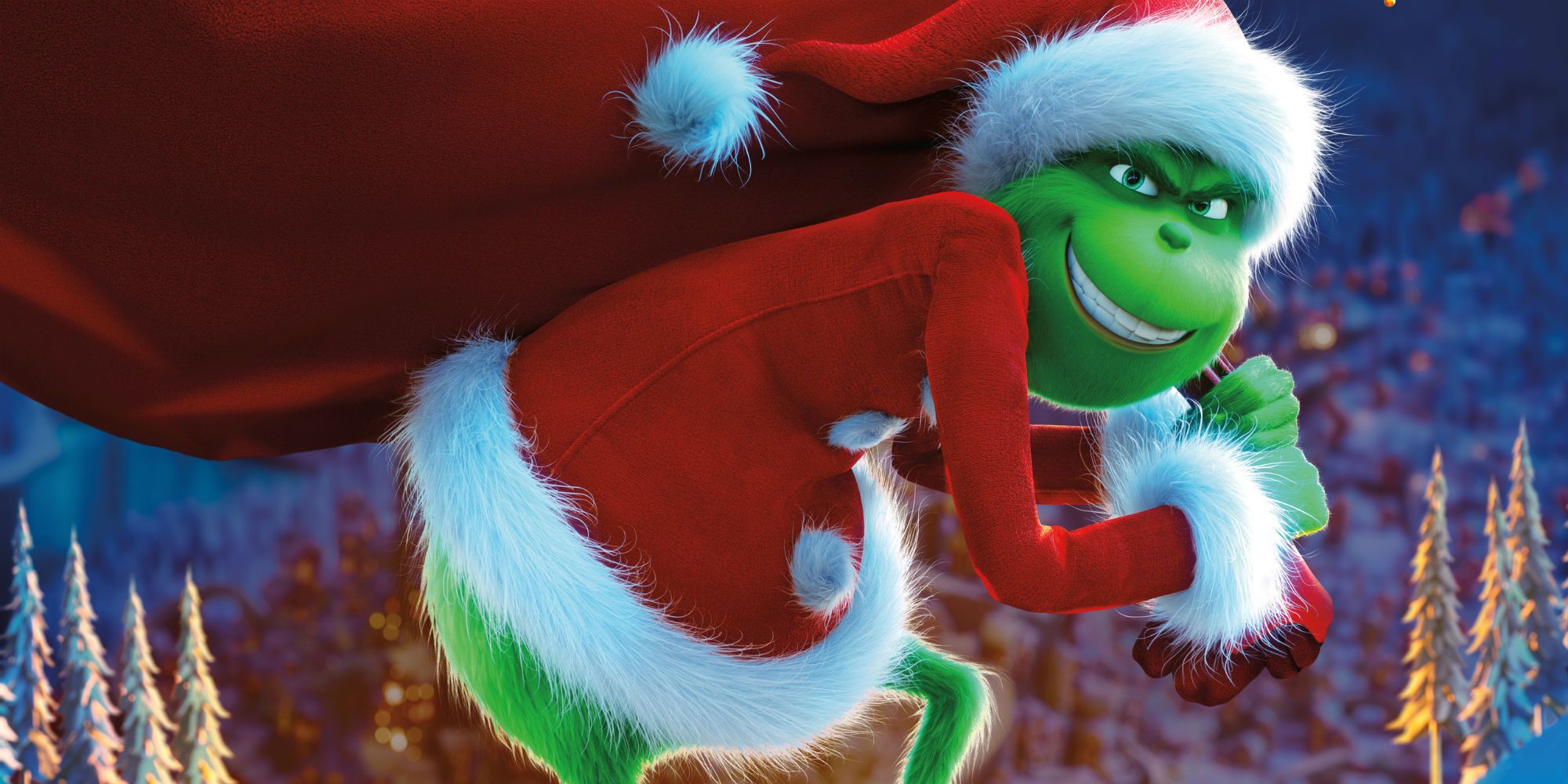 Since his debut in the Doctor Seuss children's book, 1957's How the Grinch Stole Christmas!, The Grinch has been a mainstay in American pop culture. The character was first adapted to the screen in a 1966 television special which is still aired on national television every December. A live-action version of the story, starring Jim Carrey and directed by Ron Howard, came out in 2000 and was a major box office hit, to the tune of $345 million worldwide.
The latest iteration of the story, simply titled The Grinch, released in November of last year. Starring Benedict Cumberbatch as the iconic curmudgeon, The Grinch earned rave reviews and managed to rake in an impressive $508 million worldwide.
Related: The Grinch Review: A Delightful, Modern Retelling Of A Christmas Classic
While promoting the home video release of the family film, co-director Scott Mosier spoke to Screen Rant about his work on the moive. He told us about his glee towards The Grinch, settling on an accent for Benedict Cumberbatch's take on the legendary character, and shares some of his favorite Christmas movies. He also talks about his history with Kevin Smith and reflects on the deal they made together which ultimately led to the development of Clerks, one of the most famous cult films of the 1990s.
The Grinch is available for digital download now, and releases on Blu-ray February 5.
The Grinch is your directorial debut. I know that you've been around the block and back as a producer, but can you talk a bit about the pressures of working a bit on, not only your first movie, but tackling such an iconic character?
Being able to direct and work on The Grinch brought an equal mix of fear and excitement. It's a beloved character, the book is so amazing, and the original Chuck Jones special is something that people hold very near and dear, and I'm included in that group. I was excited and scared! I was like, oh man, I can't screw this up. And then, trying to find a balance of creating a movie that speaks to the other movies and the other concepts, but also manages to be its own thing. Thankfully, the excitement overshadowed the fear, and I was lucky to have a lot of great people to work with, from (co-director) Yarrow Cheney to (producer) Chris Meledandri, and we all sort of, early on, oddly, had kind of the same vision of what the movie should be and how the characters should act and all that. And then, getting Benedict was just...  On my directorial debut, to have an actor like Benedict Cumberbatch, and to have people like Danny Elfman, that kind of support makes being in the director's chair a lot easier.
Like I said, you've been around. I want to know about your early ambitions. I know you worked with Kevin Smith back in the Clerks days, and you continue to co-host the SModcast, but what were some of your far-off goals back when you guys were huddled around the Quick Stop, just trying to get that first movie made?
When Kevin and I met in film school, the original idea was, he told me, "You go write a script, I'll go write a script. Whoever finishes first, the other guy will produce their movie." And Kevin writes faster, and he wrote Clerks and he sent it to me! Not only did he write faster, but he wrote an amazing script. I was like, "Okay, I'm gonna go help him make this movie, because I'm not in the position to write this kind of material at this point." I was 21. From there, we started making the movie. We were so focused on making our first movie and getting anybody in the world to see it. Once we sold it, I had always aspired to direct, and Kevin and I always talked about it, trying to figure out what that would be. For some reason, doing a small indie film... I thought about it a few times, here and there, but Kevin's prolific, and we just kept working. Then I saw The Incredibles with Kevin, and that was like a flash moment. I turned to him and was like, "I want to do that. That's what I want to do." So after that screening, around the time of Zack and Miri Make a Porno, right around there, I sort of moved off and did everything I could to learn everything I could about animation and jump into that world. Then I got an e-mail from Chris Meledandri, and I lit up when he brought up The Grinch, and he was cool enough to give me the opportunity to do it, finally!
That is some trajectory!
It's been 25 years since Clerks. It's been a windy road, but I got here in the end!
I'm glad that you mentioned that legend of you and Kevin basically competing to write a script. Do you remember what yours would have been? What was it?
I think it was terrible. I can't remember what it was. It was "young people doing things." I was 21, Kevin was the same age. It was something about people our age, but then he writes this movie, and I was like, "how can I write a movie about people our age when he just wrote this groundbreaking version of people our age?" It's a great moment when you can see, like, this is what you have to aspire to. If you're gonna be a storyteller, if you're gonna be a writer, if you're gonna be a director, if you want to get to those places, these are the kinds of people that you should hope to bump up against. I knew in that moment, that I was ready to do this. I couldn't write that. Kevin was amazing. Kevin had a voice at such a young age. He had developed, but I just... My script would have been... It just doesn't exist, let's put it that way!
I interviewed Benedict Cumberbatch when the movie first came out, and he told me that he was initially asked to use his natural voice, but he disagreed, deciding that The Grinch, such a legendary figure in Americana, should have an American accent. Were you involved in those conversations? How did that play out?
Yeah. You know, from an animation point of view, the way you cast is through voice. You're listening to voice samples and stuff. The truth with Benedict was, we knew that we wanted to go more in-depth with the character, so we decided to look for guys who are funny and have deep acting chops. We wanted someone who was really interesting and different. We had a lot of reasons for wanting him, but we were also basing it on voice samples we had heard. So when we first sat down with him, we just had a few conversations, and, yeah, we were definitely hearing his voice a little bit. But that's the fun thing in animation, is that you have time to explore these things. We have a lot of respect for him, and he had an idea of what he wanted to do, and he really wanted to build a full character that doesn't have his voice. He wanted to create a specific voice for the character. He did bring up the fact that it's an American property. We did three or four sessions and slowly, over time, we worked towards it. There's a moment in the movie where he has a big grin and he says, "I'm gonna steal their Christmas." We did an animation test with that, and the voice he wanted to do, and it was... You suddenly have that moment where you're like, "the voice is really sitting in well with the character and the body." It took some back and forth to get there, but the great thing about hiring people like Benedict is that he's gonna challenge you, and we all try to challenge each other. It was one of those things here we came at it from having heard his voice one way, but he had a voice he wanted to push, and so we opened it up and I think what we got is pretty amazing.
Obviously, The Grinch is a Christmas movie. I've gotta ask: what were some of your favorite Christmas movies growing up?
The Chuck Jones Grinch special is something I can remember from a very young age. A Christmas Story, I love that movie. This one is not a kids' movies, but the movie I've probably watched more every year for the last ten years is Die Hard. I believe it has to be classified as a Christmas movie, because it really is, like... It can strangely put you in a Christmas mood! That's a big Christmas movie. And, you know, I can still remember being in the theater watching Scrooged. I remember that moment in the movie where you're sitting in the movie theater and there's a sing-along and they start talking to the audience, I can still remember that. That was a big movie for me, growing up. This year, I was with my family at Christmas, and my sister turned on It's A Wonderful Life, and I didn't leave the room. I think that's a really good, watchable movie.
This entry was posted by Screen Rant on January 24, 2019 at 7:01 am, and is filed under Interviews, TV News. Follow any responses to this post through RSS 2.0. You can skip to the end and leave a response. Pinging is currently not allowed.