Sex Education Cast & Character Guide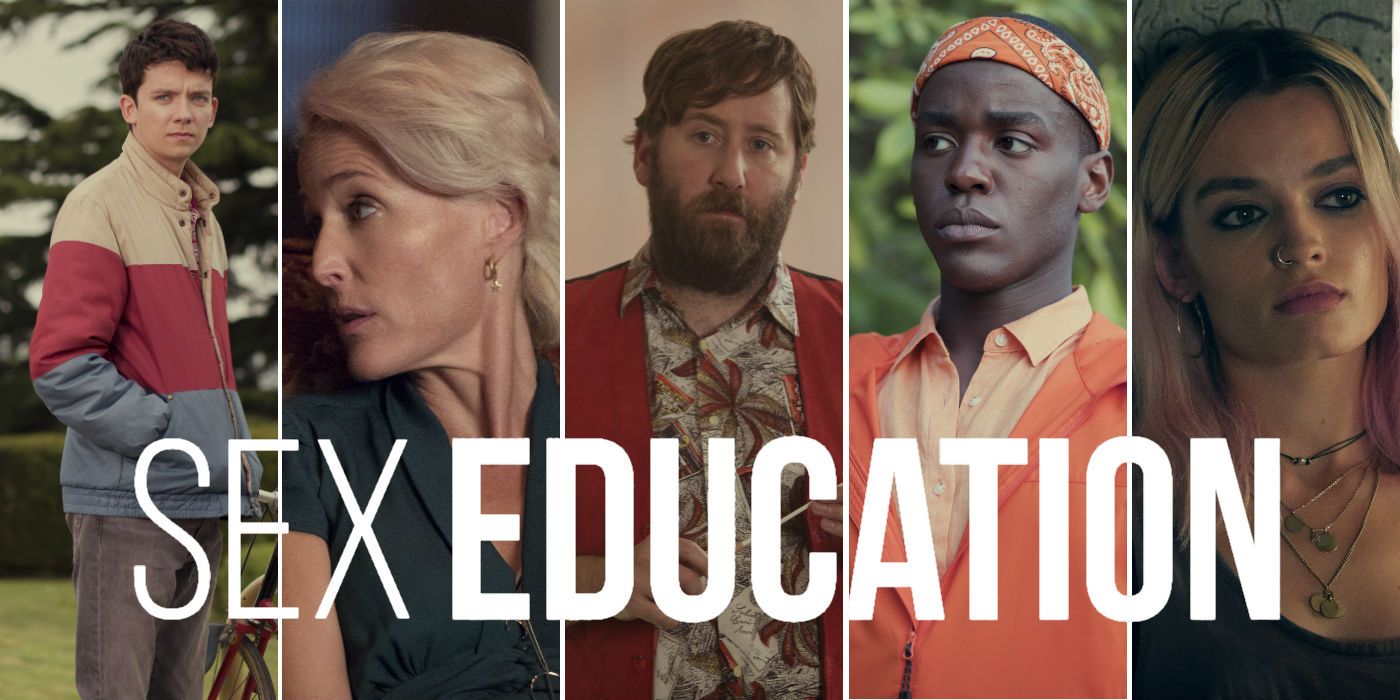 On January 11, Nexflix premiered Sex Education, a British series about hypersexual high school students looking for clarity and personal growth, and its cast of characters includes some very familiar faces. Just as Netflix's 2018 romantic comedy Set It Up immediately resonated with viewers for its fresh take on the genre, Sex Education has received strong reviews and already has people buzzing on social media.
Two months ago, Netflix premiered another comedy series, The Kominsky Method, which recently won a Golden Globe Award. But whereas Chuck Lorre's series features veteran male actors in Alan Arkin and Michael Douglas, Sex Education's main cast consists mostly of younger, on-the rise performers, aside from some familiar faces in supporting roles.
Related: 10 Underrated Shows To Binge On Netflix Right Now
Now that people have activated #BingeMode for Sex Education, let's break down all the main characters, the actors who play them, and where you might've seen them before. 
Asa Butterfield as Otis Milburn: The son of an open-minded sex therapist, Otis is a virginal high school kid who struggles with self-confidence and sexual desires. Ironically, he conducts morning sex therapy sessions for his classmates, too. Butterfield starred opposite Chloë Grace Moretz in Martin Scorsese's 2011 historical adventure film Hugo, and he also landed lead roles in Ender's Game and The Space Between Us.
Emma Mackey as Maeve Wiley: The so-called "Manic Pixie Dream Girl," Maeve lives in a trailer park but stuns people with her extraordinary intelligence. She's the mastermind of Otis' sex therapy sessions and also his secret crush. While Mackey may indeed look like Suicide Squad Margot Robbie, she's a relatively unknown actress, with only one previous credit to her name. 
Gillian Anderson as Dr. Jean F. Milburn: Undoubtedly the most knowledgeable character in terms of sex eduction, Dr. Milburn hopes to find love in her personal life while earning her son's trust. However, she keeps a close eye on Otis' activities - and for egotistical reasons it seems. Anderson is best known for playing Agent Dana Scully in the ABC series The X-Files, and she's also starred in popular series such as Hannibal and The Fall. 
Ncuti Gatwa as Eric Effiong: Struggling to find his place in the world, Eric is gay and lives with a conservative African family. He's Otis' best friend, but his outspoken behavior creates steady conflict both in and outside of school. With that said, Eric is often targeted by people whom are curious about his personality, even when he's not creating any blatant drama. Like the aforementioned Mackey, Gatwa has only a handful of credits to his name, most notably as Dougie in the 2015 mini-series Stonemouth.
Connor Swindells as Adam Groff: Truly a mysterious character, Adam speaks softly and carries a big stick, so to speak. In other words, he's known to have a large penis, and for being the headmaster's son. Adam passive-aggressively bullies Eric and watches the school's sex comedy play out from afar. In 2018, Swindells appeared in the feature films The Vanishing and VS.
Kedar Williams-Stirling as Jackson Marchetti: The prototypical jock with a varsity jacket, Jackson appears to have a perfect life. He maintains a sexual relationship with Maeve, much to the chagrin of Otis, and he also has two mothers. Jackson tries hard to impress Maeve, so much that he often appears disingenuous. Williams-Stirling previously starred in the TV series Wolfblood and Will.
Mimi Keene as Ruby: One of the series' "mean girls," Ruby carries herself like a Kardashian and plays a central role in a graphic social media snafu. On the surface, she's calculated but also looking for a loyal friend. Keene portrayed Cindy Williams on the series EastEnders and will soon appear in the feature films Close and Tolkien.
Mikael Persbrandt as Jakob Nyman: The love interest of Dr. Milburn, Jakob exudes masculinity and confidence, though he's also soft-spoken and gentle. His daughter shows interest in Otis, thus creating even more conflict for the two families. Persbrandt portrayed Beorn in The Hobbit: The Desolation of Smaug and The Hobbit: The Battle of the Five Armies. In addition, he recently starred as Alexander Zalachenko in The Girl in the Spider's Web.
This entry was posted by Screen Rant on January 13, 2019 at 11:01 am, and is filed under TV News. Follow any responses to this post through RSS 2.0. You can skip to the end and leave a response. Pinging is currently not allowed.