Sex Education Season 1's Ending Explained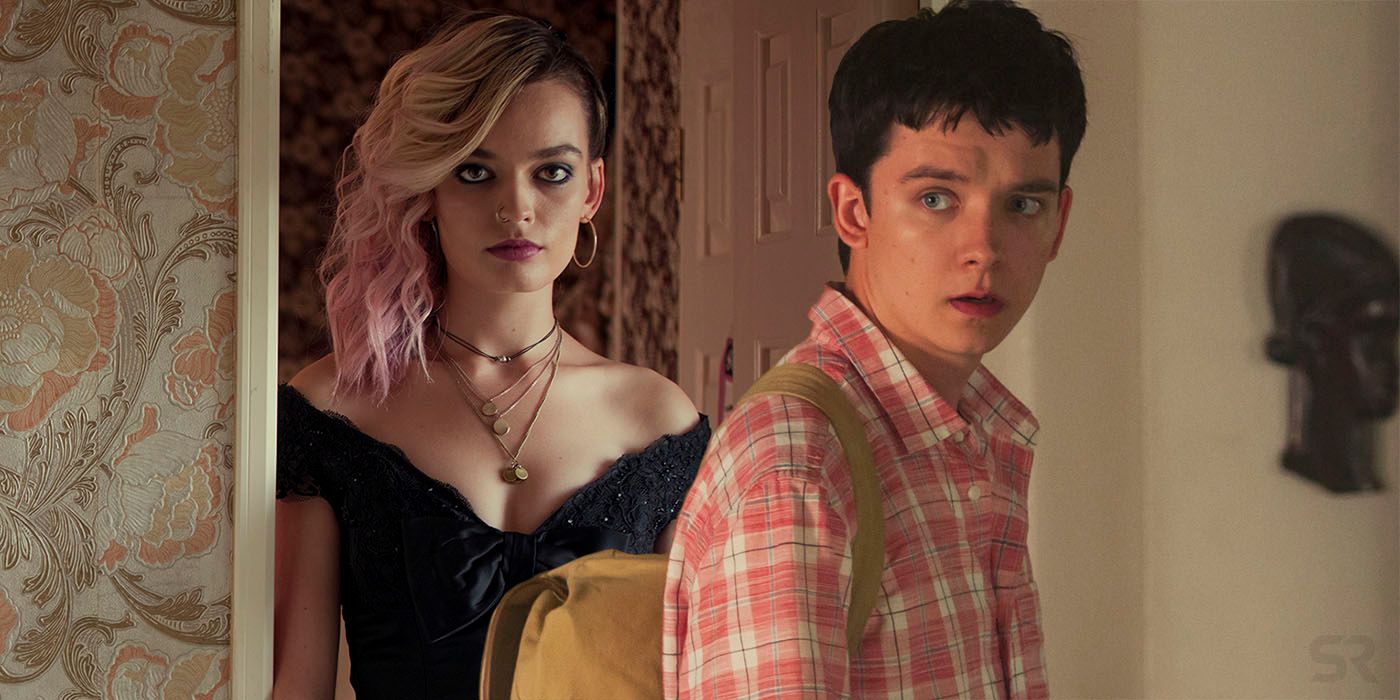 Last weekend, Netflix released the British comedy series Sex Education. Created by Laurie Nunn, the story of a sexualized secondary school has created buzz on social media, primarily for its blend of '80s nostalgia and American movie references. So, what happens at the end of Sex Education season 1, and what does it all mean?
In season 1, Sex Education establishes various relationships, with Asa Butterfield's virginal Otis at the forefront. As the son of Gillian Anderson's Dr. Jean F. Milburn - a well-known sex therapist - he seeks independence while using his knowledge for financial gain. At school, Emma Mackey's Maeve Wiley enlists Otis to offer sex advice to fellow students, thus creating a unique bond between the two primary protagonists.
Related: Wait, Where Is Sex Education Supposed To Be Set?
Meanwhile, several relationships blossom throughout Sex Education season 1. Otis' mother finds romance with handyman Jakob (Mikael Persbrandt), and Jakob's daughter Ola (Patricia Allison) shows interest in Otis. In addition, Otis' best friend Eric (Ncuti Gatwa) spends most of the season coming to grips with not only his sexuality, but with the man he wants to be in public. The same goes for the headmaster's son Adam (Connor Swindells), who presents himself as a socially detached bully while sorting through his sexual desires.
Here, we're going to break down Sex Education's season 1 ending, answer some of its unresolved questions, and look ahead to the characters' future in season 2.
This Page: The Romantic Lives of Otis, Maeve, Adam & Eric
What Happens At The End of Sex Education Season 1?
By the end of Sex Education's first season, Otis has moved beyond his sexual desire for Maeve. This allows him to give better sex advice at school, and his newfound confidence doesn't go unnoticed by Ola and one of the schools' most outspoken students, Lily (Tanya Reynolds), who wants to lose her virginity before graduation. By the penultimate episode, Otis and Eric resolve their lingering conflict after their strong friendship was temporarily disrupted by other relationships. 
For Maeve, the final episodes of Sex Education Season 1 emphasize the flimsy nature of her relationship with men. Though she's a strong, intelligent woman, she's been forced into independence too young and finds comfort in Jackson. Unfortunately, Jackson struggles with his own familial issues, and he doesn't necessarily appreciate the little things that mean so much to Maeve. For example, he fails to comment on her appearance before taking her to a school dance, though he's ready to strengthen a male bond with Maeve's enigmatic brother, Sean (Edward Bluemel). By the season finale, Sean leaves town while Jackson opens up to Maeve, though it's unclear if his feelings are genuine.
Related: What to Expect from Sex Education Season 2
At school, Otis earns his fellow students' trust, even gaining the title "Pleasure Master" from Maeve's loyal friend Aimee (Aimee Lou Wood). Otis seems to make a giant leap forward, and so does Eric upon receiving a loving gesture of acceptance from his father. In the Sex Education season finale, Eric must spend two hours in detention with none other than his bully Adam, and a physical confrontation ultimately ends with an intense sexual encounter.
Otis Has A New Love Interest... But Will Surely Return To Maeve
Near the end of Sex Education season 1, Ola identifies a connection between Otis and Maeve. Otis' reaction to Ola's line of questioning doesn't help matters, as he inadvertently insults her while showing his immaturity. 
Since Maeve and Jackson's relationship progresses forward (even if it's not built to last), Ola naturally feels more comfortable with Otis, and she understands that he's a virgin, just like herself. Their relationship could become awkward in Sex Education season 2, primarily because their parents are sleeping together, but they share a first kiss in the season 1 finale, with Ola representing the calming force in the relationship. She's gentle, patient, and understanding with Otis, though she doesn't realize that Maeve witnesses their big moment together.
After Maeve's brother leaves, her support structure weakens once again. She's able to fulfil her sexual needs through Jackson, yet she's clearly impressed by Otis' ability to show empathy and understanding towards fellow students. When Maeve finally decides to make a move, Ola has already secured a romantic bond with Otis. However, the Otis-Ola dynamic will likely be negatively influenced by the Dr. Jean-Jakob relationship in Sex Education season 2, mainly because it's actually Jean, not Otis, that doesn't seem ready to commit.
What's Adam & Eric's Future In Sex Education?
The entirety of Sex Education season 1 foreshadows the inevitable hookup between Adam and Eric. It not a matter of if they'll share a romantic moment, but when and how it will happen. The season begins with Adam failing to perform in the bedroom. During the subsequent episodes, he bullies Eric and stares at him passive-aggressively, clearly struggling with his feelings. At the school dance late in the season, Adam has a public confrontation with his father, thus making him even more vulnerable, and in need of emotional support. 
By the Sex Education season finale, Adam makes a romantic gesture towards Eric (after their sexual encounter during detention), though it's unclear if he's indeed interested in a relationship. However, the season ends with Adam being sent off to military school, leaving Eric to process yet another personal setback.
Jackson Is The Wildcard At The End of Sex Education Season 2
Though Jackson opens himself up to Maeve in the final episodes of Sex Education season 1, there's plenty of evidence to suggest that he's mostly interested in himself. That's not entirely his fault, as he experiences immense pressure to succeed as a swimmer, and as the school's preeminent athlete. 
Because a Maeve and Otis hook-up feels inevitable in Sex Education season 2, that makes Jackson the odd man out. When he's ultimately rejected by Maeve, it's not hard to imagine Maeve's brother Sean returning to defend his sister's honor. After all, the end of Sex Education season 1 accentuates a growing bond between Sean and Jackson. Some things are built to be broken, though.
Related: The Best Netflix Original Movies of 2018
At the school dance in Sex Education Season 1, Jackson acknowledges that he paid Otis for personal information about Maeve. That moment will likely come back to haunt him, and his unresolved personal issues suggest that he's not a person that easily accepts defeat.
Otis' Mental Health Depends On Dr. Jean
In Sex Education season 1, Otis manages to find a healthy line of communication with his mother. With that said, Dr. Jean blatantly disregards her son's request that she not sleep with Ola's father. So, it seems that Otis will suffer another setback when his evolving personal life parallels that of his mother. 
The final episode ends with Otis finally climaxing after a first kiss with Ola. In fact, he appears to levitate. Throughout the entirety of Sex Education season 1, Otis agonizes over sexual scenarios, all the while offering insightful advice to his peers. Now it seems he's finally able to help himself... so to speak.
Based on Ola's personality, she seems like someone that could be a life-long friend to Otis. She might even become his long-term girlfriend. Still, the ending of Sex Eduction season 1 implies that Ola's character arc probably exists to help Otis overcome his fears and anxieties about sex and relationships, thus making him ready to begin a relationship with the experienced Maeve.
This entry was posted by Screen Rant on January 20, 2019 at 12:01 pm, and is filed under TV News. Follow any responses to this post through RSS 2.0. You can skip to the end and leave a response. Pinging is currently not allowed.