Shazam! Merchandise Is Already Spoiling the Film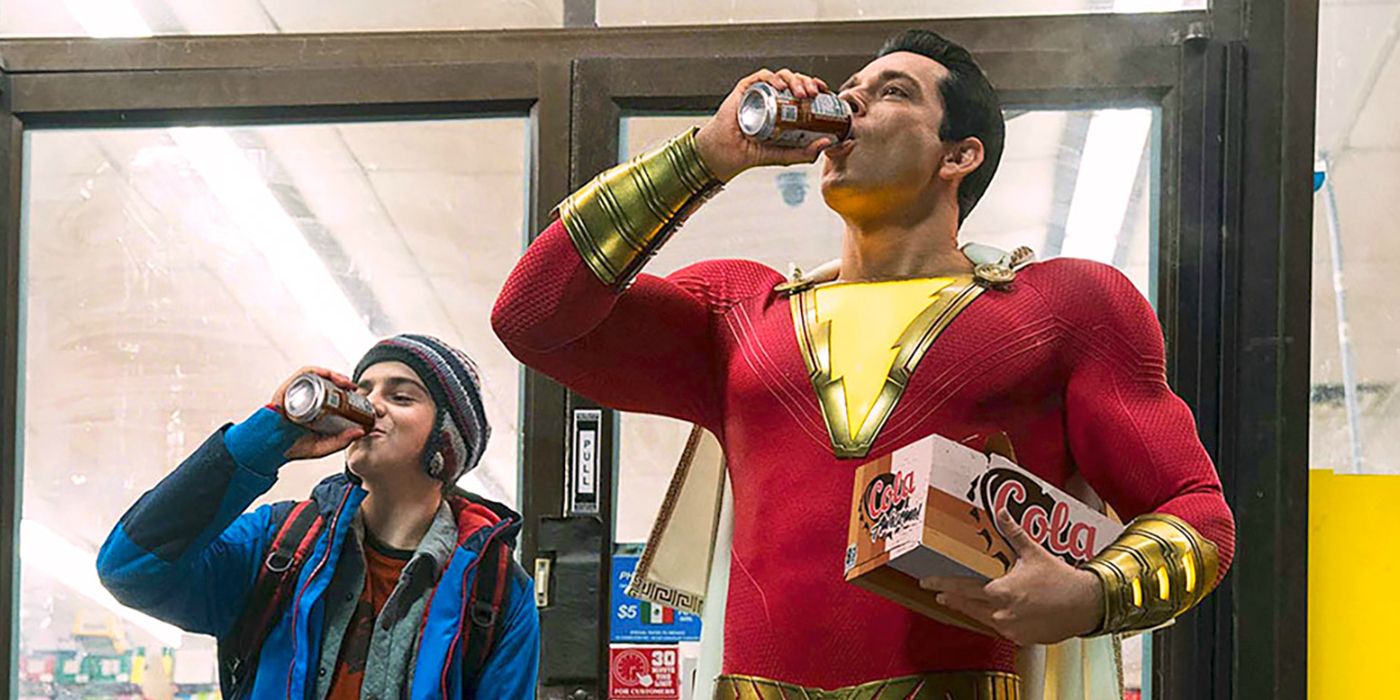 Following the release of a new Shazam! teaser earlier this week showing Zachary Levi's titular character battling Mark Strong's Dr. Sivana, new merchandise appears to possibly reveal more than Warner Bros. intended with regard to some of the film's other characters and their potential powers. Debuting on the heels of Aquaman's somewhat surprising commercial success, Shazam! is well positioned to add a jolt of humor and fun to a DC Extended Universe that is still predominantly seen as rather dark and gritty.
When it finally hits theaters in April, Shazam! will introduce audiences to Billy Batson (Asher Angel) - an orphan who has bounced around the foster system but eventually encounters The Wizard (Djimon Hounsou), which subsequently gives him the ability to transform into a full-grown superhero by saying the word "Shazam!" The trailer and new footage have already promised plenty of Levi, Angel, and Strong, whose chief villain will be a bit more of a physical threat than the classic brains-over-brawn Dr. Sivana, but there's also Billy's foster family. Jack Dylan Grazer has appeared to great comedic effect in promotional materials as foster brother Freddy Freeman, and the film has also confirmed - but not elaborated on - four other siblings: Mary Bromfield played by Grace Fulton, Eugene Choi played by Ian Chen, Pedro Peña played by Jovan Armand, and Darla Dudley played by Faithe Herman.
Related: Shazam Fan Art Shows Billy Batson's Connection to the Greek Gods
Now, thanks to images on CBR, it appears that two new figures from the film's Funko line of POP! toys have revealed that Billy's foster family will also get superhero personas. The merchandise displays figures labeled 'Eugene' and 'Darla,' and both are shown wearing costumes and capes that resemble Shazam's red superhero suit. Eugene's, however, is light gray with the lightning bolt chest and Darla's is purple with the lightning bolt chest. In the comic books, Billy is eventually able to share his powers with his foster brothers and sisters, creating the Shazam Family.
While Billy's siblings have been confirmed as part of the film for quite a while, it wasn't until earlier this year that the rumored appearance of the Shazam Family gained a ton of traction. It was again merchandise that may have spoiled the reveal, as a 32-page activity pad being created as a movie tie-in clearly featured multiple distinct superheroes on the cover. With other plot rumors suggesting that Billy could battle the Seven Deadly Sins in addition to Dr. Sivana, he may just need all the superhero help he can get.
Fans are more eagle-eyed than ever when it comes to clues for upcoming films, and it seems that time and time again toys are a prime culprit for reveals. While director David F. Sandberg may not have given away much in his Shazam! action figure post on social media, it would appear the same can't be said for the new Funko line.
Source: CBR
This entry was posted by Screen Rant on January 22, 2019 at 7:01 am, and is filed under TV News. Follow any responses to this post through RSS 2.0. You can skip to the end and leave a response. Pinging is currently not allowed.