She-Ra and the Princesses of Power Season 2 Premieres April 26 on Netflix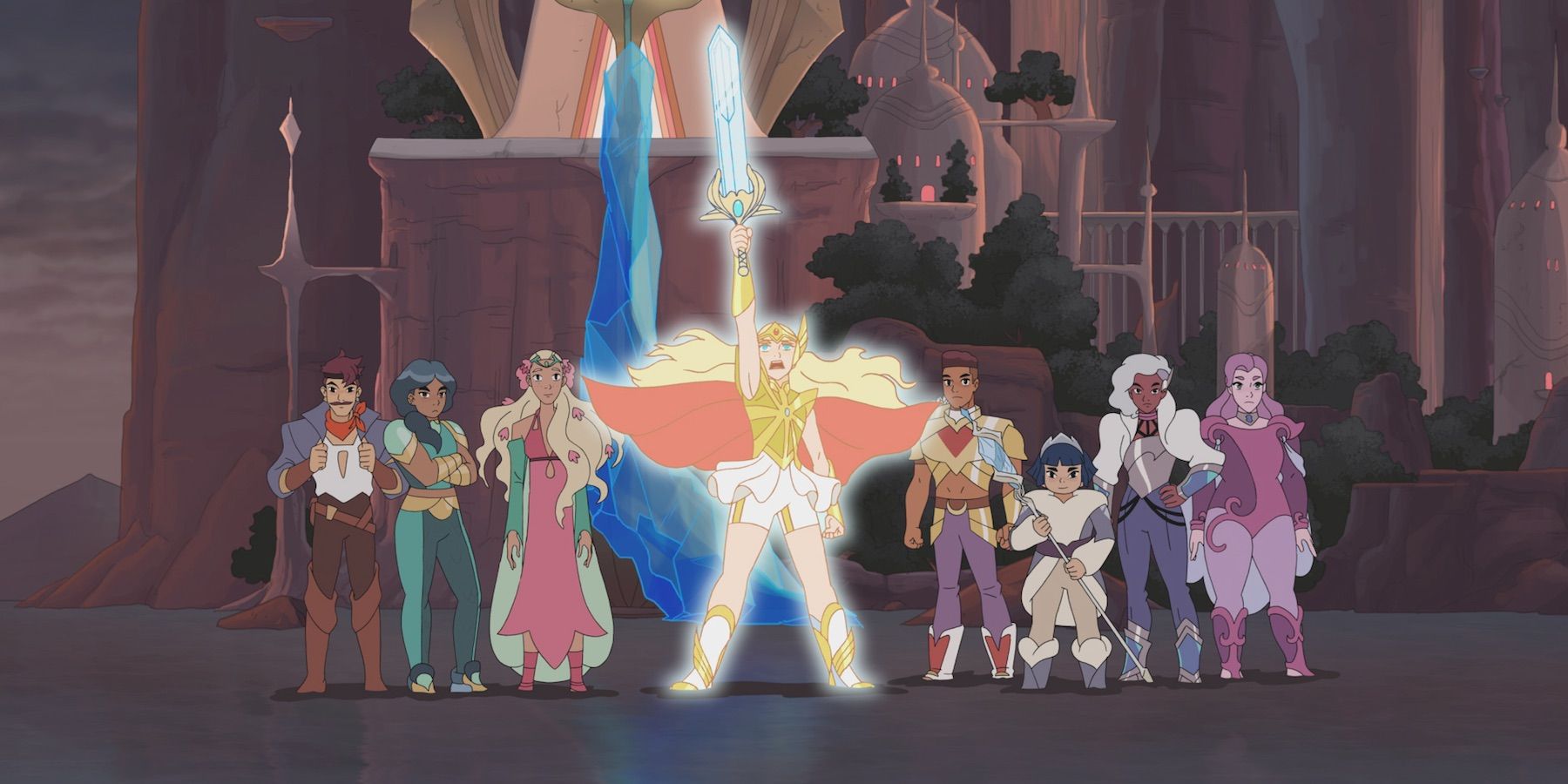 Netflix announces the She-Ra and the Princesses of Power season 2 release date is Friday, April 26. Netflix announced their reboot of She-Ra, a character related to He-Man in the classic 80s property Masters of the Universe, in late 2017. The series tapped Eisner Award-winning writer Noelle Stevenson (Lumberjanes, Nimona) to act as showrunner on the Netflix original and work began. Netflix unveiled the redesigned She-Ra in a first look at the series last summer, and there was backlash from certain fans of the original about how the character had been changed for the show. However, Netflix, Stevenson and She-Ra co-creator J. Michael Straczynski stood behind the redesign.
Despite that early backlash, the She-Ra and the Princesses of Power trailer out of New York Comic Con was such a hit Netflix ended up moving up the premiere date of season 1. Once the show was released in late 2018, the She-Ra reboot received praise from critics and viewers alike. As a result, it's unsurprising that Netflix has renewed She-Ra for season 2 and now fans eagerly anticipating the show's return have a premiere date for season 2.
Related: She-Ra and the Princesses of Power Season 1 Ending Explained
Netflix announced DreamWorks' She-Ra and the Princesses of Power season 2 will premiere on Friday, April 26 - just three months away. The news was revealed via with a video shared on the show's various social media accounts that includes a number of clips from season 1. Watch the video below.
Although no footage from She-Ra season 2 was included in the video announcement, fans can expect all their favorite characters to return. Last season left Adora (Aimee Carrero) having successfully united the various princesses of Etheria for a new princess alliance. She's joined by Glimmer (Karen Fukuhara), Perfuma (Genesis Rodriguez), Mermista (Vella Lovell), Frosta (Merit Leighton) Netossa (Krystal Joy Brown) and Spinnerella (Stevenson), as well as Bow (Marcus Scribner), to battle the Horde. Adora's former best friend Catra (AJ Michalka) leads her own team of enemies, including rogue princesses Scorpia (Lauren Ash) and Entrapta (Christine Woods). Though the season 1 finale saw She-Ra and her allies save Bright Moon, the Horde team lived to fight another day.
While there may be fans of the original She-Ra as she appeared in Masters of the Universe who don't enjoy the Netflix reboot, the series has already inspired a dedicated fan base. That's no doubt due in part to She-Ra's inclusion of LGBTQ characters - and based on a spoiler accidentally revealed during NYCC 2018, at least two more gay characters will arrive in season 2. Now at least fans know exactly when season 2 will premiere and how long they'll have to wait for more animated adventures with She-Ra and the Princesses of Power.
She-Ra and the Princesses of Power season 2 premieres Friday, April 26 on Netflix.
Source: Netflix
This entry was posted by Screen Rant on January 24, 2019 at 10:01 am, and is filed under TV News. Follow any responses to this post through RSS 2.0. You can skip to the end and leave a response. Pinging is currently not allowed.