SIX DAYS Exclusive Preview: DC Vertigo's 'Untold' War Story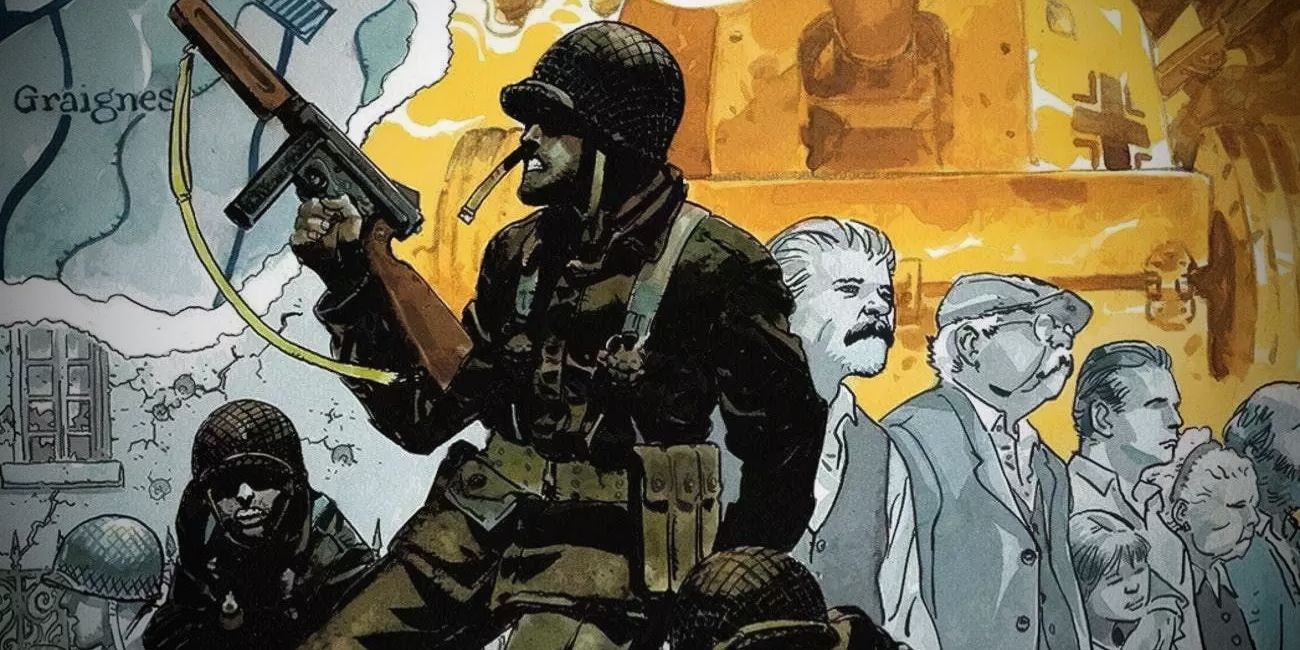 This year marks the 75th anniversary of the historic D-Day invasion, and DC Vertigo is marking the occasion with a new graphic novel, SIX DAYS: THE INCREDIBLE TRUE STORY OF D-DAY'S LOST CHAPTER, intended to shine the light on a largely untold story of World War II. One that may have played a larger role in the war than most realize, and one which holds a unique meaning for one of DC's current writers.
When we recently had the chance to speak with Freedom Fighters writer Rob Venditti, he explained the fortuitous timing of his wartime-team reboot. Not only was he telling the story of the fictional Nazi-fighting superheroes, but putting a very real story to print in the form of SIX DAYS. The story of a group of soldiers dropped behind enemy lines, and the humanity found amidst the backdrop of Operation Overlord. A story in which Venditti's own uncle was, and will be a player. And it's our pleasure to offer the first look inside this "lost chapter."
RELATED: Our Interview With FREEDOM FIGHTERS' Rob Venditti
Ahead of the official solicits, readers can get an early glimpse of the first artwork from Andrea Mutti, depicting the soldiers thrown off-course during their D-Day air drop. We'll have more from the writers and artist on what readers can expect after the jump, but for now, take a look at the official synopsis for SIX DAYS and the preview artwork below.
In the worst mis-drop of the D-Day campaign, a group of soldiers are rattled to the core when they find themselves lost in a small village in France with the enemy lurking near. Miraculously, the citizens of Graignes vote to feed and shelter the soldiers, knowing that the decision would bring them terrible punishment if their efforts were discovered by the Germans. This is the story of what happened during the next six days, ending in a battle that altered the course of the D-Day campaign.
There is never a shortage of Normandy or D-Day stories to be found in TV or films, and the 75th anniversary of the historic operation will surely be no different. But for Robert Venditti (Hawkman, Hal Jordan and the Green Lantern Corps) who will be co-writing the graphic novel with author Kevin Maurer, this story is anything but 'another war story.' In fact, as incredible as it may seem, Venditti explains that its connection to his own family was discovered almost completely by chance:
This is a deeply personal project. My uncle fought in the Battle of Graignes and appears as a key character in the book. For over seventy years, my family didn't know what happened to him. Then I discovered a letter written to my great-grandmother by one of Uncle Tommy's war buddies, and this remarkable story of heroism and community was revealed. For my family, Uncle Tommy, and all the soldiers and villagers who took part in the important events at Graignes, I wanted this story to be told.
Those who already know the story of The Battle of Graignes don't need to be told of its impact, nor the burden willingly accepted by the French residents. But for Mutti, a trip to the location in person has also made the artwork something special:
As it was based on real events, SIX DAYS was a unique experience for me. While visiting the town in which this story took place, I couldn't help but be inspired by the bravery of the soldiers and the villagers who faced such incredible odds—and faced them together.
There are countless battles to study involving waylaid paratroopers, the Normandy invasion, and ensuing battles on D-Day and beyond - and each one of them could be the basis of a compelling story. But by bringing just one of these true stories to life in detail, it seems that SIX DAYS will do more than commemorate an anniversary. As personal as this graphic novel may be, the synopsis - suggesting that one battle, in one town, could change the course of the war - may speak volumes to those who lived, fought, and died in "untold chapters" just like this one.
Readers can see the story unfold for themselves when the graphic novel is released ahead of the 75th anniversary of D-Day on May 14th, 2019. Until then, read on for the full synopsis and details below:
SIX DAYS (2019) #1
Published: May 14th, 2019
Writer: Robert Venditti, Kevin Maurer
Art: Andrea Mutti
Cover: R.M. Guéra
June 6, 1944. D-Day. One hundred and eighty-two paratroopers from the United States Army parachuted into the French countryside a full 15 miles southeast of their intended target and deep behind enemy lines. This original graphic novel from DC Vertigo is based on the true story of the village of Graignes, France, and how a devastating war and unlikely circumstances brought these American soldiers and French villagers together.
SIX DAYS #1 will be available on May 14th, from DC Vertigo.
This entry was posted by Screen Rant on January 20, 2019 at 4:01 am, and is filed under TV News. Follow any responses to this post through RSS 2.0. You can skip to the end and leave a response. Pinging is currently not allowed.