Spider-Man: Far From Home – Every Update You Need To Know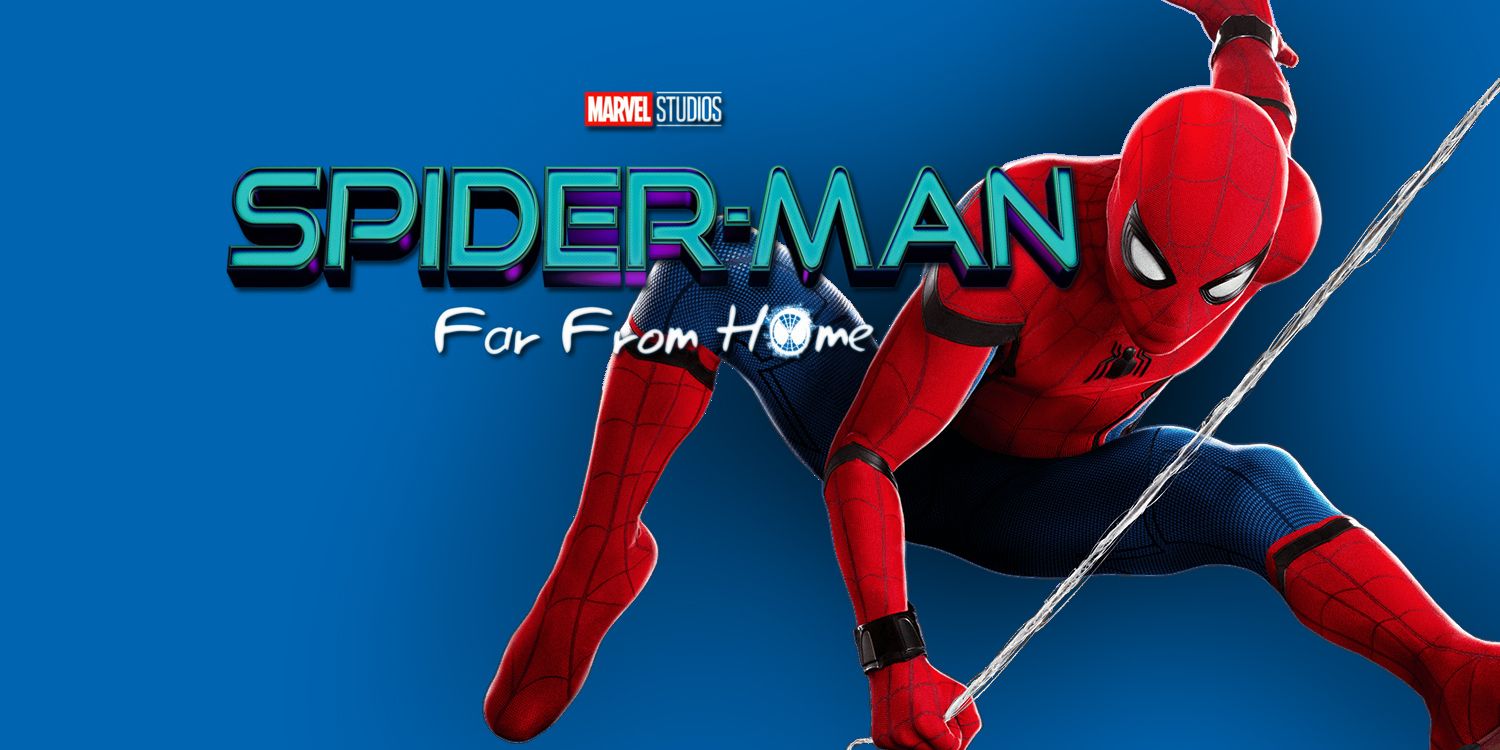 Straight after Avengers 4 comes Spider-Man: Far From Home. The sequel to 2017's Spider-Man: Homecoming, Jon Watts' follow-up is the second film in the Marvel-Sony deal to share the character, and will see Peter Parker leave New York City behind for Europe on a summer vacation. Tom Holland is back as Peter Parker, and he's set to go up against some seriously powerful new villains, including Jake Gyllenhaal's Mysterio.
Release Date: July 5, 2019
Confirmed Cast: Tom Holland, Samuel L. Jackson, Jake Gyllenhaal.
Director: Jon Watts
Writers: Chris McKenna and Erik Sommers
Last Updated: 01/17/2019
Tom Holland's Spider-Man Returns in Spider-Man: Far From Home
According to Marvel's Kevin Feige, Tom Holland's Spider-Man has a five-movie storyline in the MCU. The character was introduced in 2016's Captain America: Civil War, and he absolutely blew fans away. This was a Spider-Man never seen on the big screen before: a teenage superhero who was new to his powers, freshly exposed to a world of superheroes. The new Spider-Man was struggling to balance his superhero activities and his everyday life, right down to telling Tony Stark he couldn't go to Germany - he had homework to do! 2017's Spider-Man: Homecoming followed the same formula, with director Jon Watts creating a high-action teenage adventure in the style of John Hughes. The story continued in Avengers: Infinity War, but took a tragic twist, with Spider-Man one of the heroes believed killed when Thanos snapped his fingers. We can presume he'll be resurrected in the as-yet-untitled Avengers 4, which will then lead on into the Homecoming sequel.
Read More: Why Tom Holland 'Leaked' The Spider-Man: Far From Home Title
Far From Home Is the Second Part of a Trilogy
In 2014, Marvel's Kevin Feige approached Sony with the idea of bringing Spider-Man into the MCU. Marvel proposed that Sony should keep the license; the studio would pay for the movie, distribute it, and market it. Marvel, however, would make the film on Sony's behalf. What's more, they'd be able to incorporate Spider-Man into the MCU. Sony initially rejected the proposal, preferring to continue making their own films. The box office failure of The Amazing Spider-Man 2 forced the studio to reconsider, especially after their discussions with Marvel went public when Sony was hacked in late 2014. Sony convened a Spider-Man summit in February 2015, and agreed to accept Marvel's proposal.
The original deal was for Marvel to make a Spider-Man trilogy, with a new film releasing every two years. Spider-Man: Homecoming released in 2017, Spider-Man: Far From Home is due for release in 2019, and Tom Holland has confirmed a third film is in the works - presumably to release in 2021.
Read More: How Kevin Feige Convinced Sony to Lend Spider-Man to Marvel
Who Else is Back In Spider-Man: Homecoming's Sequel?
Certain key characters will return for Spider-Man: Far From Home, including Marisa Tomei's Aunt May, Jacob Batalon's Ned Leeds, and Zendaya's Michelle, as well as some of Peter's other classmates. There have been rumors that Laura Harrier will return as Liz Allen too, although she seemed to have been written out at the end of Homecoming. Samuel L. Jackson and Cobie Smulders will reprise their roles as dogged former S.H.I.E.L.D. agents Nick Fury and Maria Hill, and Jon Favreau will also be returning as Tony Stark's right-hand man, Happy Hogan.
Read More: Spider-Man: Far From Home Synopsis Confirms Peter Is Working For Fury
Spider-Man: Far From Home Will Feature The Elementals
While Spider-Man: Far From Home will introduce the first big-screen version of classic Spider-Man rogue Mysterio, he won't be the only villain featured in the movie. So far we've seen three of the Elementals (though there may be more): Hydron, the lord of water; Magnum, the master of earth; and Hellfire, wielder of flame. Interestingly, however, Easter eggs in the Far From Home trailer linked each of these Elementals to other Marvel rogues with corresponding powers - Hydro-Man, Sandman, and Molten Man. It's possible that the Elementals in the movie will be an amalgam of different characters.
Read More: Spider-Man: Far From Home Easter Eggs Reveal Elemental Villains Real Identities
Mysterio is the Villain of Spider-Man: Far From Home
It's been that confirmed that Mysterio is the main villain of Spider-Man: Far From Home, and will be played by Jake Gyllenhaal. Mysterio is a classic Spider-Man rogue: a special-effects wizard who's dedicated himself to a life of crime. It's important to note that Mysterio and the Vulture typically move in the same circles in the comics. In fact, both have strong connections to the Tinkerer, who in the movies has been a member of the Vulture's gang and was still a free man at the end of Homecoming. That makes the introduction of Mysterio a logical, organic development in the Spider-Man franchise. The fact Marvel has already introduced three members of the Sinister Six hasn't gone unnoticed either; there's a clear sense of direction to this.
Mysterio won't be a straightforward villain, however. In fact, just like his first appearance in the comics, he will at first present himself as a superhero, and he will even team up with Spider-Man to fight the Elementals. We're obviously anticipating a heel turn at some point in the movie, since it would be a bold move to make Mysterio a full-blown hero, but for now his motivations remain cloudy.
Read More: Who Is Mysterio? Spider-Man: Far From Home's Villain Explained
Marvel May be Casting Gwen Stacy for Spider-Man: Far From Home
There have been intriguing rumors that Marvel is conducting auditions for the part of Gwen Stacy. Two audition tapes have leaked, each showing a little-known European actress auditioning for the part. It's prompted speculation that Marvel could reinvent Gwen as a foreign exchange student who pays a visit to Peter's school. Given fans had expected Zendaya's Michelle to become the primary love-interest in the sequel, Gwen appearing on the scene would certainly throw a spanner in the works!
Read More: Spider-Man: Homecoming Sequel Introducing Gwen Stacy?
Who Else is Joining the Cast of Spider-Man: Far From Home?
So far, there have been relatively few new casting announcements for Spider-Man: Far From Home. J.B. Smoove has joined the cast and appears to be playing one of the teachers who accompanies Peter and his classmates on the school trip. Smoove actually played alongside Holland in an Audi commercial back during marketing for Spider-Man: Homecoming, and the two actors had a strong and entertaining dynamic.
The Story of Spider-Man: Far From Home
Spider-Man: Far From Home is set in the summer, with Peter and some of his friends going to Europe for a summer vacation. Robert Downey Jr. played a major role in Spider-Man: Homecoming, but this time around it will Nick Fury who watches over the young superhero's progress - and recruits him for a new mission. That mission involves teaming up with a mysterious new "superhero" called Mysterio against a collection of powerful enemies called the Elementals.
There have been consistent reports Marvel is casting a "femme fatale" for the movie. Evidence is building that this character may be Jessica Drew's Spider-Woman, although her role is uncertain. According to Spider-Man: Far From Home editor Dan Lebental, the film will be "both grander in scale and even funnier than the last one." Here's the official synopsis:
Peter Parker and his friends go on summer holidays to Europe. However, the friends will hardly be able to rest - Peter will have to agree to help Nick Fury uncover the mystery of creatures that cause natural disasters and destruction throughout the continent.
Read More: Spider-Man: Far From Home Will Deliver On An Andrew Garfield Promise
There Won't Be Connections to Venom and Silver & Black
After months of confusion, it's now been officially confirmed that Sony's Spider-villain spinoffs won't be considered part of the wider MCU. There are rumors Tom Holland will actually make a cameo in this year's Venom, but that won't be enough to consider them canon.
Read More: Silver and Black's Marvel Villains Revealed!
Jon Watts Returns as Director
In July last year, there were reports that Jon Watts was in talks to return as director of the Homecoming sequel. Those were confirmed by Kevin Feige at Brazil's Comic-Con (CCXP). Nobody was particularly surprised; Homecoming was a tremendous success, and Watts certainly got the feel for everybody's favorite wall-crawler.
Chris McKenna and Erik Sommers Have Written the Script
2017 was a good year for Chris McKenna and Erik Sommers. It saw a number of their scripts become blockbuster hits, including The Lego Batman Movie, Spider-Man: Homecoming, and Jumanji: Welcome to the Jungle. The duo also teamed up on Marvel's Ant-Man and the Wasp, which is due out in July. Sommers and McKenna appear to have become key players in Marvel, and have been hired to write the script for the Homecoming sequel too.
Read More: Spider-Man: Homecoming Writers Are Returning For the Sequel
Filming Wrapped In October 2018
Pre-production on the Homecoming sequel began in August 2017, and filming began in London in early July 2018. Homecoming was filmed under the working title "Summer of George," a reference to Seinfeld. The sequel, curiously enough, has been given the working title "Fall of George." The film was shot in several locations around Europe, though the biggest chunk of on-location filming took place in Venice, Italy.
In mid-October 2018, Holland confirmed that filming on Spider-Man: Far From Home had wrapped, sharing a photo of himself a co-star Zendaya that featured the new design of Spider-Man's suit.
Read More: Tom Holland Returns As Peter Parker In Far From Home Set Photos
The Spider-Man: Far From Home Trailer Is Here
The first trailer for Spider-Man: Far From Home has now been released, offering our first look at Jake Gyllenhaal's Mysterio (both with and without his fishbowl helmet), and teasing an exciting overseas adventure for Peter and his friends. An international trailer has also been released with a slightly different opening, including a scene in which Peter awkwardly gets caught with his Spider-Suit at the airport security checkpoint.
Read More: Spider-Man: Far From Home Trailer Breakdown - 49 Story Reveals & Secrets
Spider-Man: Far From Home's Official Poster Has Been Released
The first poster for Spider-Man: Far Fom Home focuses on all the exciting destinations that Peter and his friends will visit during their school trip: the Swiss Alps, Berlin, London, Prague, and Venice. Based on the trailer, it seems as though the bulk of the action will take place in Venice, where the production spent a considerable amount of time filming. The Elementals and Mysterio are going to wreak some serious havoc on the historic island city.
Related: Sony's Three Spider-Man Movie Universes Explained
More News on Spider-Man: Far From Home
Other Upcoming Marvel Movies
This entry was posted by Screen Rant on January 17, 2019 at 4:01 am, and is filed under TV News. Follow any responses to this post through RSS 2.0. You can skip to the end and leave a response. Pinging is currently not allowed.