Spider-Man: Into the Spider-Verse Has a Japanese Spider-Man Cameo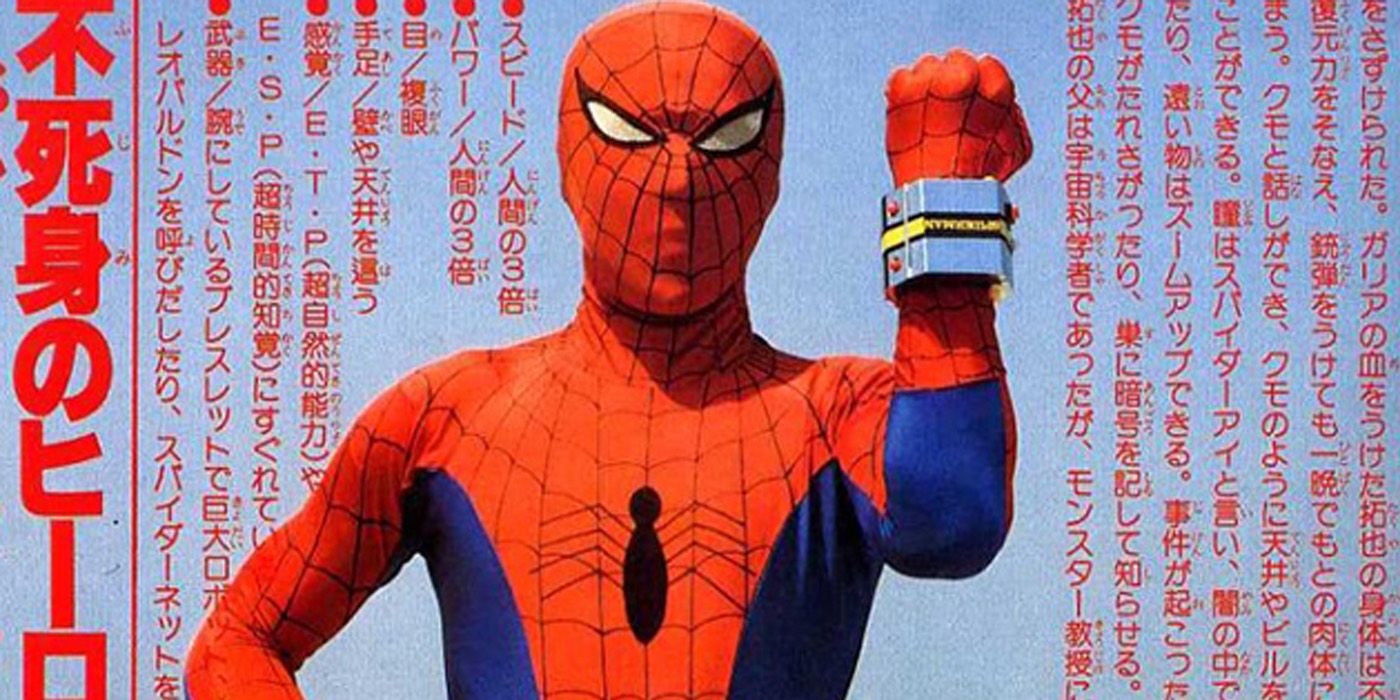 Japanese Spider-Man a.k.a. Supaidāman has a cool cameo you may have missed in Spider-Man: Into the Spider-Verse. The popular variation of the web-slinging hero from the 1967 Spider-Man cartoon is fans' top pick for new iterations of the character to show up in the sequel, and it turns out, he's already made an appearance in the first film.
Into the Spider-Verse wasproduced by Phil Lord and Chris Miller and directed by Bob Persichetti, Peter Ramsey, and Rodney Rothman introduced fans to the Spider-Man multiverse. While the film's story centered on Miles Morales' (Shameik Moore), it debuted a slew of other Spider-people such as Spider-Gwen (Hailee Steinfeld), Spider-Ham (John Mulaney),  Spider-Noir (Nicolas Cage), Peter Parker (Jake Johnson), and Peni Parker (Kimiko Glenn). Together, they stopped Wilson Fisk/Kingpin's (Liev Schreiber) messing up realities. In the end, all heroes return to their respective dimensions, but Miles' future adventures could see him again teaming up with some of them, as well as other Spider-people he hasn't met yet - like Supaidāman.
Related: Spider-Man: Into The Spider-Verse Suits, Ranked Best To Worst
Into the Spider-Verse animator, Nick Kondo revealed on Twitter (via CBR) Japanese Spider-Man's easily overlooked cameo. Posting a segment from the beginning of the film where Miles was rushing to pack up his things for school, the camera pans on his drafting table and when he lifted his sketchbook, which has an interesting drawing on it. The artist didn't keep his fans waiting for an answer with the back half of the video a clip from the '60s TV series, confirming that it's indeed Japanese Spider-Man.
Assuming that Japanese Spider-Man makes an appearance in Spider-Man: Into the Spider-Verse 2, the flick can be even more inclusive. The post-credit scene of Into the Spider-Verse teased Miguel O'Hara aka Spider-Man 2099 voiced by Oscar Isaac and with him having the interdimensional transporter that would allow multi-universe traveling without the risk of destroying certain realities like Kingpin's device. Miles is confirmed to return for the sequel, as well as Gwen Stacy as its narrative is expected to focus on their romance. It will also be exciting to see him team up with Peni if she returns in the sequel.
As previously noted, fans have been clamoring for Japanese Spider-Man to appear in the inevitable  Into the Spider-Verse 2. The campaign even reached co-producer Lord, who struck a deal with the public that if the first film crosses $200 million domestically (current haul at $147 million), the fan-favorite character will appear in the sequel. But with the reveal that he's already teased in Spider-Man: Into the Spider-Verse, it seems like people behind the franchise were already planning on introducing him in the follow-up.
What's curious to know is how Miles can possibly be aware of Supaidāman. He drew the illustration before he was exposed to the multiverse and in his reality, only Chris Pine's version of the character supposedly exists. Perhaps the animated series was also part of his dimension. Regardless, fans will be more than thrilled to see more of Japanese Spider-Man on the big screen and see what he brings to the table in this budding franchise.
Source: Nick Kondo (via CBR)
This entry was posted by Screen Rant on January 14, 2019 at 8:01 am, and is filed under TV News. Follow any responses to this post through RSS 2.0. You can skip to the end and leave a response. Pinging is currently not allowed.