Spider-Man: Into The Spider-Verse Suits, Ranked Best To Worst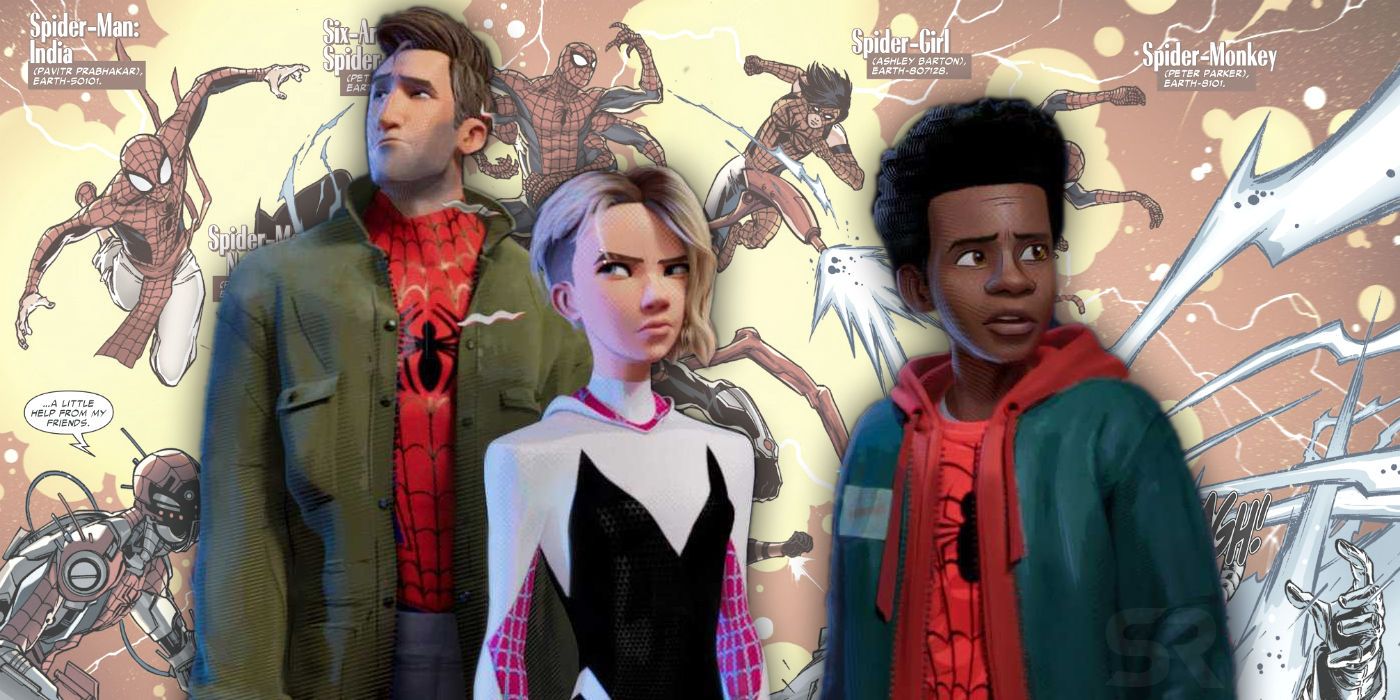 Anyone can wear the mask. That's Spider-Man: Into the Spider-Verse's mantra. The Marvel flick has accrued ample critical acclaim, including a recent Golden Globe win for the Best Animated Picture. In part, that's due to its mesmerizing and lush 3D comic-style animation. It's ever-shifting with mood and packed with New York City neon.
Each Spidey iteration feature brings their own vibe and style to the table. Set in a dazzling multiverse, the film's premise was inspired by Marvel Comics' 2014 Spider-Verse, in which dozens of spider-folk across dimensions are under attack by villain Morlun.
But in this storyline, only six spider-people collide. Seven, if you count too-perfect and blonde Peter Parker, who dies early on in the film. Not in the know? The film's focus is on Miley Morales, a Brooklyn high-schooler who gets bitten by a radioactive spider while slapping up graffiti in the boroughs of the New York City subway.
That's where the lumbering (and villainous) Kingpin also happens to be opening portals to other dimensions in the personal hope of finding a timeline where his dead wife and son are alive.
RELATED: Spider-Verse is the First Movie to Properly Understand the Meaning of Spider-Man
Opening that rift, though, rips other Spideys from their home. If it's opened again—and for long enough—all of New York City is at risk of being destroyed.
Each take on the iconic superhero comes with their own vibe and style. The animation shifts with each character, since they come from different worlds and brim with different backstories. Sure, anyone can wear the mask — but here's our ranking of who wears it best. 
6. Miles Morales
Throughout the film, we see Miles (voiced by Shameik Moore) wear a multitude of masks. At first, he picks up a mere Spider-Man costume—the kind that ties in the back and, honestly, kind of looks like PJs—but Miles hasn't yet come to terms with his ability.
The legend of Spider-Man essentially represents the idea that an everyday person can become a hero. The suit is the mechanism that ushers every Spidey to hero-status. Miles is an awkward, fumbling teenager with a love for street art and hip-hop. In the first half of Spider-Verse, he's trying to imitate what he thinks a hero needs to be. The rest of the spider-crew cast him as young and not yet in control of his powers. So, at the climax, they leave him.
The beauty of Miles' character is that we get to see him come to terms with his ability and become the hero he wants to be — not a projection. This moment is shown through his suit. Aunt May gifts him with one of Peter's, but he makes it with his favorite medium: a can of spray-paint. It's modern and sleek. It's imbued with a street-style sentiment, which is a perfect fit for a Brooklyn teen that spends his downtime listening to Post Malone and Swae Lee.
RELATED: Into the Spider-Verse's Stan Lee Cameo Is One Of The Best
5. Peter B. Parker
Without Peter, none of these other iterations would exist. He gets major points from me for being the original innovator of the suit itself. Plus, it is iconic. Red and blue mesh together on the stretchy jumpsuit; black web-like lines meet together in the center, where an image of a spider splays on his chest.
But Peter's image is also the most versatile. When they all converge in the Spider-Cave, there are a plethora of suits. All of them harken back to a different era of Spider-Man. For example, there's the Big Time Costume, which is mostly black with lines that glow red, blue, or green. And despite all the different storylines and takes, Peter's classic blue-and-red getup is still the most recognizable.
RELATED: Every Spider-Man Suit Peter Parker Has In Into The Spider-Verse
It should also be noted that this film's main Peter Parker is the oldest version audiences have seen in any big-screen adaptation. He's middle-aged, has a bit of a gut, and is divorced from Mary Jane. Aside from the iconic getup, he also sports slouchy sweatpants for most of the film. Honestly, that just makes him more relatable.
4. Spider-Gwen
Gwen is guarded and tough, but underneath that she's still a kid who lost her best friend and closest confidant. By the end of Spider-Verse, we see her open up to the other spider-folks, especially Miles. Her suit is a manifestation of this emotional contrast. 
White and black converge on her hooded suit, which has lines with a web-laced pop of pink. Since Gwen is also in a band, it's not surprising that her suit feels the edgiest out of the crew: it's got pop-punk flair and a riot attitude. She also sports teal ballet shoes that lace up elegantly just above her ankle. The sleek style is remarkable when it's in motion. The mix of vivid neon and stark neutrals mirrors NYC's palette; when she swings, she becomes a part of the landscape. 
3. Peni Parker
Unlike the other versions, Peni Parker (Kimiko Glenn) doesn't actually have any superpowers herself. Instead, she's physically linked to a hulking robot via a—you guessed it—spider bite. So in terms of sheer ability, Peni's suit has the most digs. Both she and the bot are drawn in an anime style, which makes them stylistically stand out from the pack. The suit itself is the traditional blue and red, with a screen as a face that flashes emoticons to communicate.
Her origin story is the brainchild of Gerard Way who penned Edge of Spider-Verse #5. If you've ever gone through an emo phase, it makes Peni that much cooler. That being said, she feels more like a spin-off of Iron Man or a cousin to the Transformers series — radioactive spider aside.
2. Spider-Man Noir
The character itself isn't explored as in-depth as some of the others, so in terms of character arcs, there aren't many. However, since he is entirely black-and-white, the colors that enshroud him create a fascinating juxtaposition, making his drain of color noticeable anywhere he slings. When he's thrown into this universe's world of color, he's confounded by the concept via a Rubix cube, which he inevitably takes back to his world. Pluck Spider-Man Noir out of this world and into his own, and you'd likely find him chain-smoking in a hazy office or pointing the barrel of a gun at his foes while snarling something witty.
RELATED: Spider-Verse's Black & White 'Spider-Man Noir' Is More Important Than He Looks
1. Peter Porker
Peter Porker, voiced by stand-up comedian John Mulaney, is also known to the world as Spider-Ham. Honestly, I'm a huge fan of Mulaney, and Peter Porker is hilarious. He's just a friendly neighborhood Spider-Ham, but stylistically, he rings in at the bottom. The animation in Spider-Verse is dazzling and elevated, but Porker is rendered in Looney Tunes style art.
There's not necessarily anything wrong with that, but when compared to the rest, Peter Porker boils down to a punchline. That being said, Spider-Ham's spice of comic relief brings a lot of joy to the movie. He's tiny, scrappy, wise-cracking and—against the lush, beautiful animation—ridiculous looking. We love him anyway.
NEXT: John Mulaney Pitches Spider-Ham: Investigative Reporter Solo Movie
This entry was posted by Screen Rant on January 12, 2019 at 5:01 am, and is filed under TV News. Follow any responses to this post through RSS 2.0. You can skip to the end and leave a response. Pinging is currently not allowed.