Star Trek: Discovery Season 2 New Cast & Character Guide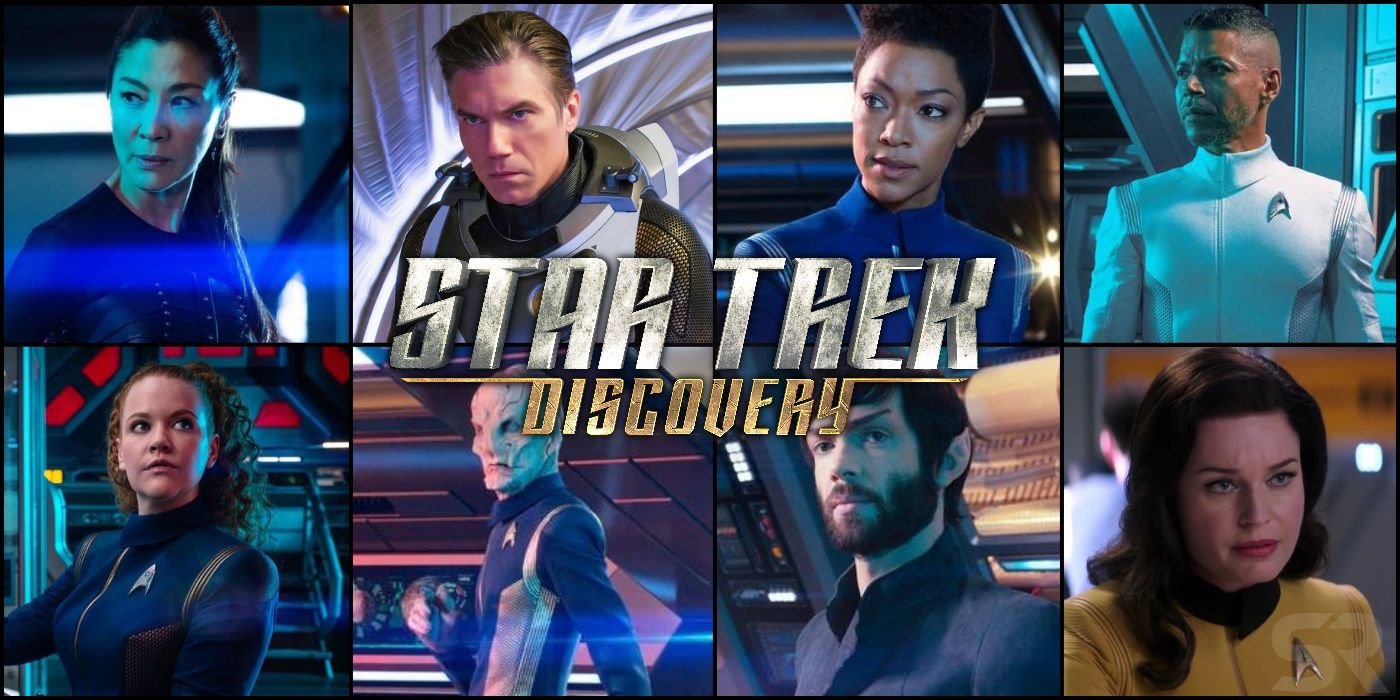 Here's who's returning and who's joining the cast of Star Trek: Discovery season 2. The flagship series of CBS All-Access picks up where the events of Star Trek: Discovery season 1 left off and launches the crew of the Discovery on a new mission to uncover a mysterious entity threatening the galaxy.
Star Trek: Discovery was praised for its cinematic visuals but also drew fan ire for the notable changes it made to established Star Trek canon, such as the way the prequel reimagined the Klingons. Star Trek: Discovery season 1 was also a show about war that some found incredible but hardcore Trekkers felt flew in the face of Star Trek's mission of exploration. However, season 1's theme turned out to be an examination of Starfleet's very identity and reaffirmed the ideals of Star Trek before ending in a cliffhanger where the Discovery came face-to-face with the Starship Enterprise.
Related: Star Trek: Discovery Has No Plans To Introduce Captain Kirk
With Star Trek: Discovery season 2 promising a bit more fun and adventure while also introducing iconic Star Trek characters, like Captain Christopher Pike and Mr. Spock, here's who will be on board for the next 14 episodes the series:
Star Trek: Discovery's Main Cast & Characters
Sonequa Martin-Green as Michael Burnham - Burnham redeemed herself after starting the Klingon War and regained her rank as Lieutenant Commander at the end of Star Trek: Discovery season 1 but the appearance of the Starship Enterprise reopens old wounds with her adoptive brother Spock. Martin-Green made her name on The Walking Dead before taking the role of Star Trek: Discovery's lead character.
Doug Jones as Saru - The Kelpian Commander serves as acting captain of the Discovery. As an actor, Jones is a famed chameleon who has appeared incognito in Hellboy and The Shape of Water.
Anthony Rapp as Paul Stamets - Stamets is Discovery's Chief Engineer and genius inventor of the revolutionary spore displacement hub drive. Rapp is an actor and singer who originated the role of Mark Cohen in Rent on Broadway.
Mary Wiseman as Sylvia Tilly - Fan favorite Tilly is an Ensign who has been accepted into Starfleet's Command program. Wiseman appeared in Baskets and Longmire.
Wilson Cruz as Hugh Culber - Dr. Culber was murdered in season 1 but this hasn't stopped Cruz from being promoted to series regular in season 2. Cruz is best known for playing Rickie Vasquez on My So-Called Life.
Furthermore, Emily Coutts as Lieutenant Keyla Detmer, Sara Mitich as Lt. Commander Airiam, Oyin Oladejo as Lieutenant Joann Owosekun, Ronnie Rowe, Jr. as Lieutenant B.A. Bryce, and Patrick Kwok-Choon as Lieutenant Rhys all return as the Discovery's bridge crew.
Star Trek: Discovery's Returning Cast & Characters
Michelle Yeoh as Phillipa Georgiou - The deposed Emperor of the Mirror Universe was recruited to join Section 31 at the end of Star Trek: Discovery season 1. Yeoh is a huge international star known for Crouching Tiger, Hidden Dragon and Crazy Rich Asians.
James Frain as Sarek - Ambassador to Vulcan, Sarek is Spock's father who adopted and raised Michael Burnham. The British star has appeared in True Blood, The White Queen, and Gotham.
Shazad Latif as Voq/Ash Tyler - Tyler, who's also a surgically altered hybrid of the Klingon Voq, was last seen trying to forge a new life for himself on Qo'noS. Latif has also appeared in Penny Dreadful and Black Mirror.
Mary Chieffo as L'Rell - L'Rell is now the Klingon High Chancellor and must maintain the tentative unity of the Klingon Empire. Chieffo has also appeared in The Mindy Project.
New Cast & Characters Joining Star Trek: Discovery
Anson Mount as Christopher Pike - The Captain of the Starship Enterprise must also take command of the Discovery for a dangerous new mission. Mount is best known for starring in Hell on Wheels and Marvel's Inhumans.
Ethan Peck as Spock - The younger version of the iconic Vulcan is the Enterprise's Science Officer who has mysteriously taken leave, prompting Burnham to find him. Peck is the grandson of Gregory Peck and starred in ABC Family's 10 Things I Hate About You.
Tig Notaro as Jet Reno - Reno is an irascible Starfleet engineer the Discovery crew encounter in the Star Trek: Discovery season 2 premiere. Notaro is a famed comic and actor who has appeared in New Girl and Fresh Off The Boat.
Rebecca Romijn as Number One - Number One is the Enterprise's cool, efficient female First Officer. Romijn is a former supermodel whose geek cred includes starring as Mystique in the 2000-2006 X-Men movie trilogy.
Alan van Spring as Leland - Leland is an agent of Section 31 and recruited the Mirror Phillipa Geogiou into the Federation's black ops agency. Van Spring has appeared in The Tudors and Shadowhunters.
Star Trek: Discovery season 2 premieres Thursday, January 17 on CBS All-Access and the next day internationally on Netflix.
This entry was posted by Screen Rant on January 17, 2019 at 4:01 am, and is filed under TV News. Follow any responses to this post through RSS 2.0. You can skip to the end and leave a response. Pinging is currently not allowed.