Star Trek: Discovery Season 2 Review: One Giant Leap Closer To The Original Series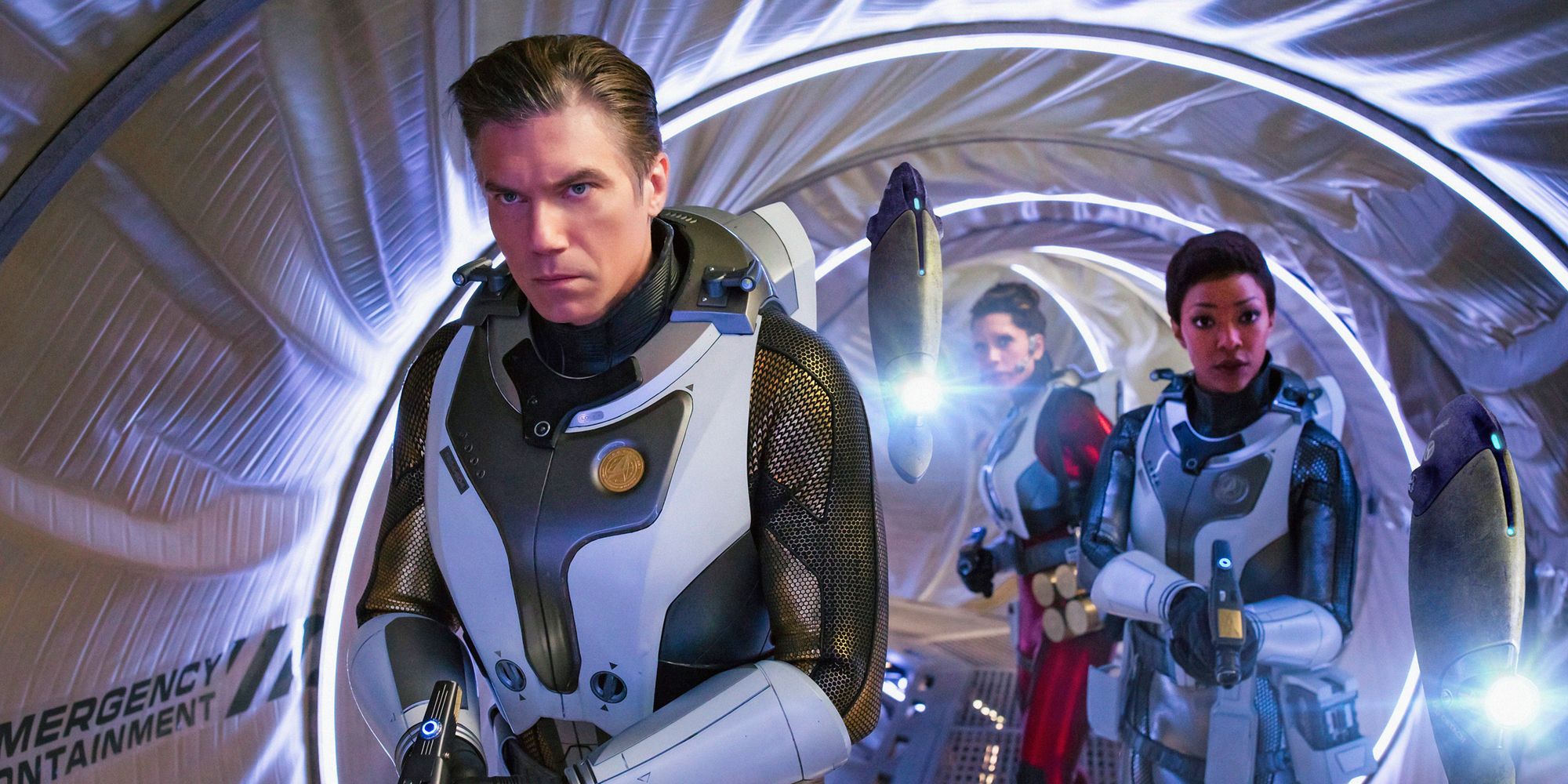 At the start of season 2, Star Trek: Discovery looks a little different than it did when the series first launched in 2017. There are plenty of reasons for that, most notably the sight of Anson Mount as Captain Christopher Pike, one of two major additions to the cast (and the only one actually seen in the premiere). The other cast addition is, of course, Spock (Ethan Peck), who although he didn't make an appearance in 'Brother,' was nevertheless a significant presence throughout the hour. The series also underwent some behind-the-scenes changes with Star Trek and Star Trek Into Darkness co-writer Alex Kurtzman becoming the new showrunner midway through production on season 2. All of this adds up to a show that is still very much figuring itself out, but, from what was seen in the premiere, appears to be closer to knowing what kind of show it wants to be. 
Season 1 painted itself into a corner by turning Michael Burnham (Sonequa Martin-Green) into a criminal who started a massive war against the Klingons. After 15 episodes, the series miraculously arrived at a point where it could undo that decision and put Michael back on the path she was on when the series began. With the villainous Captain Lorca vaporized and Michelle Yeoh's Emperor Georgiou hopping dimensions to head up Starfleet's mysterious Section 31, Star Trek: Discovery found itself close to a new starting point. The advantage being: the audience now knows a great deal about Michael and the rest of the Discovery crew, and, with any luck, cares about what happens to them. 
When 'Brother' kicks off, it's clear that Discovery is banking on the idea that season 1 was a lengthy getting-to-know-you phase of the audience's relationship with the characters on the show. Michael's sordid past still follows her wherever she goes, but so too do her accomplishments. As it stands, the series clearly wants her to be defined by the latter, as she's looked at with reverence by everyone from Tilly (Mary Wiseman) to Saru (Doug Jones) to the incoming Captain Pike, with whom she finds an almost instant rapport, due in large part to Mount's surprisingly fun and easygoing take on the classic Trek character. So, while the past may not be forgotten, it is pushed under the rug just enough that Discovery and its characters can move forward into a more adventurous second season. 
The added emphasis on adventure is clear, as 'Brother' features an impressive VFX showcase and action set piece that further blurs the lines between the theatrical spectacle of the Trek franchise's motion pictures and the ongoing, weekly installments of a television series. The race through an asteroid breaking apart in a gravity well feels deliberately reminiscent of the ship to ship space jump sequence in Star Trek Into Darkness and it looks just as impressive, from a visual effects standpoint. The series also takes some time to subvert expectations and the series' own tropes by having Michael make the heroic save of Captain Pike, while the seemingly doomed red-shirted crew member lives to see another day, as an arguably too obnoxious crewman is wiped out in the midst of a mansplaining rant. 
That Star Trek: Discovery would go for such broad humor (like the alien sneeze in the ship's elevator) is perhaps a sign of things to come in season 2. This is furthered by Pike's talk with Michael (which might as well be him addressing the audience directly), in which he ostensibly states that this new adventure is going to make sure it has plenty of room for fun. A nearly fourth-wall-breaking declaration of that sort is rather odd; it reads almost as a recognition of some perceived shortcoming of the first season: that Star Trek: Discovery wasn't fun enough, but season 2 will somehow be different. It's difficult to gauge what the writers' intentions are in pointing this out in the first hour, especially after the episode offers evidence of its ambitions with the crew assembling to capture an asteroid and Tilly loudly extolling the virtues of math. The same is true with the arrival of Tig Notaro's selfless, heroic, and very down-to-earth science officer, Jett Reno.
It's not all fun, games, and toxic men being obliterated in space, however. Star Trek: Discovery still has an overarching story to tell, and it's one the series aims to take seriously. The mysterious energy signatures that serve as the reason for Pike's arrival on the Discovery also point to Spock's absence, as he's gone off in search of something being called the Red Angel. That the series would work to set up the season's main arc this early is appreciated, as it gives some necessary narrative weight to Spock's involvement in the series beyond simply Spock being on Discovery. Michael's relationship with Spock was always going to be a bit of a divisive entry in the Trek canon, and from the way she was talking with her adoptive father Sarek (James Frain), it certainly sounds as though things could get a little more divisive as the series explores the reasons for her estrangement from the adoptive Vulcan brother. 
In many ways, 'Brother' is a stronger start to the series than even 'The Vulcan Hello' was. The balance between spectacle and story is admittedly owed to the character work done in season 1, but it also feels like a fresh start for a series that had lofty ambitions but perhaps didn't focus them in the right way. While there's still a hint of Peak TV's influence in the presentation, this feels much more like a Trek series and a little less like Game of Thrones in space. It's an impressive start to the season, and one that promises plenty of intrigue and adventure moving forward.
Star Trek: Discovery continues next Thursday on CBS All Access @8:30pm ET. 
This entry was posted by Screen Rant on January 18, 2019 at 8:01 am, and is filed under TV News. Follow any responses to this post through RSS 2.0. You can skip to the end and leave a response. Pinging is currently not allowed.