Star Trek Movies & TV: What The Franchise's Future Looks Like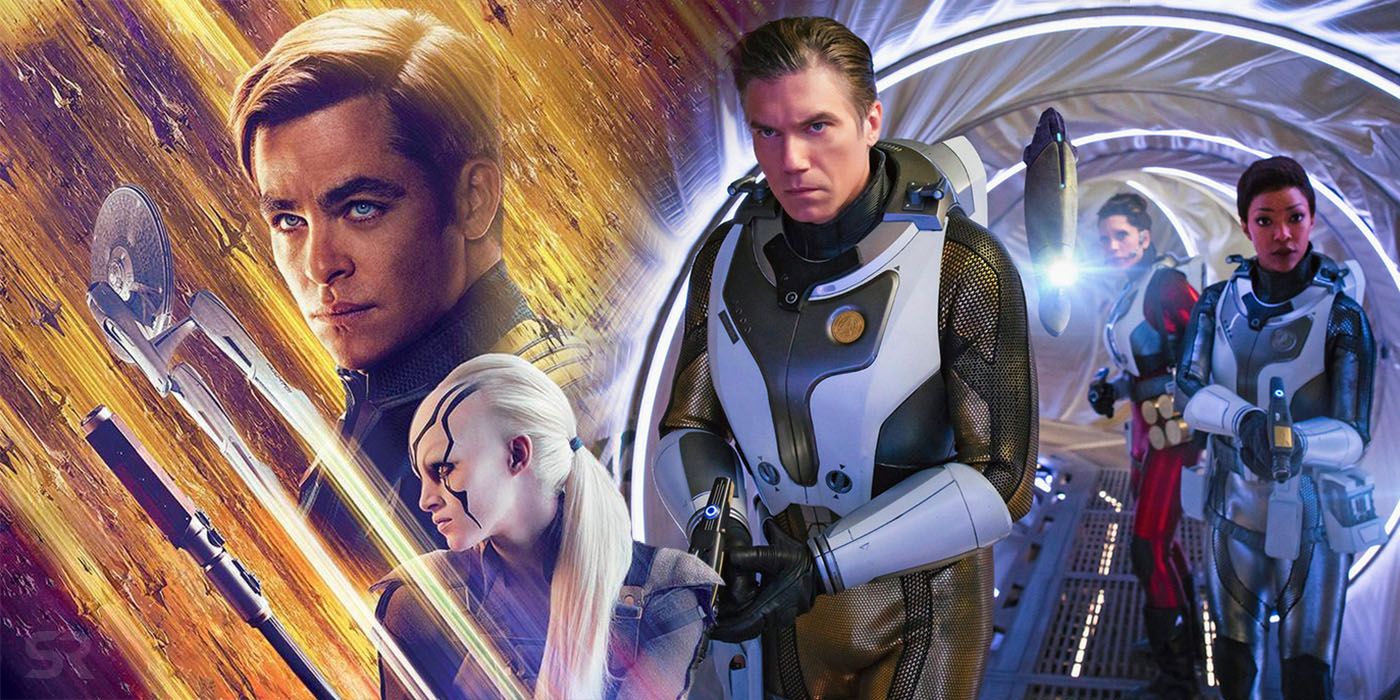 2019 marks the 53rd anniversary of Star Trek but what does the future hold for the venerable sci-fi franchise? Since Star Trek (now referred to as The Original Series) launched in 1966, the adventures of the intergalactic heroes of Starfleet have spawned five spinoff television series, thirteen feature films, an animated series, and the promise of more to come. Here's what's Trek's future in movies and TV holds.
The Original Series chronicling the adventures of Captain James T. Kirk (William Shatner) and Mr. Spock (Leonard Nimoy) was canceled in 1968 but the series proved even more popular in syndication. After a short-lived animated series and the original crew's successful transition to movies, Trek's late creator Gene Roddenberry launched Star Trek: The Next Generation starring Patrick Stewart as Captain Jean-Luc Picard in 1987, and that first spinoff was also phenomenally successful. After seven seasons, it was The Next Generation's turn to star in films as the 1990s saw two more TV spinoffs: Star Trek: Deep Space Nine starring Avery Brooks as Captain Benjamin Sisko (the series' first African-American lead) and Star Trek: Voyager starring Kate Mulgrew as Captain Kathryn Janeway (the first female lead). Finally, the prequel Star Trek: Enterprise starring Scott Bakula as Captain Jonathan Archer launched in 2001, but only lasted four seasons. Enterprise's cancelation spelled the end of Trek on television for 12 years.
Related: Star Trek Is One Of The Movie Franchises Skipping 2019
On the movie side, The Original Series' crew starred in six feature films and The Next Generation had four films of their own until 2002's Star Trek: Nemesis, the lowest-grossing Trek film in history, photon-torpedoed the film franchise. Star Trek movies made a triumphant return in 2009's Star Trek when director J.J. Abrams rebooted the adventures of the original crew in an alternate timeline with Chris Pine cast as a young Captain Kirk and Zachary Quinto as a young Spock. The sequel Star Trek Into Darkness was met with less acclaim while the third film, Star Trek Beyond directed by Justin Lin, won over many Trek fans but still underperformed at the box office, leaving the feature film franchise to face an unknown future once more.
However, Star Trek has made a successful comeback on television with the CBS All-Access series Star Trek: Discovery starring Sonequa Martin-Green as Michael Burnham, the franchise's first African-American female lead, and there's even more new Trek TV to come. Here's a roundup of everything we know about Star Trek's future:
Star Trek 4 Has Been Canceled
Unfortunately, Star Trek 4 has reportedly been canceled. The plan for Star Trek 4 was a time travel adventure with a big draw of Chris Pine's Captain Kirk teaming up with his late father George Kirk, once again played by Chris Hemsworth, who perished in the opening scene of Star Trek 2009. However, contract negotiations broke down between Pine, Hemsworth, and Paramount, as the studio, which has suffered a string of recent financial failures, hoped to produce Star Trek 4 more cheaply.
Though 2016's Star Trek Beyond ranks as among biggest box office-earners of the franchise, the third film set in J.J. Abrams' rebooted Kelvin timeline still only grossed $343-million worldwide against a budget of $185 million. Another blow is Star Trek 4's director S.J. Clarkson - who would have been the first female director to helm a Trek film - has moved on to direct the pilot for HBO's Game of Thrones prequel. Unless something major changes, the Starship Enterprise is remaining in drydock until further notice, although fans and actors like John Cho remain optimistic that Star Trek 4 will still happen.
Related: Why Star Trek 4 Has Been Canceled
Quentin Tarantino's Star Trek Could Still Happen
Hope for a very different kind of Star Trek 4 remains from an unlikely place: in late-2017, Quentin Tarantino pitched his version of a new Star Trek movie to J.J. Abrams and his production company Bad Robot. As Karl Urban, who plays Dr. "Bones" McCoy in the films, recalled, Tarantino's vision of Star Trek is R-rated and in keeping with his particular style:
I know a little bit about what that is and it's bananas... You shouldn't worry that it is going to be full of obscenity and stuff. He wants an R-rating to really make those beats of consequence land. If it's not PG, if someone gets sucked out into space, which we have all seen before, we might see them get disemboweled first… It allows some some breadth… gives him some leeway to do that.
Still, Simon Pegg, who plays Scotty and co-wrote Star Trek Beyond, doubts that Tarantino's Trek will ever fly. For his part, Tarantino has been very busy directing Once Upon A Time In Hollywood and there have been no further updates on his version of Star Trek. Paramount also never officially confirmed Tarantino's Star Trek is in development and even if it was, it would still be years before fans would see it. But until definitive word comes that it's greenlit or canceled, with Star Trek 4 currently in limbo, as of now, Quentin Tarantino's R-rated Star Trek movie is still a possibility.
Star Trek: Discovery Is Set For TV
The success of Star Trek: Discovery on CBS All-Access led to increased subscriptions for the network's premium streaming platform and the plan is to build off of Discovery to have multiple Trek series airing all-year long. In 2018, Alex Kurtzman, who wrote Star Trek 2009 and Star Trek Into Darkness, became the executive producer overseeing the Star Trek brand for CBS All-Access. Kurtzman's goal is to develop more series, both live-action and animated, including a planned spinoff of Discovery starring Michelle Yeoh as Phillipa Georgiou that's in the pipeline. In fact, spinoffs have been discussed for every Discovery character.
As for the flagship series itself, Star Trek: Discovery begins its second season with iconic Trek characters Spock (Ethan Peck) and Captain Christopher Pike (Anson Mount) joining the crew. After a divisive first season where longtime fans criticized Discovery's focus on a grim and gritty Klingon War as opposed to an optimistic vision of exploration (like Seth MacFarlane's The Orville is doing on FOX), Kurtzman assumed the role of showrunner following behind the scenes turmoil that saw previous showrunners Gretchen Berg and Aaron Harberts ousted. However, Discovery's astonishingly cinematic visual effects and breakneck, action-packed pace updated the franchise for the Peak TV era. CBS plans for Discovery to run for many seasons to come.
Related: Is Star Trek: Discovery Any Good?
Picard Is Coming Back
Longtime Trek fans rejoiced when Patrick Stewart announced his return as Jean-Luc Picard in August 2018. After last portraying arguably the franchise's most beloved Captain in 2002's Star Trek: Nemesis, Stewart is enthusiastically set to chart the next phase in Picard's "radically altered" life after commanding the Enterprise. Stewart is guiding the writer's room for the new, currently untitled series, which will premiere in late 2019 and is planned to run for multiple seasons.  As for what fans can expect, Kurtzman said Stewart's mandate for the new Picard series was: "'If we do this, I want it to be so different, I want it to be both what people remember but also not what they're expecting at all, otherwise why do it?"
Besides the joy of seeing Stewart embody his iconic role once more, another cause of fascination for Trekkers is that the new series will not just pick up where Picard's story left off, but it will be the first real exploration of what has happened in the 24th century after Star Trek: Nemesis as every Trek project since has been a prequel or set in an alternate timeline. Picard's series takes place after the fall of the Romulan Empire (which was set up in Nemesis and in J.J. Abrams' Star Trek 2009), but fans also hope to see Picard interact with former members of his crew to see what became of William Riker (Jonathan Frakes), Geordi LaForge (LeVar Burton), Worf (Michael Dorn), Deanna Troi (Marina Sirtis), Beverly Crusher (Gates McFadden), and if the android B4 ever gained the full memories and personality of Data (Brent Spiner).
Lower Decks And More Animated Star Trek Is Coming
Star Trek is also boldly going where it's never gone before: the half-hour animated comedy route. CBS All-Access greenlit Star Trek: Lower Decks, an animated series by Rick and Morty writer Mike McMahan, who wrote season 1 classic episodes "Lawnmower Dog," "Meeseeks and Destroy" and "Close Rick-counters of the Rick Kind." Not related (except in spirit) to the Star Trek: The Next Generation episode "Lower Decks", McMahan's concept is to depict the lives of "the support crew serving on one of Starfleet's least important ships." As McMahan explained, "I want to do a show about the people who put the yellow cartridge in the food replicator so a banana can come out the other end."  No release date has been announced yet, but with Lower Decks, Star Trek is poised to get a lot funnier.
Animation and short form episodes are going to become more important to Star Trek's future. In fall 2018, CBS All-Access launched the first four Short Treks, an anthology of 15-20 minute mini-episodes set at various points in the timeline. Alex Kurtzman has stated that more Short Treks will be coming and some of them will be animated. Furthermore, Kurtzman has plans to open the franchise up to younger viewers, citing that "Trek was always fully formed adults, already in Starfleet and people who have decided who they are. And it never was aspirational that way. It's important to me to find a way to go back and reach younger kids in a way that Trek should and never really has." This could mean a (possibly animated) Star Trek series aimed at children could be in development but nothing concrete has been announced yet.
Related: Saru Deserves To Be Captain Of Star Trek: Discovery
What's Next For Star Trek?
Star Trek was born on television and, with the feature films in limbo, the franchise is doubling down on its television roots via streaming platforms. With CBS All-Access' far-reaching plans to expand the brand, the streaming service is setting itself up to be the prime destination for all things Star Trek moving forward. Star Trek: Discovery has established itself as a strong foundation to build upon and with Kurtzman at the helm, Star Trek is set to explore new ways to depict adventures in the 23rd and 24th century. However, CBS All-Access now looks to be the only way fans can enjoy new Star Trek. (International fans will continue to be able to see Star Trek: Discovery on Netflix, which will presumably carry any new Trek series as well).
The challenge for Star Trek going forward is in fulfilling the needs of the various generations of its fans. By hewing closer to the action-packed J.J. Abrams films in visual and storytelling styles, Discovery alienated a significant portion of the fanbase looking for a return to the more comforting and optimistic vision of classic Star Trek. With Discovery catering to newer fans who enjoy the updated style of Star Trek (especially without new movies starring Chris Pine to look forward to), Patrick Stewart's Jean-Luc Picard show hopes to satisfy those longtime fans by bringing back a beloved familiar face and further exploring Trek's 24th century time period. In addition, Star Trek is looking to bring in younger fans to cultivate the next generation of Trekkies with animated and comedic fare. If Star Trek can indeed become all things to all of its fans, this signals a bright future to look forward to.
And even though the U.S.S. Enterprise can be seen in Star Trek: Discovery season 2, Star Trek's expansion looks to be mostly about new characters and different starships. Overall, Star Trek is charting a future that isn't dependent on the venerable Starship Enterprise, but fans shouldn't lose hope - history has proven that Captain Kirk and Mr. Spock will once again find a way back to the final frontier.
Star Trek: Discovery Season 2 premieres Thursday, January 17th on CBS All-Access and the next day internationally on Netflix.
This entry was posted by Screen Rant on January 13, 2019 at 10:01 am, and is filed under TV News. Follow any responses to this post through RSS 2.0. You can skip to the end and leave a response. Pinging is currently not allowed.