Star Wars: Galaxy's Edge Is Getting A Comic Book Tie-In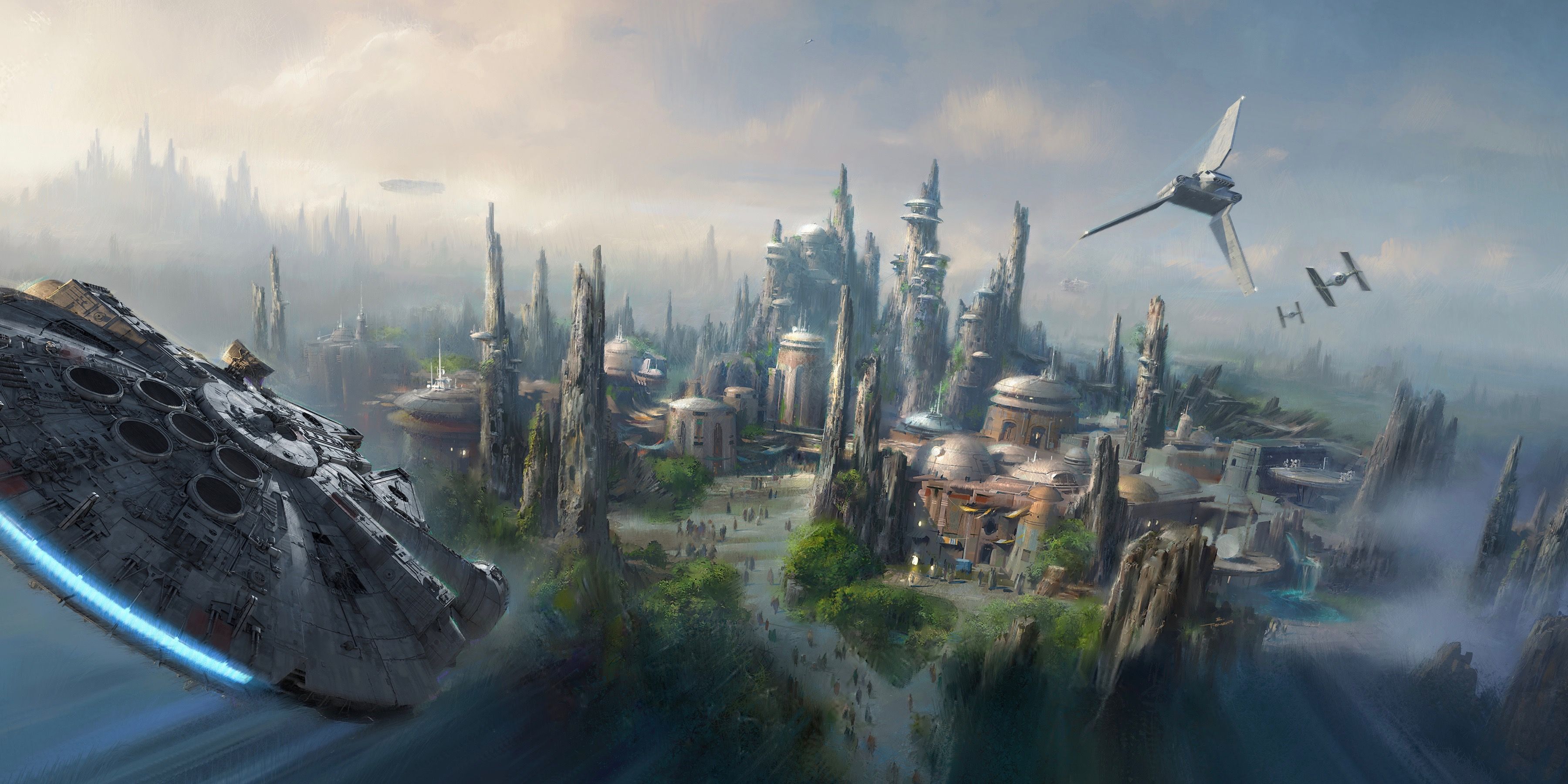 The Star Wars: Galaxy's Edge theme park area will get a comic book tie-in, Disney has announced. The Galaxy's Edge attractions were first announced back in 2015, with one being built at Walt Disney World in Florida and another situated at Disneyland in California. Intended to offer visitors a completely immersive experience, the Galaxy's Edge parks have been modeled on a new location within the Star Wars universe, Batuu's Black Spire Outpost - a port town not dissimilar to Tatooine's hive of scum and villainy, Mos Eisley.
Finally set to open to the public later this year, more and more details regarding Galaxy's Edge are becoming available. Fans have seen a first look at the life-size Millennium Falcon attraction, have read descriptions of the two main rides on offer in the park and, crucially, have learned that Galaxy's Edge will be the first area of the Disney parks to serve alcohol. Since the park's fictional setting of Batuu was announced, the new planet has also been referenced in several Star Wars stories, including the recent Solo movie.
Related: Star Wars: Galaxy's Edge Rise Of The Resistance Ride Details Revealed
Disney are now taking the integration of Batuu into Star Wars mythology to the next level by announcing a tie-in comic book designed to explore the lore and history of the Black Spire Outpost. In a press release, it was revealed that Ethan Sacks (Old Man Hawkeye) and Will Sliney had been recruited as writer and artist respectively on Galaxy's Edge #1, with a release date set for April 2019. While details of the story remained vague, it was confirmed that Han Solo and Chewbacca would feature in some capacity and that the series would run for five issues. A description of the title reads:
"Black Spire Outpost has long been frequented by smugglers, merchants and travelers from every corner of the galaxy looking to make their score on the infamous black market – or experience the exotic thrills only the remote world of Batuu has to offer. It's a place where beings thrive on unique opportunities of the lawless outpost at the edge of space – but the First Order threatens their livelihood…"
Disney's dedication to building lore around their new theme park area has to be commended, and the Galaxy's Edge comic book is likely intended to increase the sense of immersion and integration for visitors to the park. These efforts may not matter much to the casual Disney crowd of excitable children and weary parents, but for the scores of Star Wars fans who will no doubt be attending, it's an extra slice of the franchise to not only dig into, but to actually become a part of.
The Galaxy's Edge comic is also another sign of Disney making full use of Star Wars' comic output. Previous printed releases, in conjunction with Marvel, have resolved a number of vital plot points in the overall Star Wars story and some might argue that these comics do more justice to the older characters than the movies, particularly in the era following Return of the Jedi. It remains to be seen as to whether Galaxy's Edge will be another quality entry in that series, or whether it'll be a shameless promotional brochure for the theme park area but, in either case, Disney's innovative marketing is very welcome.
Star Wars: Galaxy's Edge opens this Summer in California and this Fall in Florida.
Source: Disney
This entry was posted by Screen Rant on January 22, 2019 at 2:01 am, and is filed under TV News. Follow any responses to this post through RSS 2.0. You can skip to the end and leave a response. Pinging is currently not allowed.