Thanos Fan Art Draws Inspiration from Spider-Man: Far From Home Poster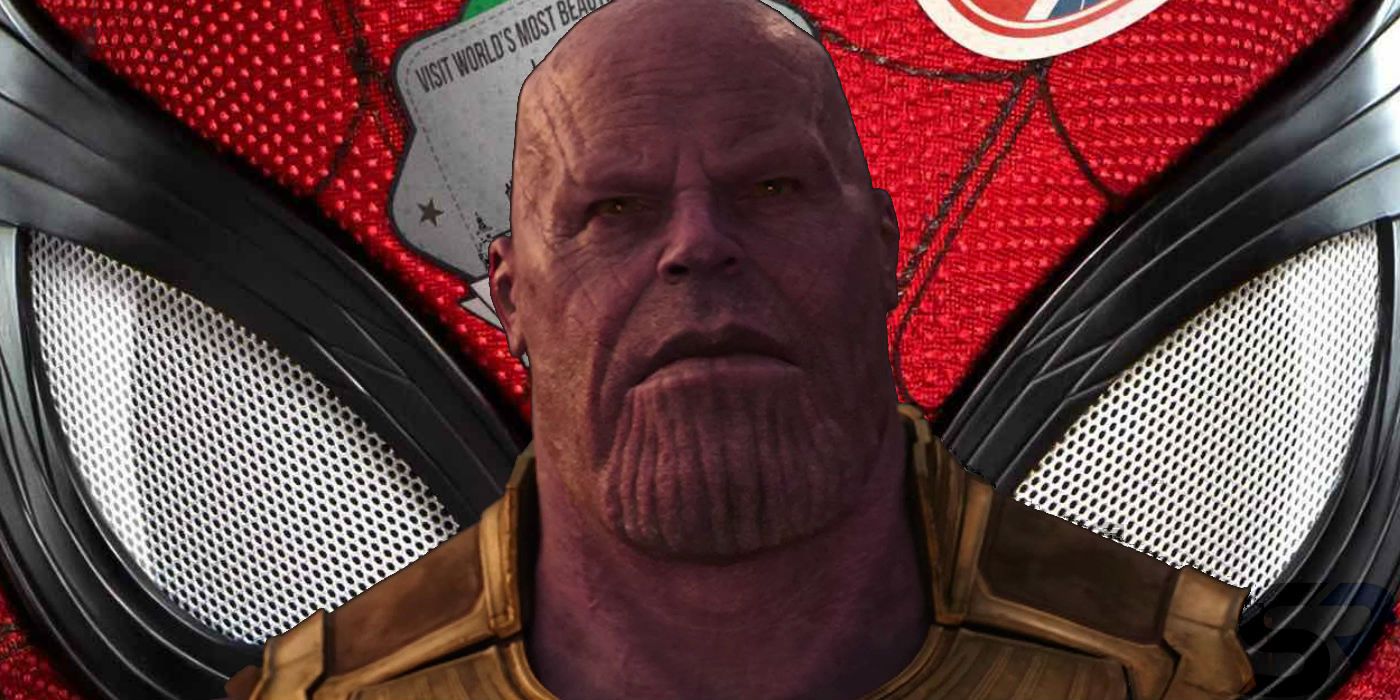 The Spider-Man: Far From Home poster is reimagined with Thanos in this new Avengers: Endgame fan art. Marvel Studios' last two projects for this year, Avengers 4 marks the end of the MCU's first three Phases, while Spider-Man: Homecoming's sequel will be the beginning of the still-mysterious Phase 4.
Set to release with less than three months apart from each other, Far From Home will be fans' first glimpse of the MCU following the ongoing Thanos debacle. And despite its plot largely hinging on what goes down in Avengers 4, Sony has started its marketing efforts for the Tom Holland-starring and Jon Watts-directed film. Aside from the first trailer (which totally ignores the events of Avengers: Infinity War), a poster has also been rolled out and it didn't take very long for creative fans to come up with their own versions of it with this one putting the Mad Titan under the spotlight.
Related: Spider-Man: Far From Home Trailer Breakdown - 49 Story Reveals & Secrets
Fandom came up with a brand new fan art featuring Thanos but with a Far From Home twist. Mining inspiration from the latest one-sheet from the Sony/Marvel Studios flick, the illustration put the Mad Titan front and center with passport stamp-looking details, listing down all places he had been in Infinity War which includes trips to Titan and Titan 2 (the name given to the unknown location at the end of the movie), Vormir, Wakanda and Knowhere. Check out the fan art aptly titled Thanos: Destroys Your Home below:
Thanos is still securely retired in Titan 2 as confirmed by the first Endgame trailer, but with Earth's Mightiest Heroes gearing up for some avenging, it's curious what other locations the movie will feature. Set photos have revealed that some of the battles will take place in a wrecked metropolis, but there were no indications that the Mad Titan will also be there. After his initial visit on Earth, it'll be interesting to see him back on the planet after The Decimation, especially with the original Avengers finally re-assembling. Much of the fight in Infinity War took place in the cosmos, it'll be a great ploy to lure the villain out of his retirement and put him in a setting where he's the one in disadvantage.
Considering that Thanos still has the Space Stone, traveling around the universe should be easy, making it convenient for the filmmakers to include new and old locations in the movie - that's if the Infinity Stones are still functioning the same way that they did before he used their combined powers in Infinity War. That means that revisiting established places in the MCU like Nidavellir (where Eitri is presumed to be still in) and Vormir is possible. That said, it also won't be a surprise if Endgame introduces brand new locations that could play a major role in the MCU moving forward.
Source: Fandom
This entry was posted by Screen Rant on January 18, 2019 at 5:01 am, and is filed under TV News. Follow any responses to this post through RSS 2.0. You can skip to the end and leave a response. Pinging is currently not allowed.