The Best Netflix Original Movies of 2018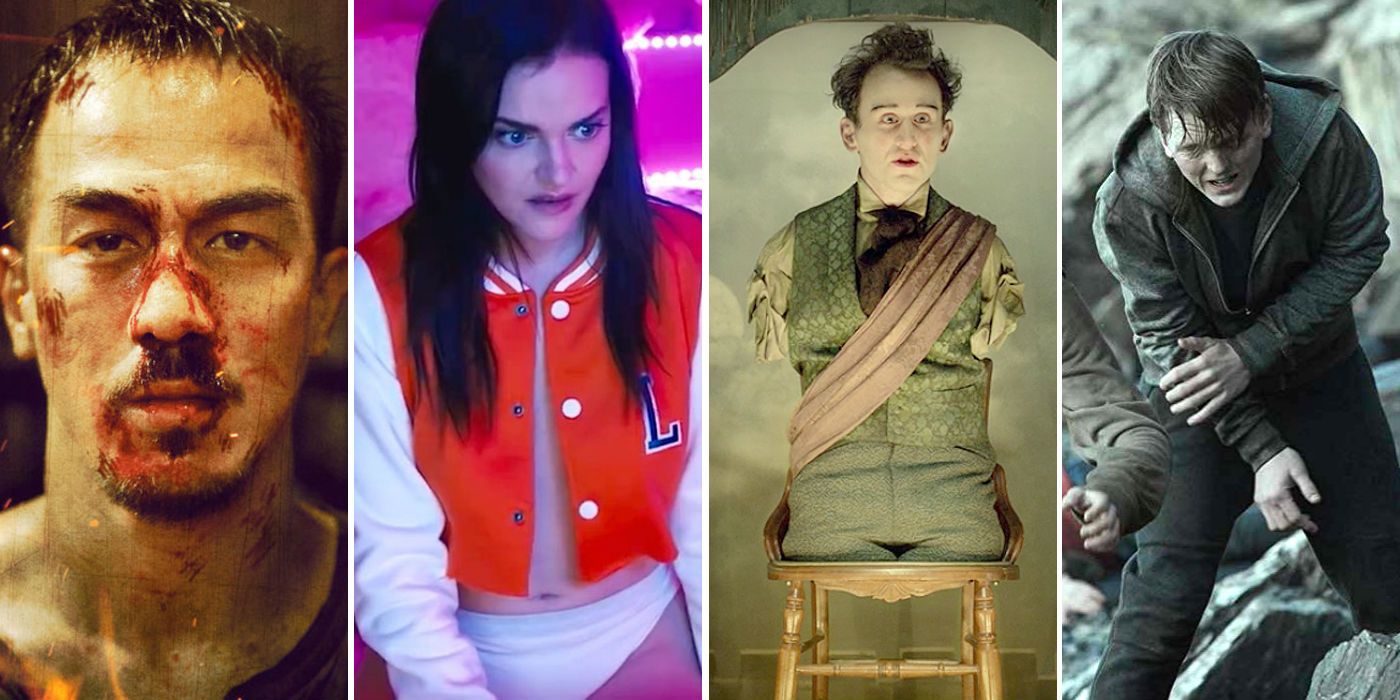 In 2018, Netflix continued to elevate itself as one of the best streaming services in terms of original content, with plenty of exciting new films across a broad spread of genres. This approach is only set to continue and become more ambitious, as we recently learned that the platform is aiming to release 90 Netflix Original movies per year, with budgets as high as $200 million.
Over the past several months, Netflix has released numerous high-profile feature films, of which not only affect pop culture, but also represent viable contenders during awards season. Modern filmmakers understand the value and importance of a theatrical release, but they also realize that audiences can have an impactful cinematic experience at home as well. Moreover, distribution on streaming service allows indie and arthouse films that might otherwise have been little-seen to reach a greater number of people. 
Related: Screen Rant's Top 10 Favorite Movies of 2018
If you have a Netflix subscription and are wondering where best to dive into the pile of Netflix Original films released last year, here's our guide to the best of the best.
This Page: The Top 10-6 Best Netflix Original Films of 2018
10. MAY THE DEVIL TAKE YOU
Based on Indonesian director Timo Tjahjanto's career trajectory, he will be a streaming superstar in the near future. For this supernatural horror film, Tjahjanto features two strong female leads in Pevita Pearce and Chelsea Islan, both of whom need and deserve more international exposure. May the Devil Take You marks a departure from the director's pencak silat-themed movies Headshot and The Night Comes for Us, as it's primarily a haunted house story about a wealthy man who makes a deal with the devil, leaving his daughters and third wife to sort through the mess when he falls sick. In that sense, May the Devil Take You is a traditional horror featuring the usual scare tactics, but it's more viscerally impactful than most 2018 films of the same genre.
Visually, May the Devil Take You will remind some viewers of Hereditary, thanks to a wall-crawling demon and the inherent familial dread. But Tjahjanto pushes a bit harder with his imagery, and he lingers on certain shots for maximum effect. May the Devil Take You seems most interested in fluid, extended chaos rather than sudden jolts. In other words, Tjahjanto's scariest visuals are purely unnerving, designed to find a place in the audience's subconscious. Scene by scene, Islan's Alfie retreats further within her own mind, while Pearce's Maya becomes increasingly animated, creating a powerful character dynamic while allowing each actress to showcase different aspects of their skill sets as performers.
9. HOLD THE DARK
If you're familiar with Blue Ruin, Green Room, or even the first two episodes of HBO's True Detective Season 3, then you know that Jeremy Saulnier is one of American cinema's most talented filmmakers. In his Alaska-set Netflix movie Hold the Dark, Medora Sloane (Riley Keough) recruits a writer (Jeffrey Wright) to help find her son, who is presumed dead after being taken by wolves. When her partner Vernon (Alexander Skarsgård) returns from war, the narrative takes a complex and dark turn, as Saulnier contrasts moody, meditative sequences with one of the most disturbing shootout scenes of 2018.
More: 10 Uplifting Reality Shows To Watch On Netflix
Based on William Giraraldi's 2015 novel of the same name, Hold the Dark's screenplay was written by Macon Blair, a frequent Saulnier collaborator and one of the film's supporting actors. Together, the two create a stunning portrait of dread and unbreakable bonds, infusing supernatural elements to suggest that life up north requires a spiritual connection with the land and the past. The costume and set design is especially on-point, but it's the collective performances and Saulnier's pacing that creates a world of which feels at once welcoming and threatening.
8. APOSTLE
Given director Gareth Evans' genre-focused resume, a film like this comes with high expectations. In the past, the Welsh director has stunned viewers with pencak silat films like Merantau, The Raid, The Raid 2: Berandal - and even with the chaotic V/H/S 2 segment "Safe Haven," in which he collaborates with the aforementioned Tjahjanto. But Apostle isn't a martial arts film, nor does it move along at a quick pace. It's a period horror production starring English actor Dan Stevens, featuring a mix of naturalistic science fiction and graphic violence.
The bleak cinematography immediately stands out, along with the immersive narrative. As for the script, Evans' story construction may not be for everybody: a man travels to a remote Welsh island, hoping to rescue his sister from a cult, and he soon becomes aligned with a powerful figure, thus creating relationships built upon loyalty. Compared to the director's past films, Apostle shows a willingness to try to something new, and it's indeed full of big moments and powerful extended sequences, with the score and camera angles playing a crucial role in the scene execution. Viewers will recognize familiar genre tricks, and Apostle doesn't offer a thought-provoking social commentary a la Get Out, but the film shows a filmmaker in tune with his craft.
7. CALIBRE
If you're not already familiar with this British thriller, it's best to experience the film with little context. But here are a few reasons why Matt Palmer's Calibre stands out amongst other Netflix Originals.
More: Netflix Original TV Shows To Be Most Excited About In 2019
One, the primary conflict is grounded in reality. Two friends, portrayed by Jack Lowden and Martin McCann, schedule a weekend hunting trip in the Scottish Highlands. Naturally, they both have some familial and personal drama to discuss, and their lives change dramatically when someone gets killed in the woods. Rather than relying on trendy horror aesthetics or cheap gimmicks, Palmer plays it straight by examining the immediate consequences of not owning up to one's actions. Scene by scene, the two friends are forced to make quick decisions that will forever change their lives, all the while trying to act normal as the locals slowly connect the dots. In Calibre, the central performances are crucial, as the director makes it painfully clear that the inciting incident could happen to anybody, thus bringing out raw character interpretations from the two leads. Lowden and McCann capitalize on the human element with their harrowing performances, and Calibre's final act includes one of the most effective fourth-wall shots of 2018.
6. 22 JULY
Based on the 2011 Norway attacks, this film will leave a mark on your psyche. 22 July was directed by Paul Greengrass - the director of three Jason Bourne films, United 93, and Captain Phillips - who typically excels at depicting high-stress situations in which characters must act decisively.
To play the film's monster, Greengrass enlists Norwegian actor Anders Danielsen Lie, who made a name for himself by portraying a suicidal character in Joachim Trier's 2011 drama Oslo, August 31. In 22 July, Lie's Anders Behring Breivik looks like a regular guy, which makes his pre-meditated actions so incredibly shocking, especially when he arrives at a Norwegian island and terrorizes the inhabitants. Stylistically, Greengrass doesn't hold back when depicting the inevitable violence, and Lie shines as a truly despicable character. 22 July doesn't have a cast full of A-listers, and it's a film that most people will probably not want to revisit. But it's an effective and challenging Netflix Original, and one that offers some perspective after a long day.
5. THE NIGHT COMES FOR US
Just as May the Devil Take You features two jaw-dropping female performances, this gangster film does exactly the same. However, it's predominantly a guy-centric film, and one that highlights the aforementioned Tjahjanto's extraordinary ability to execute an action sequence.
More: 10 Underrated Shows To Binge On Netflix Right Now
Click "play" for the chaotic pencak silat-themed fight sequences, in which the missed blows are equally as memorable as the biggest hits. And stay for the Kill Bill-like performances from both Julie Estelle and Hannah Al Rashid, both of whom will undoubtedly land major mainstream action roles in the near future. There's nothing quite like witnessing highly-trained performers excel at their craft, especially when you're seeing them for the first time. Years from now, The Night Comes for Us will probably be remembered as one of Iko Uwais' career-changing action roles (he made his debut in Gareth Evans' 2009 film Merantau). For now, though, The Night Comes for Us should be enjoyed for what it is - a high-octane and thrilling action film that pushes harder than most, in which it's unclear whether the central character, Joe Taslim's Ito, will survive from scene to scene. Plus, Tjahjanto's final shot will ensure that viewers won't soon forget his name. 
4. THE OTHER SIDE OF THE WIND
Throughout his career, Orson Welles was known for being a visionary, and for straying from the Hollywood system. During the early '70s, he began production on The Other Side of The Wind, a film that would theoretically return him to the spotlight. However, financial and legal issues delayed production and a timely release. Welles later passed away in 1985 having never finished the project. Over the years, Welles' peers and collaborators assembled the film, including filmmaker Peter Bogdanovich, and ultimately made a distribution deal with Netflix. The final product reveals a sharp criticism of New Hollywood, and shows how one of cinema's greatest filmmakers managed to endure through originality, decades after releasing his most well-known classics.
A fever dream movie with a meta commentary on its main players, The Other Side of The Wind features legendary American director John Huston as Jake Hannaford, an Ernest Hemingway-like figure who doubles as a stand-in for Welles himself. In a supporting role, Bogdanovich plays Brooks Otterlake, a character that parallels his real-life persona. It's an odd mix of contrived bravado and fragile egos, with a movie-within-a-movie storyline that's nothing like Welles' previous films, and certainly unlike mainstream films of the early '70s. Ultimately, it's Welles' creativity that makes the film so special, as it's a project that Hollywood consistently rejected, with studio heads and producers unwilling to compromise in order to make an original art house film, helmed by one of the great innovators of 20th century media. Thanks to Netflix, though, a true cinema icon lives again, and the film's complementary documentary They'll Love Me When I'm Dead shows just how much indie directors owe to Welles.
3. CAM
This film's premise may not resonate with the casual Netflix subscriber: a cam girl manipulates people for money and doesn't apologize for her line of work. But even though Isa Mazzei and Daniel Goldhaber's Cam may not immediately appeal to conservative audiences, that doesn't mean one shouldn't give it a shot, as it's a smart and timely thriller that defies expectations. Featuring a star-making performance by Madeline Brewer, Cam values storytelling over graphic nudity, understanding that most viewers don't need heavy exposition in order to connect the dots.
More: 10 Best Action Movies On Netflix
As a result, the filmmakers create a new kind of "screen movie" - one that's much more daring than films like Unfriended: Dark Web or Searching, both of which are indeed solid 2018 movies. Because Cam has such an original premise, the viewer naturally becomes vulnerable, perhaps expecting the title character to be weak, submissive, or psychologically damaged, when in fact she's powerful, sex-positive, and ready to play the game, so to speak. And part of Cam's appeal lies in the fact that Brewer exudes genuine star power, and that she's still a relatively unknown actress. Cam is funny, edgy, and representative of Netflix's willingness to embrace diversity.
2. ROMA
In pop culture, this Alfonso Cuarón drama has sparked discussions about Mexican society and class systems. For that reason alone, Roma is especially relevant and revelatory, certainly for those unfamiliar with the historical context. On a cinematic level, Roma distinguishes itself from other Netflix films through Cuarón's directorial polish; all the attention to detail that extends way beyond passion. The Mexican filmmaker - a contemporary of visionary auteurs like Guillermo del Toro and Alejandro González Iñárritu - reminds that modern mainstream directors can effectively tell a story through restraint and suggestion, and that elegant black and white films aren't merely beautiful because of the framing and mise-en-scène, they're beautiful because of how the visuals emphasize themes and central plot points; in this case, the story of a housekeeper living in Cuarón's native Mexico City. 
Cuarón uses architecture and physical space to underline key concepts. Whether it's a group shot of characters huddled together on a beach, or a close up image of water draining, Roma magnifies cultural and historical plot points without showering the viewer with narrative "noise." For some, Roma may feel pretentious or even boring, but it's one of those films that will only get better with age. For aspiring filmmakers interested in character framing, Cuarón's film is essential viewing.
1. THE BALLAD OF BUSTER SCRUGGS
Divided into six short stories about life, death, and fate, this Coen brothers anthology film delivers across the board. For those who enjoy the filmmakers' past classics like Fargo and The Big Lebowski, The Ballad of Buster Scruggs includes the same wink-of-the-eye deadpan humor, certainly during the first segment in which the title character sings, kills, sings again, and ascends to a better place. In the subsequent chapters, the Coens emphasize the human element, with their dialogue touching upon Americana themes, along with universal concepts that make the film accessible to various demographics across the world.
Many of today's directors focus on toxic masculinity and the "American Dream," and the Coens do indeed touch upon the same ideas throughout The Ballad of Buster Scruggs. But they also show brief snippets of life that underline why people become hardened, or skeptical, or merely cautious of anything that appears to be good on the surface. While the Coens are brilliant storytellers, it's Bruno Delbonnel's cinematography that truly elevates The Ballad of Buster Scruggs, as he poignantly depicts how certain characters feel alone the world, and how others consistently find themselves face to face with conflict - or death, as the concluding segment so brilliantly conveys. While certain stories may resonate more than others, the collective themes come together when viewed as a whole, and the sign of a great film is that one can find something new, or feel something different, with each subsequent viewing.
This entry was posted by Screen Rant on January 19, 2019 at 2:01 am, and is filed under TV News. Follow any responses to this post through RSS 2.0. You can skip to the end and leave a response. Pinging is currently not allowed.