The Conners Season 1 Ending Sends Jackie Off The Rails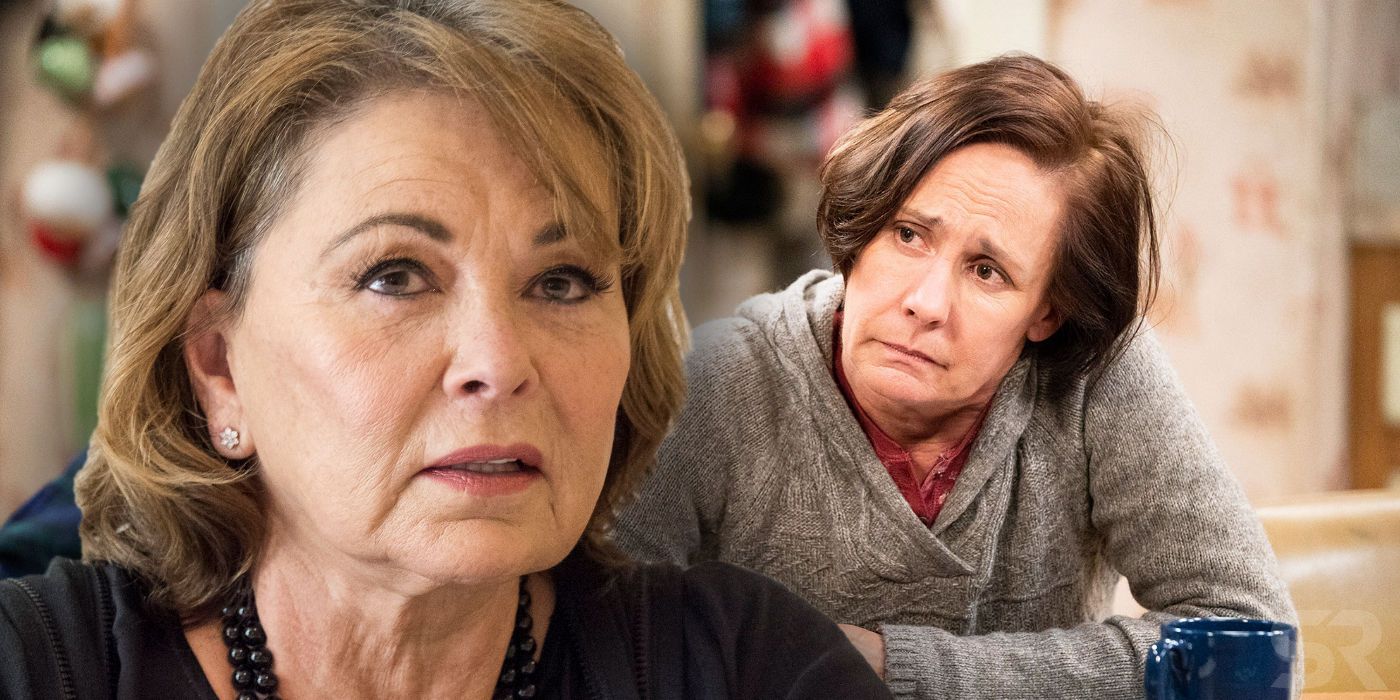 Laurie Metcalf gave a powerful performance as Jackie finally went off the rails in the The Conners season 1 finale. In its first season on ABC, The Conners worked to establish its own identity after the ousting of Roseanne Barr in the wake of a racist tweet controversy that scuttled plans for a second season of Roseanne the revival.
The Conners season 1 opened in poignant fashion as the family dealt with the aftermath of Roseanne's off-screen death from a heart attack induced by an opioid overdose. Sudden widower Dan Conner (John Goodman) was hit the hardest by the loss of the family matriarch, sinking into a depression that tested his ability to overcome all obstacles simply by putting up a manly front. But Roseanne's sister, Jackie, was also sent into a tailspin by her sister's death, though the full emotional impact of the loss of her sibling and best friend would not immediately be depicted.
Related: Unlike Roseanne, The Conners Is Not A True Family Sitcom
In The Conners' season 1 finale, the audience was finally shown the full emotional turmoil wrought on Jackie by the trauma of losing Roseanne. The triggering event for Jackie was a break-up with her season-long boyfriend Peter (Matthew Broderick) after she discovered he was involved in a relationship with another woman. As long-time fans of Roseanne know, Jackie has always struggled in her romantic relationships, and has long criticized herself for seeking validation from men instead of finding her own path to true happiness.
After her ugly break-up with Peter, a distraught Jackie hit the bottle hard in order to drown her latest round of sorrows. In the midst of dealing with their own issues concerning Becky (Lecy Goranson) and her baby daddy Emilio (Rene Rosado), not to mention Darlene's on-going grappling with her wish to move to Chicago with Ben (Jay R. Ferguson) and the kids, Darlene and Dan were notified by Lanford police that Jackie had ended up down at the Chinese restaurant having a full-on, booze-fueled public meltdown.
As it turned out, the Chinese restaurant in question used to be the Lanford Lunchbox, the loose meat sandwich shop Jackie and Roseanne once owned together. When Darlene and Dan arrived, they found Jackie in a state of near-delusion, swigging from a whiskey bottle and trying to serve customers as the restaurant's proprietors looked on in helpless silence. Touchingly, Jackie came out of her booze-fueled haze long enough to admit that she came to the former Lanford Lunchbox because it was the last place she could remember being happy. Dan and Darlene, thankfully, were able to get through to Jackie and coax her away from the restaurant before authorities were forced to haul her away.
Though The Conners has mixed in emotional material with the standard sitcom goings-on before, most notably during Dan's depression ordeal, Jackie's meltdown was by far the starkest and most dramatic development of the season. Amid her boozy psychotic break, Jackie's underlying issues came stunningly to the fore, reminding fans that the character has always been largely defined by the neurosis lurking beneath her amusingly flaky exterior. In the hands of the skilled Metcalf, Jackie has always been more than just a wacky loser bouncing between men and jobs, but The Conners' season 1 finale afforded a rare chance to fully peel away Jackie's frazzled comic exterior and show the truly tragic qualities that have always lurked just under the surface.
Throughout The Conners season 1, Jackie has largely been employed for comic relief, and at times the show has had difficulty justifying her continued constant presence in the lives of Dan, Darlene, Becky, and the kids (indeed, an entire episode was devoted to explaining why Dan puts up with Jackie basically living at his house). But there have been flashes of the old Jackie brittleness as well, and it turns out that was all a set-up for Metcalf's portrayal of her final meltdown. Seemingly, happiness will continue to remain elusive for Jackie, but the character will no doubt continue plugging away on The Conners both in her romantic endeavors and in her quest to find the perfect occupation.
This entry was posted by Screen Rant on January 24, 2019 at 6:01 am, and is filed under TV News. Follow any responses to this post through RSS 2.0. You can skip to the end and leave a response. Pinging is currently not allowed.