The Other Two Premiere Review: Like A Spiritual Successor To Difficult People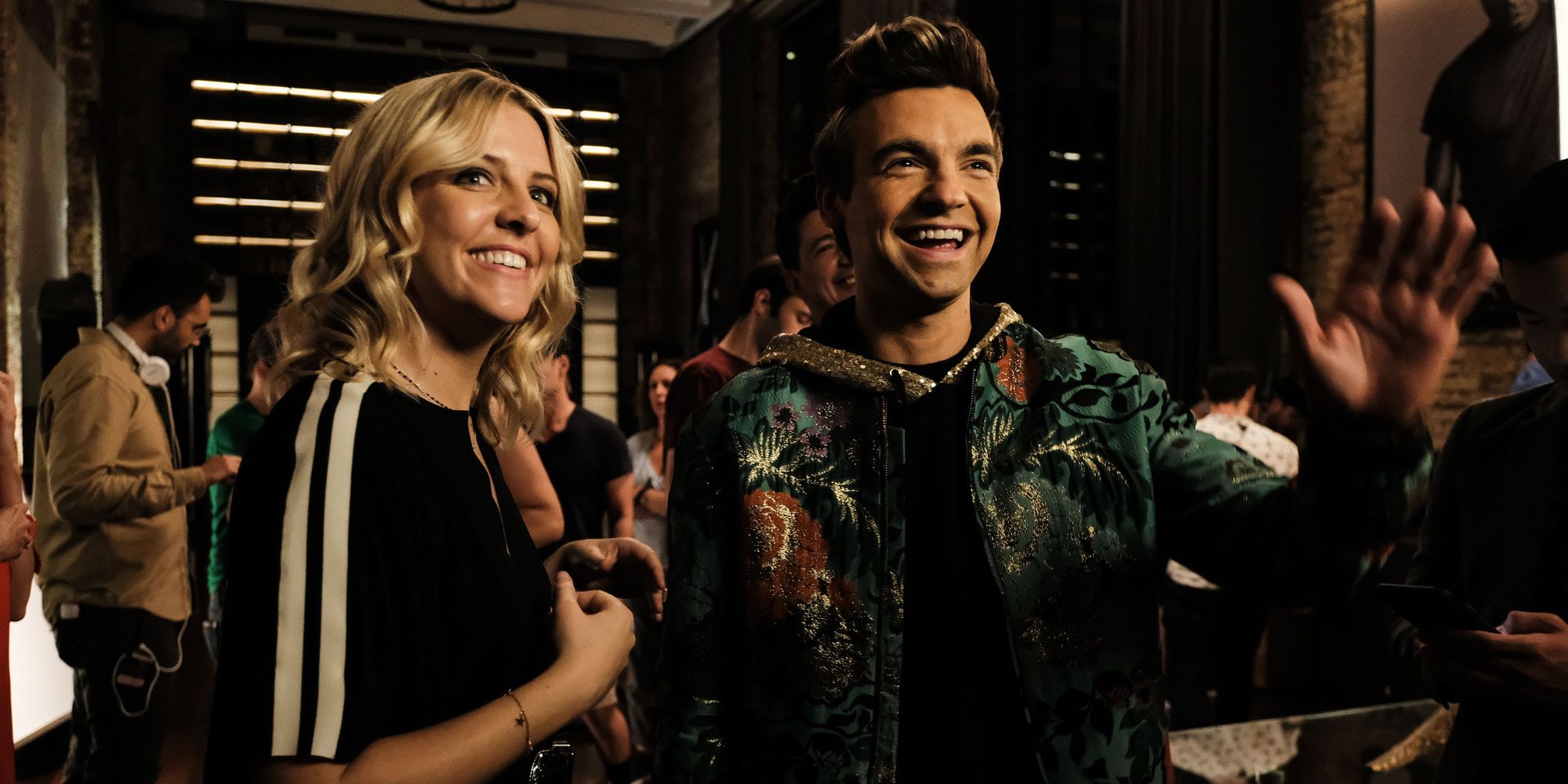 Not long ago, Hulu had one of the most acerbic and acid-tongued comedies on television with Difficult People, a sitcom about two struggling comedians (Billy Eichner and Julie Klausner) trying to make it in New York, and always seemingly coming up short of their lofty goals for one reason or another. The series was canceled after three seasons, leaving television audiences with nowhere to turn for bitingly sarcastic commentary on celebrity and the entertainment industry. (At one point Eichner's character says, "Isn't it funny how Jimmy Fallon slowly turned The Tonight Show into a children's birthday party?" and that's about all you need to know.) For those missing that kind of abrasive love-hate relationship with fame and Hollywood, Comedy Central is here with its newest series, The Other Two, which bears more than a passing resemblance to Difficult People, but comes with one unique twist: the object of its main characters' envy and confusion is their suddenly super-famous little brother. 
The Other Two stars Drew Tarver (Superstore) as Cary, a 28-year-old struggling actor (i.e., waiter), who spends much of the first episode trying to land the part of "Guy who smells a fart" for some unnamed commercial. Heléne Yorke (The Good Fight) plays Drew's older sister, Brooke, a former dancer who can't hold down a job — partly because she's suffering from a sort of post-collegiate form of arrested development that's left her uncertain what she wants to do with her life. The siblings' Millennial angst is soon exacerbated by the unexpected response to their 13-year-old brother's music video for the brilliantly insipid song 'I Wanna Marry You at Recess'. Overnight, Chase (Case Walker) becomes ChaseDreams, an adorably bland proto-Justin Bieber. ChaseDreams is a media sensation, less for his music and supposed artistry than for his utter blankness, on which any number of brands and industries can project their image to peddle their wares. 
Stapled to Chase's side is his fame-obsessed mother Pat (Molly Shannon) and his overly eager, intellectually stunted, and clearly desperate new manager Streeter (Ken Marino). Though The Other Two revolves around Cary and Brooke, Marino's Streeter makes a strong early impression and puts himself in the running for series MVP, as he turns his relatively small amount of screen time into a comedy showcase. But the relative brevity of Streeter's appearances is part of the appeal; Marino seems to be angling his performance toward the adage of "Always leave the audience wanting more," which works in this case, as his arrival is usually met with an uptick in the show's energy levels that would be difficult to sustain. 
Consequently, whenever Marino's not onscreen it almost seems as though Tarver and Yorke are on a completely different show, though that has its advantages. Part of what makes The Other Two work is the inherent absurdity of ChaseDreams' surging popularity and the fact that everyone seems to be taking him seriously. To that end, Cary and Brooke become the audience avatars; they're the characters who ask, "What the hell is going on?" and therefore are seemingly the only two sane people in a world gone mad. Where the series finds its rhythm is in the what's-in-it-for-me sweetness of Cary and Brooke, as they struggle to figure out whether they're really on an island when it comes to the public perception of their as-yet-uncorrupted little brother, or if they simply can't see what everyone else does: that ChaseDreams is a star, regardless the level of manufacturing involved in his precipitous rise. 
Rather than rail against Chase's fame and all the opportunities made available to him as a result, Cary and Brooke make the decision to take advantage of the gravy train while it's still in the station. Though it's more than a little selfish on their part, that neither attempts to undermine their sibling or even speak poorly of him is oddly endearing and indicative of how, even though The Other Two doesn't pull its punches when making fun of celebrities or the media's obsession with them, it's not necessarily interested in punching down at a 13-year-old whose popularity is itself one of the show's most trenchant jokes. 
The show has more in its bag of tricks than nominal sibling rivalry and its stink-eyed glare at the shallowness of celebrity. In a role smaller than that of Marino's yet just as memorable, Richard Kind pops up from time to time as Cary's agent, a seemingly affable fellow struggling to keep his head above water in the gig economy. While funny in the way that only Kind can make a middle-aged man's pitiable existence funny, the joke's relevance is offset by its distance from Cary and Brooke, the two characters who could have given that particular take a greater sense of purpose. 
Nevertheless, if you've been missing the kind of humor Difficult People once offered and you're looking for a comedy that can get absurd without losing its grip on reality, then The Other Two is worth checking out. 
The Other Two continues next Thursday with 'Chase Goes to a Premiere' @10:30pm on Comedy Central.
This entry was posted by Screen Rant on January 24, 2019 at 7:01 am, and is filed under TV News. Follow any responses to this post through RSS 2.0. You can skip to the end and leave a response. Pinging is currently not allowed.