The Predator Concept Art Reveals Predator With 6.5 Limbs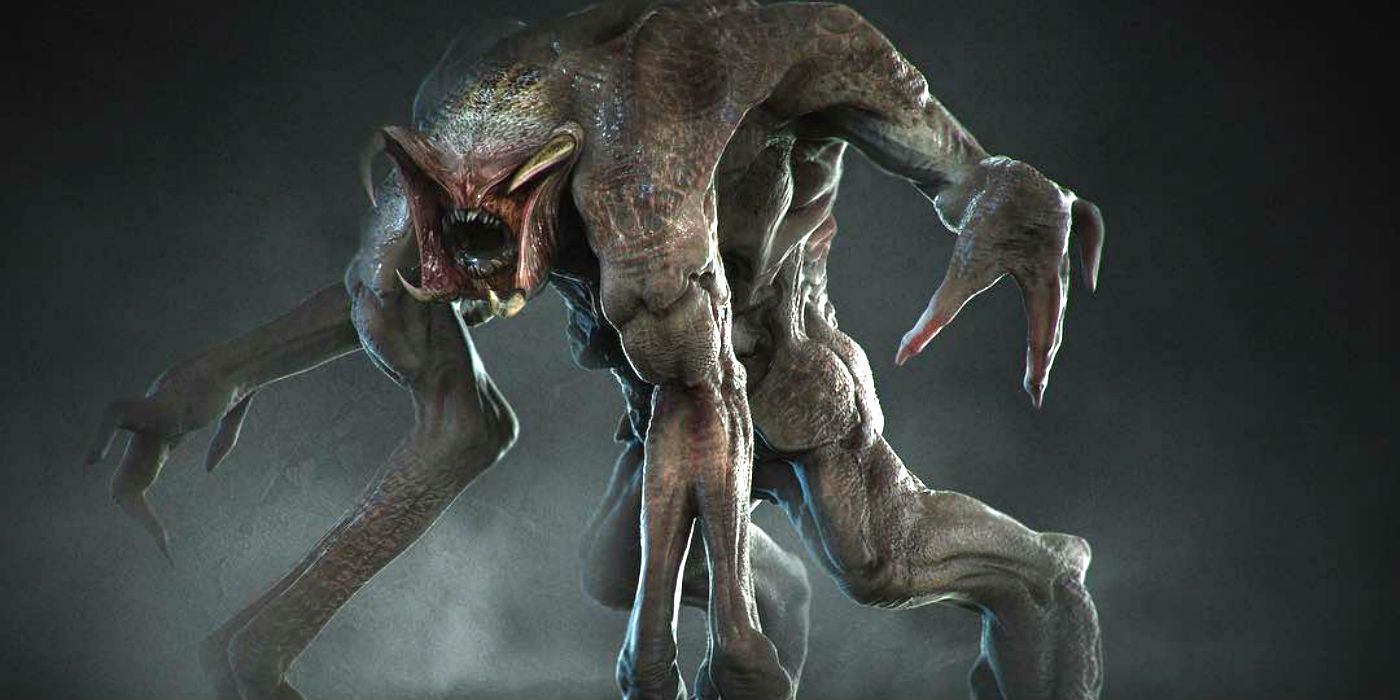 A new piece of concept art for The Predator reveals a Predator creature with 6.5 limbs. The Predator franchise started with the 1987 film Predator starring Arnold Schwarzenegger. Since then film studios have been trying to make an adequate sequel, the latest being The Predator from director Shane Black.
Soon after The Predator was released in September 2018, there was a plethora of concept art that showed up online for the film. Most of this artwork depicts creatures that didn't make it into the final cut of the movie.  This concept art is mainly hybrid designs mixing Predator DNA with other species. Some of these include human/predator hybrids, spider hybrids, and even monkey hybrids. Now, a new piece of The Predator concept art has made its way online, and it is unlike anything fans have seen before.
Related: Predator Franchise Recapped in Animated Evolution Video
This concept art comes from concept artist Kyle Brown (via: Bloody Disgusting) and shows a Predator creature with multiple limbs. This creature didn't end up in the final version of the film, but was designed for the movie as a "mutation gone wrong" and would have been a part of the "menagerie" of Hybrid experiments that ultimately got cut from The Predator. Brown's artwork, as well as his comments about his piece, can be seen in his Instagram post below.
The Predator stands as the overall fourth film in the Predator franchise, not counting the crossover films AVP: Alien vs. Predator and Aliens vs. Predator: Requiem. Despite Black, who played Hawkins in the original film, returning to the Predator franchise as a director, The Predator received some truly scathing reviews. The film was panned by fans and critics alike, leaving many to wonder what the future of the franchise will be, especially now that Disney has acquired 20th Century Fox.
As more Predator movies were released, Fox continually attempted to shock audiences by introducing hybrid Predator creatures. For example, Aliens vs. Predator Requiem introduced a Xenomorph/Predator Hybrid, and the 2010 film Predators introduced the Predator dogs (known as Hell Hounds). It's hard to say for sure if this Predator creature could have improved the movie, but it likely would have been better received than what fans actually got. The Predator introduced viewers to the Ultimate Predator and a redesigned version of the Predator dogs, but that was about it. The Predator creatures that were cut from the film may have not fixed the story, but they would have at least made the movie a bit more interesting, and a whole lot scarier.
Source: Kyle Brown (via: Bloody Disgusting)
This entry was posted by Screen Rant on January 14, 2019 at 9:01 am, and is filed under TV News. Follow any responses to this post through RSS 2.0. You can skip to the end and leave a response. Pinging is currently not allowed.