The Punisher Season 2 New Cast & Character Guide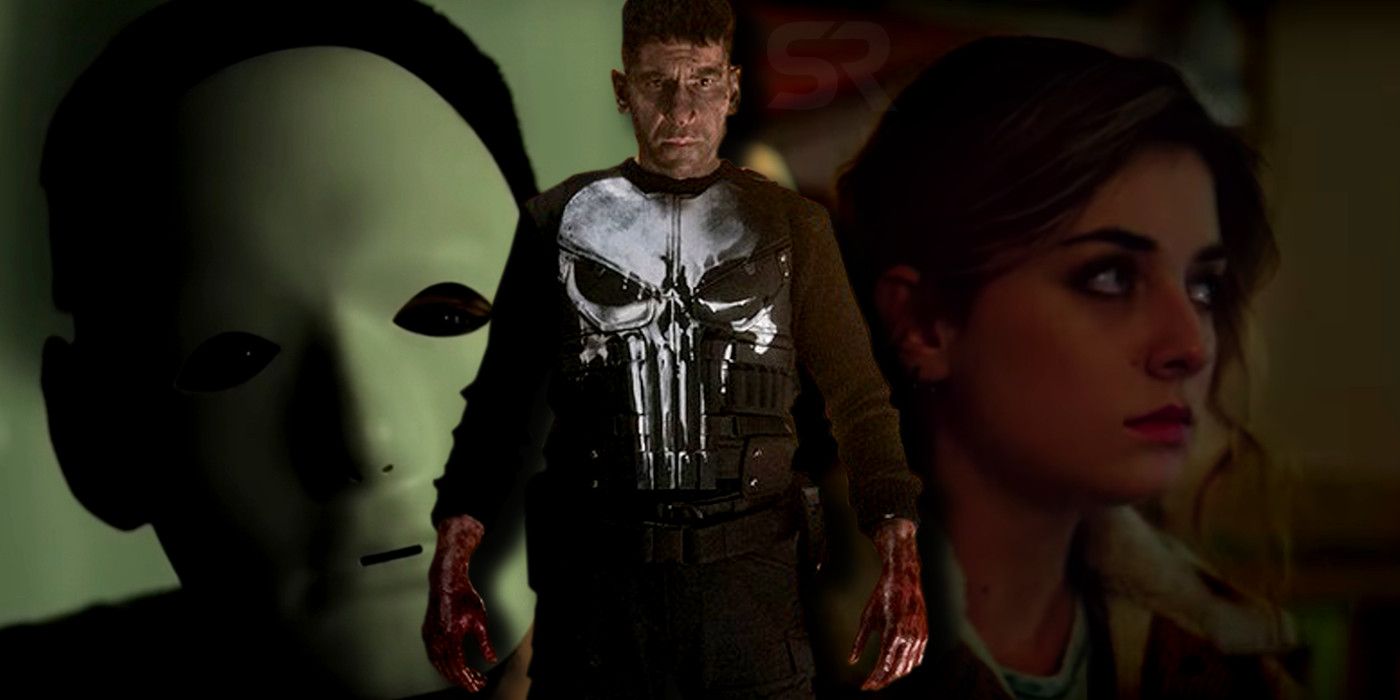 Marvel's The Punisher returns for a second season on Netflix with some new faces joining the first season's cast. The character first appeared in season 2 of Daredevil where he quickly became a fan favorite before earning a stand-alone series. Now, The Punisher and Jessica Jones are the only two Netflix Marvel shows left, after the cancelation of Iron Fist, Luke Cage, and Daredevil. Unlike the rest of the MCU, the Netflixverse took a grittier approach to superheroes, showing them as the complex, bloody, messy humans they can be underneath their costumes.
In season 1 of The Punisher, Frank Castle was out for revenge. His mission was to kill anyone associated with the death of his wife and children. While on this mission, Frank stumbled on a conspiracy that went far beyond the death of his family. With the help of Micro (Ebon Moss-Bachrach), Frank enacted a plan to get back everything he had lost. While the season was jam-packed with action, it was also a deep examination of how loss shaped Castle and turned him into the ruthless anti-hero.
Related: Why Punisher & Jessica Jones Haven't Been Canceled (Yet)
Now season 2 picks up with Frank on the road looking for some peace. That is, until he gets pulled into another mystery. Here are the characters to expect in season 2 of The Punisher.
Jon Bernthal Returns As Frank Castle
Jon Bernthal returns as Frank Castle in season 2 of The Punisher. We last saw Frank fighting Billy Russo on the same carousel where his family was murdered. Billy's betrayal of Frank and his family was a crushing blow. Frank considered Billy his brother after their time in the Marines together. He brutally beat Billy, disfiguring his face and causing him to fall into a coma.
With the death of his family avenged, Frank must figure out how to live without a war to fight. However, it's unlike the Punisher to sit still for very long. Season 2 will see him caught up in another mystery, this time involving a young girl and the secrets she's protecting. It will be interesting to follow Frank as he continues down this road to recovery with old demons never far behind.
The Punisher's Season 2 Returning Cast
Ben Barnes as Billy Russo - Despite Frank's best efforts, Billy wasn't killed from the beating he took in the season finale. Instead, Billy was left scarred, his brain damaged. While comic book fans know Billy Russo as Jigsaw, the character won't go by this name in the series. Instead, the jigsaw puzzle is used as a representation of the state of his mind as he tries to remember his identity.
Deborah Ann Woll as Karen Page - Karen Page was last seen in Daredevil season 3 becoming full-fledged partners with Matt and Foggy as part of Nelson, Murdock, and Page. Despite her friendship with the hero, she maintains a relationship with the morally ambiguous Punisher. In season 1, Karen worked tirelessly to prove Frank's innocence and help him investigate the people who killed his family. The two last saw each other in season 1, episode 10. Frank saved Karen's life and she, in turn, pretended to be his hostage to help him escape.
Jason R. Moore as Curtis Hoyle - Curtis is a Navy veteran who befriended Frank and Billy on a mission in Iraq. He counsels other veterans dealing with PTSD, including Frank and is one of the first to learn his identity as the Punisher. In season 1, Billy uses Curtis to get to Frank and shoots him for his troubles.
Amber Rose Revah as Dinah Madani - Dinah is a Homeland Security agent trying to uncover the truth about the death of her partner in Afghanistan. Her investigation leads to Frank Castle and the two eventually come to work together. Dinah also engages in a relationship with Billy before he reveals his true nature. Billy shoots Dinah in the head, but she survives with a vendetta against her former lover.
Royce Johnson as Brett Mahoney - Brett Mahoney has appeared in 3 Netflix shows including The Punisher season 1, Daredevil, and Jessica Jones. He's an NYPD detective who constantly finds himself cleaning up the mess of New York's vigilantes. He was last seen in Daredevil season 3 arresting Wilson Fisk and Vanessa Marianna.
Related: How Daredevil Season 3 Builds Off Of The Punisher TV Show
New Cast of The Punisher Season 2
Giorgia Whigham as Amy Bendix - The character of Amy is described as "a street smart grifter with a mysterious past". When Frank witnesses an attempt on Amy's life he becomes involved in the mystery surrounding her and the information she is protecting. Whigham is known for her roles in 13 Reasons Why and MTV's Scream. 
Josh Stewart as John Pilgrim - Frank won't only be going up against his old foe Billy, but he will also be facing John Pilgrim this season. The character has a background in Christian fundamentalism and a violent past. The actor describes the character as "very by the book". Previously Stewart has been seen in shows such as Criminal Minds and Shooter and movies like The Dark Knight Rises.
Floriana Lima as Dr. Krista Dumont - Also joining the cast is Floriana Lima. She will be playing Dr. Krista Dumont, a psychotherapist for military veterans. From the trailers, it appears she will play a role in Billy's recovery- or perhaps helping to shape him into the villain he becomes. Lima was previously seen on Supergirl playing Detective Maggie Sawyer.
The Punisher will be available to stream on Netflix beginning on Friday, January 18th.
This entry was posted by Screen Rant on January 18, 2019 at 2:01 am, and is filed under TV News. Follow any responses to this post through RSS 2.0. You can skip to the end and leave a response. Pinging is currently not allowed.