Travis Strikes Again: No More Heroes Review – A Bizarre, Brilliant Return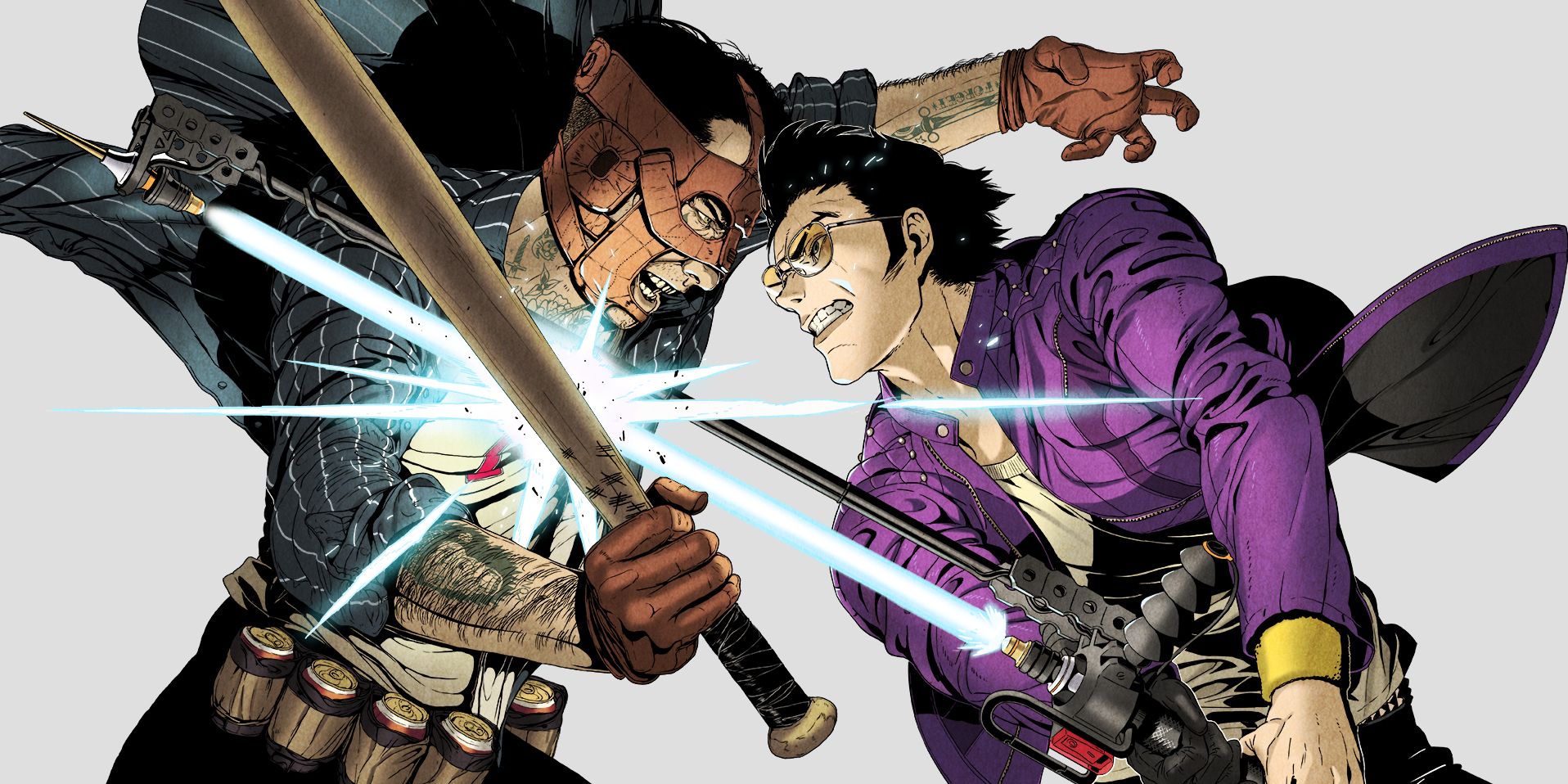 Travis Strikes Again: No More Heroes, Suda51's latest outing, is strange, imperfect, and possibly... genius? The game, which arrives more than eight years after the Wii release of No More Heroes 2: Desperate Struggle, constantly shifts genre and tone as it guides players through an oddball tour of video-game history. The result can be disorienting, but rarely is it anything less than gripping.
Travis Strikes Again follows notorious assassin Travis Touchdown, a Californian obsessed with anime and video games. Seven years have passed since the events of No More Heroes 2, and Travis is in his trailer when he's attacked by Badman - the father of an assassin Travis killed in the original No More Heroes - in retaliation for his daughter's death. During the scuffle, the two are sucked into the Death Drive Mk II, a cancelled, seemingly haunted video-game console in Travis's possession. According to urban legend, beating the Death Drive's six games grants the victor a wish, Dragon Ball-style, so Travis and Badman collect the "Death Balls" that boot up each game and blaze through them. Travis does so out of a sense of pride and a love of games, and Badman does so in order to bring his daughter back to life.
Related: Rain World Review - Another Great Switch Port
Each of the Death Drive's games operates in a distinct genre and aesthetic - there's "Golden Dragon GP," a racing game; "Life is Destroy," a puzzle-filled jaunt through suburbia (to track down a serial killer); "Coffee & Doughnuts," a murder mystery sporting PS1-era visuals; and more. Travis Strikes Again's graphics are average-looking, but the Death Drive games are vibrantly stylized and benefit from strong art direction. Plus, each Death Drive title boasts a bafflingly good cinematic introduction.
Travis Strikes Again's varied locales are all unified by the fundamental gameplay that runs beneath each level's twist: the game is a top-down hack-and-slash. Travis and Badman - you can play as either character, or both, in co-op - control quite well. They move gracefully and there's a pleasing weight to their attacks. The straightforward combat gains some depth from collectible skill chips that offer special powers, like an electric blast and the ability to leech life from foes. Players can equip up to four of these skill chips at a time, and the diversity of loadouts, along with an impressive variety of enemies and memorable boss fights, contributes to thoroughly satisfying arcade combat. Although a clunky late-game difficulty spike sacrifices measured battles in favor of horde-mode-esque onslaughts, the resultant frustrations are easy to forgive when considering Travis Strikes Again as a whole.
Between Death Drive games, Travis and his talking cat, Jeane, travel the world looking for Death Balls. These excursions are cutscenes disguised as text adventures, complete with old-school sound and visual effects. It's in the text adventures that Travis Strikes Again fleshes out one of its most compelling qualities: its self-awareness. The first chapter, which follows the introductory Death Drive game, is rather long - it's a lengthy cinematic that drags on because of the need to press "A" to advance each line of dialogue. The second chapter, on the other hand, is extremely short. At its end, Jeane says, "Just the right amount of text. Your Meta score just went up five points." This occurs multiple times in Travis Strikes Again: whenever you start getting tired of non-combat activities, the game recognizes your probable boredom and launches you back into the fray.
That self-awareness complements Travis Strikes Again's consistent breaking of the fourth wall. (Travis has one thing that he wants to make clear: "This isn't a ripoff of that pervert 'Deadpole' or whatever his name is! We did this shit first.") The game's characters know that they're in a game, resulting in reflections on the video-game medium that vary from surprisingly funny to thought-provoking to devastating. The writing throughout Travis Strikes Again sharply explores questions about video games, masculinity, legacy, and loss. But there are also some disappointing moments, namely those in which Travis's sexism shows, that keep the experience from being an unconditional joyride. They don't drag on for too long, but their presence, unfortunately, weakens what's otherwise a raucously fun game.
The self-awareness of Travis Strikes Again will likely be compared to that of Nier: Automata, which similarly experimented with form. But Travis Strikes Again is as much David Lynch as it is Yoko Taro. The game's universe is adjacent to our own - Travis can even buy t-shirts representing various prominent indie games, and another Suda51 title makes an extended cameo - but its differences prompt us to question the lives we lead. Travis Strikes Back asks, again and again: Are video games just a massive waste of time? Do they, for all their talk of art and narrative and beauty, hurt us more than they help us?
Another feature that's reminiscent of Lynch is the game's oddball supporting cast. Dotted throughout levels are Bugxtra, who proffers "Grandpa's words of wisdom" when approached (he even makes a Twin Peaks reference, at one point); a ramen vendor who looks a lot like the game's enemies, the "Bugs" littering Death Drive games; the Sheepmen, mini-bosses that get harder and harder, the first of whom asks, "You know how scary a midboss can be?"; and many others. Interactions with these characters offer breaks from the action and further Travis Strikes Again's mission of disorientation - if you ever feel like you've started to understand what's going on, you get some weirdness from Bugxtra, who either makes you contemplate your life or causes you to shake your head and keep on killing Bugs.
Travis Strikes Again is a compact game: play-throughs should last about 7-10 hours, with plenty of replay potential. Upon completing the game, players return to Travis's trailer - the game's hub - from where they can keep on diving in and out of the Death Drive Mk II at their leisure. The ability to keep playing is welcome, because Travis Strikes Again is an excellent return to form for Travis Touchdown. And if it's any indication of what's to come for the No More Heroes series and Suda51, the future will be bright and awfully bizarre.
Travis Strikes Again: No More Heroes releases on January 18, 2019 for Nintendo Switch in digital ($29.99) and physical ($39.99, includes season pass) formats. Screen Rant was provided with a digital download code for the purposes of this review.
This entry was posted by Screen Rant on January 16, 2019 at 6:01 am, and is filed under TV News. Follow any responses to this post through RSS 2.0. You can skip to the end and leave a response. Pinging is currently not allowed.