True Detective Season 3 Cast & Character Guide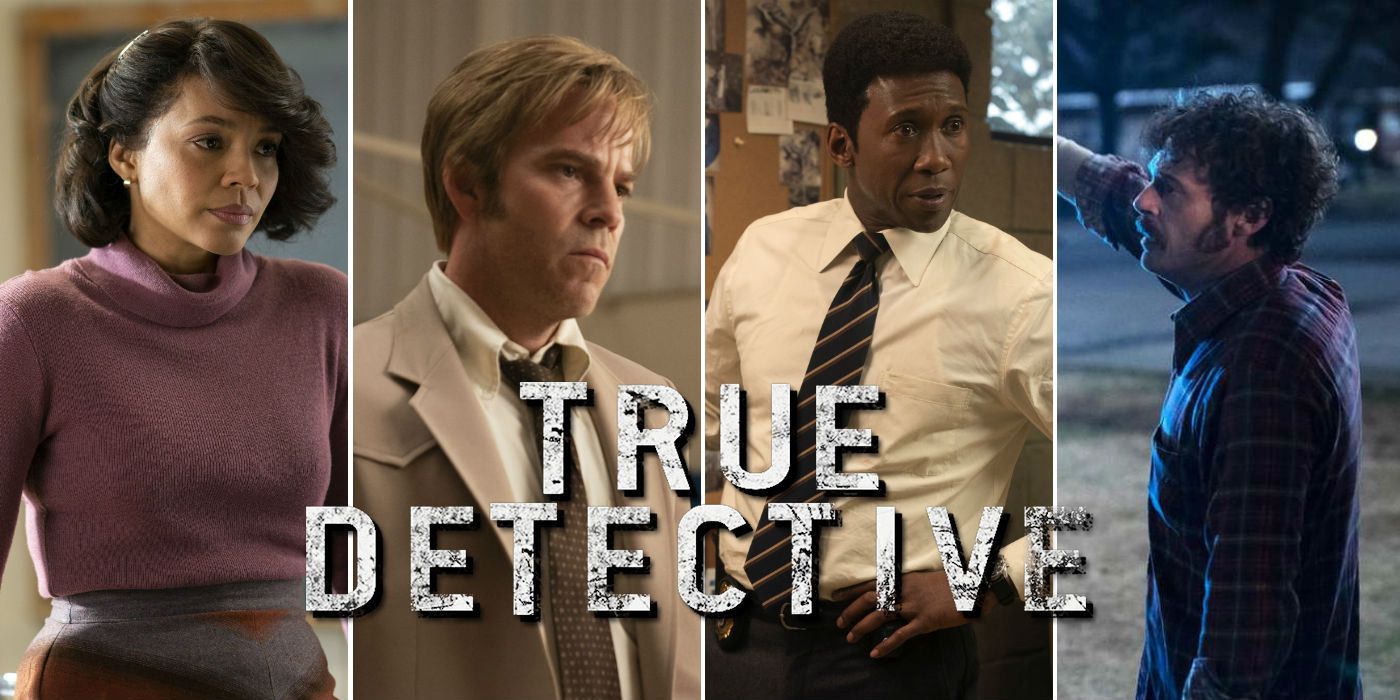 With True Detective season 3, HBO hopes to reclaim the cultural buzz and critical acclaim that made the first season must-watch TV. The network's biggest series, Game of Thrones, returns for its eighth and final season this April, while the dramedy Big Little Lies will reportedly return this June, thanks to awards season buzz and loyal viewers. For HBO, True Detective represents a wildcard for the 2019 schedule.
Five years ago, True Detective season 1 premiered on HBO, with Matthew McConaughey and Woody Harrelson starring as detectives Rust Cohle and Marty Hart, respectively - two unreliable characters hoping to solve a cold case in Louisiana. Created by Nic Pizzolato, True Detective's first season resonated with audiences thanks to its powerful writing, performances, and the direction from Cary Joji Fukunaga, who will soon direct Bond 25. While True Detective season 1 earned numerous accolades, season 2 proved to be a huge disappointment for many, despite a cast featuring Colin Farrell, Rachel McAdams, and Taylor Kitsch. However, many are hoping that season 3 will be a return to form, especially since the first two episodes of season 3 are directed by Jeremy Saulnier (Green Room).
Related: True Detective Season 3 Trailer: HBO's Drama Descends Into Darkness Once Again
Tonight, True Detective returns for season 3. Here's a breakdown of all the main characters, and where you might have seen the cast members before. 
Mahershala Ali as Wayne Hays: Haunted by an unresolved case, a retired detective from Northwest Arkansas figuratively goes back in time 35 years to re-examine the evidence with the aid of a true crime documentary filmmaker. TV fans may recognize Ali as Richard Tyler from the former CBS series The 4400, though he's primarily known for his big screen work in films like Moonlight and Green Book. He also played Cottonmouth Stokes, one of the main villains of Luke Cage season 1.
Stephen Dorff as Roland West: As Hays' former partner, this character assists the protagonist in a quest to solve a case from 1980. With a career dating back to the mid-80s, the 45-year-old Dorff recently had a main role in season 2 of Fox's musical drama Star. In the past decade, Dorff has appeared in feature films such as Public Enemies, Somewhere, and The Iceman, though he's perhaps best known for playing the main villain in Blade.
Carmen Ejogo as Amelia Reardon: Known for her feature roles in Selma, It Comes at Night, and the Starz series The Girlfriend Experience, the British actress Ejogo will portray a schoolteacher who knew the two missing girls from the case in question.
Ray Fisher as Henry Hays: Rounding out the main cast, Justice League's own Victor Stone will play Detective Hays' son. In the DCEU, Fisher is reportedly still set to star in a solo Cyborg movie, though updates have been scarce.
Scoot McNairy as Tom: A man that suffers a personal loss, Tom is connected to the primary detectives over a 10-year span. McNairy is a well-known feature film character actor who is also known for his supporting role in AMC's Halt and Catch Fire. In 2018, McNairy narrated Narcos: Mexico season 1 and has a role in Quentin Tarantino's upcoming film Once Upon a Time in Hollywood. DC fans will recognize him from his performance as a bitter former Wayne Enterprises employee in Batman V Superman: Dawn of Justice.
Mamie Gummer as Lucy Purcell: A mother of two children, Lucy gets wrapped up in criminal activity. In the past decade, Gummer has compiled an extensive TV, film, and theatre resume. She's also the eldest daughter of iconic American actress Meryl Streep.
Josh Hopkins as Jim Dobkins: A private attorney, Dobkins is responsible for conducting police officer depositions in Arkansas. Hopkins is best known as Liam O'Connor from the ABC series Quantico.
This entry was posted by Screen Rant on January 13, 2019 at 5:01 am, and is filed under TV News. Follow any responses to this post through RSS 2.0. You can skip to the end and leave a response. Pinging is currently not allowed.