Twilight: 20 Wild Details Only True Fans Know About Carlisle Cullen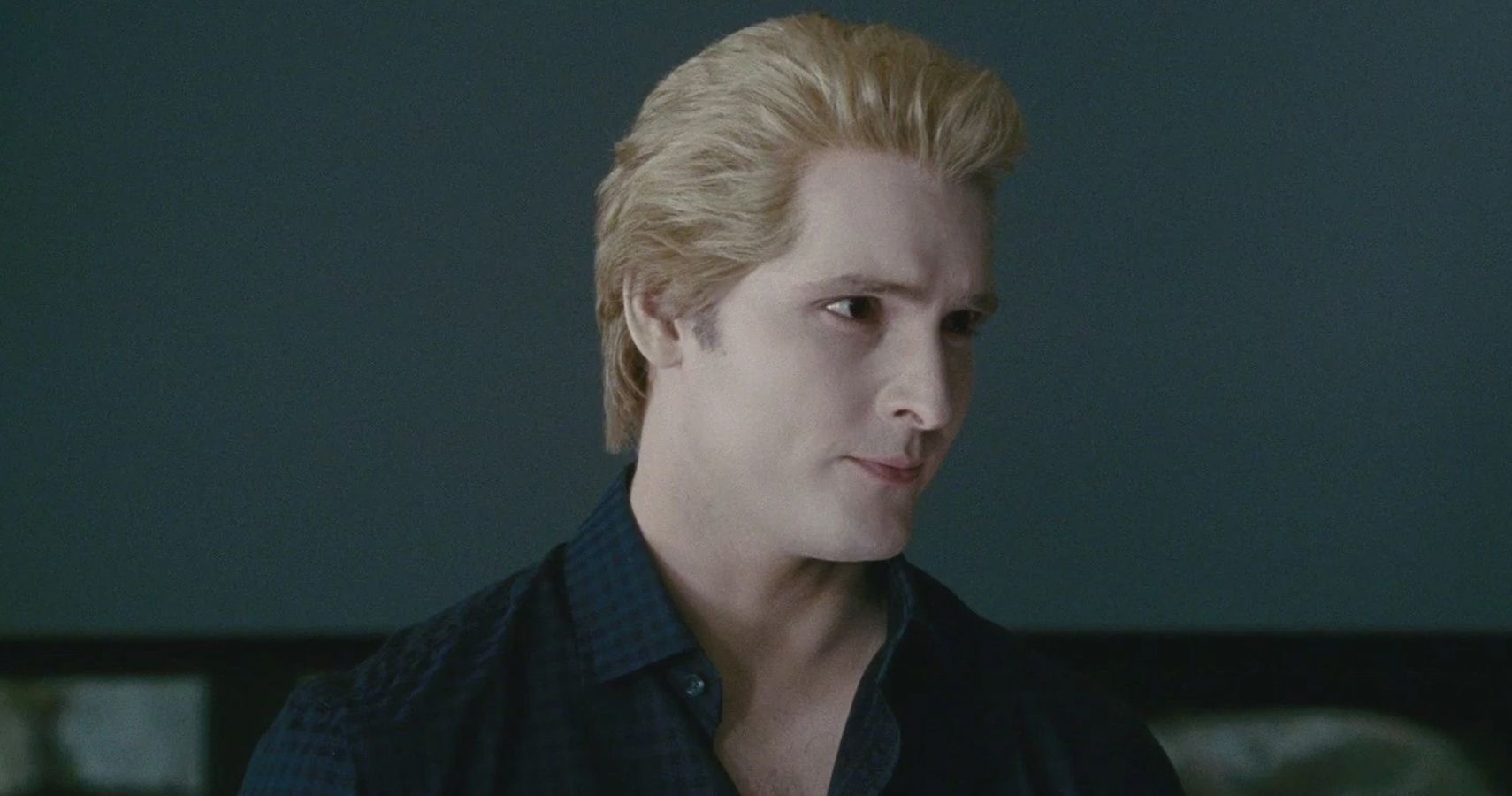 It's been over a decade since the release of Breaking Dawn, the final installment of Stephenie Meyer's Twilight series, hit bookshelves worldwide and forced readers to say their goodbyes to Forks and the beloved vampires, shapeshifters, and humans that resided there. For some Twi-hards, however, it hasn't been quite so easy. Fans continue to write fan-fiction, binge-watch Summit's Twilight Saga films and argue over which of Meyer's dynamic and captivating characters is the best.
The central trio of Edward, Bella, and Jacob are definitely the most popular and memorable members of the Twilight franchise, but optimistic psychic Alice Cullen and lovable tough guy Emmett Cullen also continue to resonate with readers and viewers alike and have solidified their places as fan-favorites. Carlisle Cullen, the compassionate and brilliant leader of the Olympic coven, can also make a case for being one of the series' best characters, but fans don't seem to be able to recall too much about him.
Without Carlisle Cullen, the Twilight series wouldn't have been possible. Edward and Bella never would have met had Carlisle not turned Edward into a vampire to save his life and brought the Cullen family to Forks so they could live their lives without fear of sunlight exposing their secret. Bella never could have survived the variety of supernatural threats that came her way without Carlisle and his family's help. The kind-hearted doctor's contributions are undeniable, but only the most hardcore fans know some of the details of Carlisle's history and development into a fascinating "vegetarian" immortal.
Here are 20 Wild Details Only True Fans Know About Carlisle Cullen.
20

HE THINKS HE WAS BORN AROUND 1640

Most Twilight fans know that Alice can't recall the details of her life before becoming a vampire, but she's not actually the only Cullen who isn't quite sure of when they were born. Carlisle believes he was born sometime around 1640, but he's not entirely positive.

"Carlisle was born in London, in the sixteen-forties, he believes," Edward explained to Bella in Twilight. "Time wasn't marked as accurately then, for the common people anyway." While he's not sure of his birth date, Carlisle does at least remember that he was born during a time of religious and political upheaval, to an Anglican pastor father and a mother who tragically passed away giving birth to him.
19

HIS FATHER HUNTED SUPERNATURAL CREATURES

Back in the sixteen-hundreds, pastors didn't simply give sermons and oversee their churches. Carlisle's father and several of his fellow pastors in London also regularly led hunts for supernatural creatures such as werewolves, witches and vampires, in an attempt to rid the world of evil and sin.

Unfortunately, several of the individuals they captured and eliminated ended up being mere innocents, and weren't the monsters the pastors believed them to be. As Carlisle's father aged, Carlisle was instructed to follow in his footsteps and lead these raids, a task he accepted very reluctantly as he wasn't as at ease with taking lives as his father was.
18

HE WAS BITTEN DURING A VAMPIRE HUNT

While Carlisle didn't enjoy leading these hunts for supernatural beings as much as his father did, his intelligence still made him a phenomenal hunter and helped him find a real coven of vampires who were hiding away in the sewers of London.

Carlisle led the hunt after these immortal blood-suckers, but in the ensuing chaos, he was bitten by one of the vampires and left bleeding in the street. His knowledge of the supernatural prepared him for what was to come, and he hid in a potato cellar to prepare for his painful transformation. Three days later, he emerged as a vampire, the very creature he had pledged to help his father eliminate.
17

HE TRIED ENDING HIS OWN LIFE

Carlisle's father had taught him throughout his entire life to loathe and fear vampires, so when Carlisle was turned into one, he was disgusted by his own existence. He was too kind-hearted to want to take the lives of others, but he didn't shy away from trying to take his own life so he wouldn't have to be the monster he was conditioned to hate.

Carlisle tried various ways of ending his life. He starved himself, tried to drown himself and jumped off of cliffs. None of these methods worked, and eventually, he found himself so desperate for blood that while he was hiding in a cave in a forest, he attacked and fed on a herd of deer.
16

HE IMMEDIATELY BEGAN HIS "VEGETARIAN" DIET

As a vampire, Carlisle was granted enhanced speed and strength, skin that was tough as diamonds and sparkled in the sunlight, and significantly stronger senses. He couldn't appreciate his superhuman gifts, however, because he was frightened by his thirst for blood and worried that he'd use his new talents to hunt humans.

When he attacked the herd of deer and discovered that he could survive off of animal blood, he instantly accepted his new life as a vampire. He considered feeding off of animals far more humane than drinking the blood of a human and potentially ending their life in the process, so he began the "vegetarian" vampire diet that the rest of the Cullen family eventually adopted as well.
15

BECOMING A VAMPIRE GIFTED HIM WITH UNPARALLELED COMPASSION

When humans transform into vampires, their special skills and talents occasionally get enhanced and develop into additional powers. As a human, Alice would occasionally get premonitions of the future, so when she was turned, she acquired the ability to see an individual's future based on their present decisions. Human Edward was incredibly sympathetic and was great at understanding others, so as a vampire, he was able to actually read minds.

Carlisle wasn't gifted with psychic talents the way Alice and Edward were, but when he became a vampire, his compassionate nature was greatly enhanced and helped him always stick with his diet of solely animal blood. Stephenie Meyer has even stated that his "compassion-motivated self-control is really so incredible that it almost crosses the line into 'superpower'."
14

HE PERFECTED HIS BLOODLUST AFTER TWO CENTURIES

While Carlisle decided to follow a "vegetarian" diet as soon as he fed on some deer and his incredibly compassionate nature helped him follow through with that plan, it wasn't always easy for him to stifle his thirst for human blood.

By the time Bella was introduced to the Cullen family in 2005, Carlisle was an accomplished doctor who seemed perfectly capable of being in the same room as human blood without giving in to his monstrous nature. No one in the Forks hospital had any reason to suspect he was secretly a vampire. Only the biggest Twilight fans know that it actually took two whole centuries for him to develop this level of self-control and perfect his ability to resist the bloodlust caused by the scent of human blood.
13

HE LIVED WITH THE VOLTURI FOR 20 YEARS

The Volturi are the largest and most powerful coven of vampires in the entire world, and while Edward told Bella and Jacob in Breaking Dawn that they are "the foundation of our peace and civilization," it's impossible to deny that the enforcers of vampire law were the most dangerous villains of Meyer's franchise.

While Carlisle was studying in Italy, he stumbled across the Volturi and actually decided to live with them for two decades. He was put off by their constant attempts to convert him to his natural food source of human blood, but he appreciated that they were much more educated and refined than the vampires who lived in the sewers of London.
12

HE MOVED TO AMERICA TO BECOME A DOCTOR

After living with the Volturi in Italy for twenty years, Carlisle decided to move on to the New World and become a doctor so he could spend his eternal life helping others. During the two centuries he avoided contact with humans so he could get over his bloodthirst, Carlisle spent most of his time studying.

By the time he finally decided to put what he'd learned to good use, he knew everything there was to know about medicine and surgery. Since his enhanced vampire abilities gave him superhuman focus and reflexes, he was as skilled as he was knowledgeable, and it didn't take long for Carlisle to establish himself as one of America's best doctors. His inability to age forced him to frequently travel across the country so people wouldn't notice he was immortal, and his medical talent helped him find work everywhere he traveled.
11

HE MET ESME YEARS BEFORE TURNING HER

Edward and Bella's love story is the focus of the Twilight saga, but it's definitely not the only beautiful romance featured in Meyer's beloved series. All of the Cullen family marriages are inspirational examples of how fate can help people find their true soulmates.

While Carlisle was working as a doctor in Columbus in 1911, he was assigned to treat a young teenager named Esme Anne Platt, who had broken her leg falling out of a tree. He and Esme felt a strong mutual attraction, but their first encounter was brief. A decade later, Carlisle was again called upon to treat Esme, who had suffered fatal injuries after a failed attempt on her own life. He turned her into a vampire to save her. She remembered their first meeting and had always considered Carlisle her ideal of a perfect gentleman, and they got married shortly after.
10

EDWARD WAS HIS FIRST TRUE COMPANION

While working in a Chicago hospital during the Spanish influenza epidemic, Carlisle encountered a woman named Elizabeth Masen who was in pain from the influenza. She begged Carlisle to do anything within his power to save Edward, her son, as he was in pain from the flu as well and didn't have much longer left to live.

Carlisle had spent years searching for a companion to stifle his loneliness and depression, and Elizabeth's request inspired him to turn Edward into a vampire. Edward shared his sense of compassion and desire to follow a diet of solely animal blood, so the duo became incredibly close and started traveling together. They pretended that Edward was the younger brother of Carlisle's fictional late wife.
9

HE TURNED ESME AND ROSALIE TO SAVE THEM

While it's true that Elizabeth Masen had asked Carlisle to save Edward at any cost, his primary motivation for turning Edward into a vampire was his own personal desire for a companion. When he turned Esme and Rosalie, however, it was solely to save their lives.

Esme's attempt on her own life left her in a condition Carlisle felt he couldn't help her recover from without turning her into a vampire. When Carlisle found Rosalie in the streets after an attack from her fiance and his friends, he similarly couldn't think of any way to save her without turning her into a vampire. Rosalie slightly resented him for cursing her with an immortal life without her consent, but it's impossible to deny that Carlisle intentions for turning Esme and Rosalie were pure.
8

HE WAS FAR YOUNGER THAN THE FILMS PORTRAY HIM

Peter Facinelli was 35 years old when he portrayed Carlisle Cullen in Summit's first Twilight film. This actually seemed to make perfect sense, as he was meant to be the adopted father of five teenagers, and it helped him look like a suitable husband to 33-year-old Elizabeth Reaser's Esme. Unfortunately, this didn't line up with Meyer's novels at all.

Carlisle was turned into a vampire when he was only 23 years old, so he spent the entirety of his life as a vampire appearing to be that age. Facinelli did a great job bringing Carlisle's positive and compassionate personality to life on the big screen, but there's no way he looked like he was 23.
7

HE MADE THE TREATY WITH EPHRAIM BLACK

When Bella moved to Forks in Twilight, she learned that the Cullen family had only moved there a few years before her. People in the town didn't realize that Carlisle, Esme, Edward, Rosalie, and Emmett actually resided in Forks several decades earlier, and left the town so no one would realize they were incapable of aging.

During their first stay in Forks, Carlisle and the other Cullens at the time signed a treaty with Jacob Black's great grandfather Ephraim Black which stated that the Quileute tribe would leave the Cullens alone and not reveal their secret to humans if the Cullens would refrain from hunting humans or trespassing on Quileute land. Because of this treaty, the Cullens were able to live in relative peace with the shapeshifters during both of their stays in Washington.
6

HIS MEDICAL SKILL MADE HIM VERY RICH

Carlisle's primary motivation for becoming a doctor was so he could use his special vampire gifts and the knowledge he'd acquired over several centuries to help others, but his occupation also had another benefit. Working as one of the top surgeons in the country for so long helped Carlisle acquire a very significant amount of money, so his family never wanted for anything.

The Cullen family home in Forks was ridiculously beautiful and unquestionably expensive, and all of Carlisle's kids seemed to have pricey cars and wardrobes. He wasn't as passionate about cars as Edward and Rosalie, but Carlisle still splurged on himself enough to purchase his own black Mercedes S55 AMG.
5

HE ACTUALLY APPROVED OF EDWARD AND BELLA'S RELATIONSHIP

When Edward started falling for Bella, the members of his adopted vampire family couldn't quite agree on whether or not he should act on his feelings and pursue a relationship with a human. Rosalie initially couldn't stand Bella and wasn't afraid to express her distaste, and Jasper's bloodthirst made it difficult for him to spend time with Bella—especially after she got a mere paper cut at her 18th birthday party at the Cullen house.

Carlisle wasn't nearly as apprehensive about Bella, and actually encouraged Edward to finally give himself permission to love someone even though he knew their relationship could potentially put Bella's life at risk. He'd spent years watching Edward sink into depression and loneliness, and was thrilled to see his first companion find his soulmate.
4

HE VOTED FOR BELLA TO BECOME A VAMPIRE

When Edward thought Bella had taken her own life after he left her in New Moon, he was so filled with remorse that he traveled to Italy in an attempt to force the Volturi to eliminate him. Bella saved his life, and Carlisle offered his joy and gratitude to Bella for saving one of his closest friends and family members.

Bella then pointed out that she and Edward were incapable of finding happiness apart from each other, and asked the Cullens if she should just join them and become a vampire. The family was split, and even Edward was against the idea as he felt that an immortal life was actually a curse. Carlisle, however, gave his vote in favor of turning Bella into a vampire, and even offered to do it himself after Bella's graduation.
3

HE WANTED TO SPARE BREE TANNER

While Twilight fans who solely watched the Summit Entertainment films only know Bree Tanner as an incredibly minor character featured in Eclipse, readers also know her as the central character of Stephenie Meyer's spin-off novella The Short Second Life of Bree Tanner. 

Bree was one of the newborn vampires turned and forced by Victoria to help her in her quest to get revenge on Edward and Bella for ending her companion James' life, but she had no desire to hurt others. During the fight between Victoria's army and the Cullens and Quileute shape-shifters, Carlisle noticed that Bree wasn't participating, and wanted to spare her at the battle's conclusion. Carlisle offered to take responsibility for Bree and watch over her, so it's possible she would have become another member of the Cullen family had Jane and other members of the Volturi not shown up and demanded Bree's execution.
2

ALICE FORESAW HE'D PERISH BY ARO'S HANDS

In the Breaking Dawn novel, the highly-built up conflict between the Volturi and the Cullen family and their friends ended in a fairly anticlimactic fashion. Alice showed Aro her vision of the future should the war take place, and the Volturi decided to simply back off. In the film, however, viewers got to see exactly what would have happened had they chosen to fight.

Carlisle would have gotten his head ripped off by Aro while trying to save Alice from being captured. Aro would have then lit his body on fire, so Carlisle wouldn't be able to heal himself. This move would have spurred the Cullens and their witnesses into action and started the war which would have ended in the elimination of the Volturi, Aro included. Luckily, Aro's desire to stay alive kept this from ever happening and Carlisle's doom was prevented.
1

PETER FACINELLI OPTED TO DROP HIS ENGLISH ACCENT

In Meyer's Twilight novels, Carlisle Cullen still has a slight English accent from back when he grew up in London. Peter Facinelli is capable of doing an English accent, but he chose not to use one for Carlisle in the films.

"I never thought of doing that because he is English, but a long time ago, over 300 years ago," Facinelli explained in an interview with the Los Angeles Times. "I thought he would have adapted to his surroundings. I wound up doing a more standard American accent." He went on to point out that even Stephenie Meyer agreed with his decision, though he admittedly didn't even ask her about it until after filming had started.

---

What is your favorite thing about Carlisle from Twilight? Let us know in the comments!
This entry was posted by Screen Rant on January 20, 2019 at 6:01 am, and is filed under TV News. Follow any responses to this post through RSS 2.0. You can skip to the end and leave a response. Pinging is currently not allowed.