Universal Announces FREE Glass Movie Sneak Peek Screenings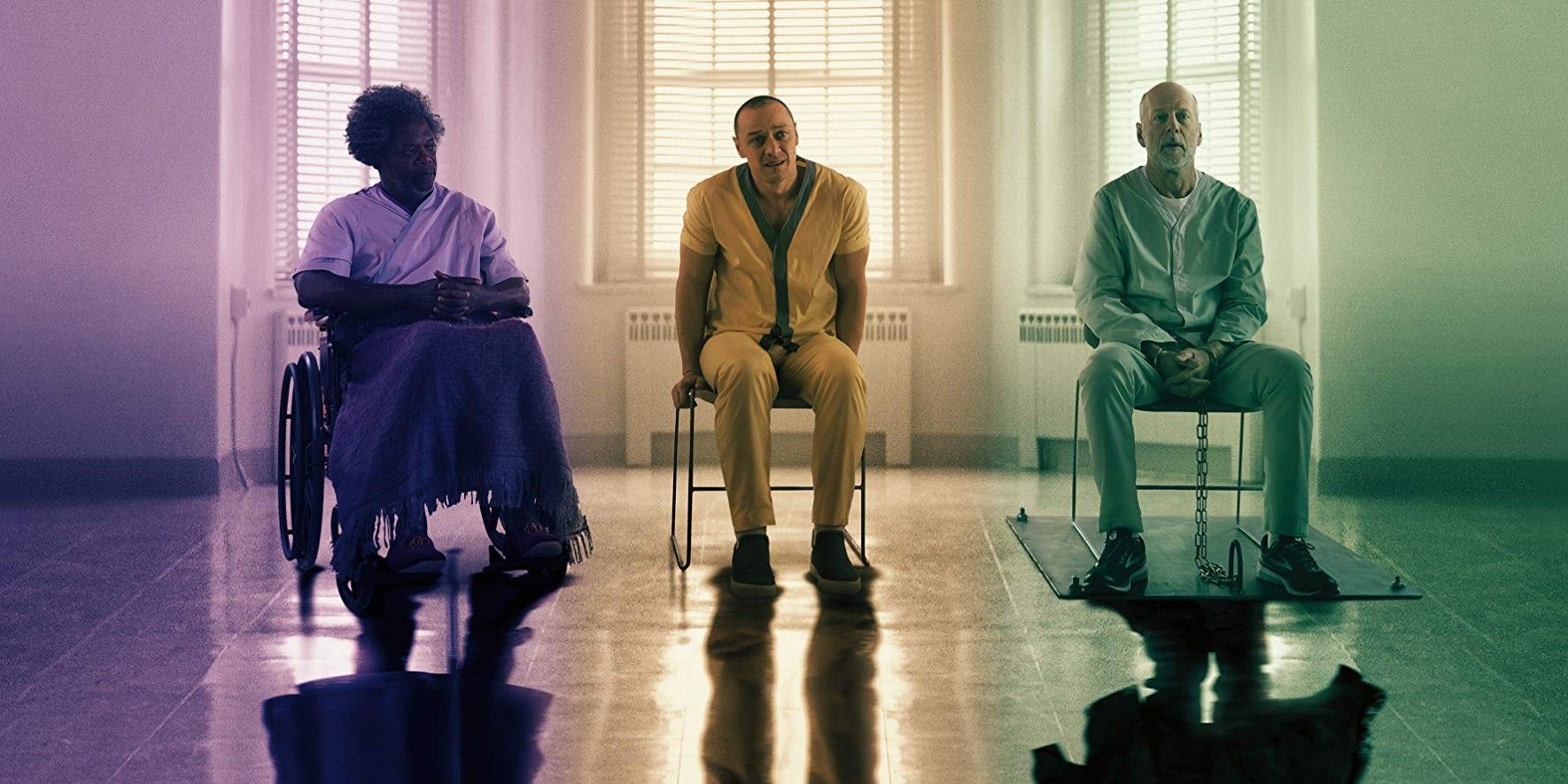 Universal is hosting "Break the Glass First", a series of advanced screenings for M. Night Shyamalan's film Glass. Following his breakout success on The Sixth Sense, Shyamalan made 2000's Unbreakable, a dramatic thriller about David Dunn (Bruce Willis), a security guard who gradually discovers he has superhero-like strength and invulnerability. The movie was a modest success upon its original release, but took on cult stature in the wake of the superhero comic book film renaissance that followed in the 2000s and '10s.
Then, in 2017, Shyamalan made an unexpected return to the Unbreakable universe with Split, a thriller about Kevin Crumb (James McAvoy), a man with dissociative identity disorder who develops a new personality known as The Beast: a being with super-human strength and immunity to bullets. However, it wasn't until the film's closing moments that Shyamalan revealed Kevin exists in the same universe as David Dunn, making Split itself something of a stealth sequel to the original Unbreakable.
Related: Why M. Night Shyamalan Turned Down Marvel & DC Movies
Thanks to Split's critical and box office success, Shyamalan has gotten a chance to complete his story with Glass, a film that pits David against Kevin, all while Elijah Price (Samuel L. Jackson), aka. Mr. Glass from Unbreakable, orchestrates their showdown. Ahead of Glass' release in theaters, Universal has announced "Break the Glass First": a series of free Glass screenings in cities across the U.S. Wednesday evening, January 16. Those interested can go HERE to pick up their tickets and should so quickly, since they'll likely sell out quickly.
This announcement makes sense from a studio perspective. Early reviews for Glass have been mixed to negative overall, with the film currently holding a "Rotten" rating on Rotten Tomatoes. However, by allowing more people to see the film early, that gives Shyamalan's latest a chance to start generating more positive buzz, before it starts playing in theaters proper this weekend. Those who see the movie early will also get a head-start on the larger discussion to come about how Glass connects to Unbreakable and Split. And of course, this will make it easier for those eager to avoid being spoiled for Glass (especially, whatever twisty ending Shyamalan has cooked up this time) to do so.
Considering Unbreakable fans have been waiting nearly twenty years to see Glass, odds are many of them will check out the film out at some point, even with the not-so-encouraging word of mouth right now. Shyamalan's films are always interesting to talk about (or, in the case of the bad ones, make fun of) and that seems to be the case with Glass, based on what critics are saying so far. It's easily the first true event movie of 2019, so cinephiles might as well try and see it early at the "Break the Glass First" screenings, if they can manage.
Source: Universal
This entry was posted by Screen Rant on January 15, 2019 at 11:01 am, and is filed under TV News. Follow any responses to this post through RSS 2.0. You can skip to the end and leave a response. Pinging is currently not allowed.