We Die Young Trailer: Jean-Claude Van Damme Battles Drug Lords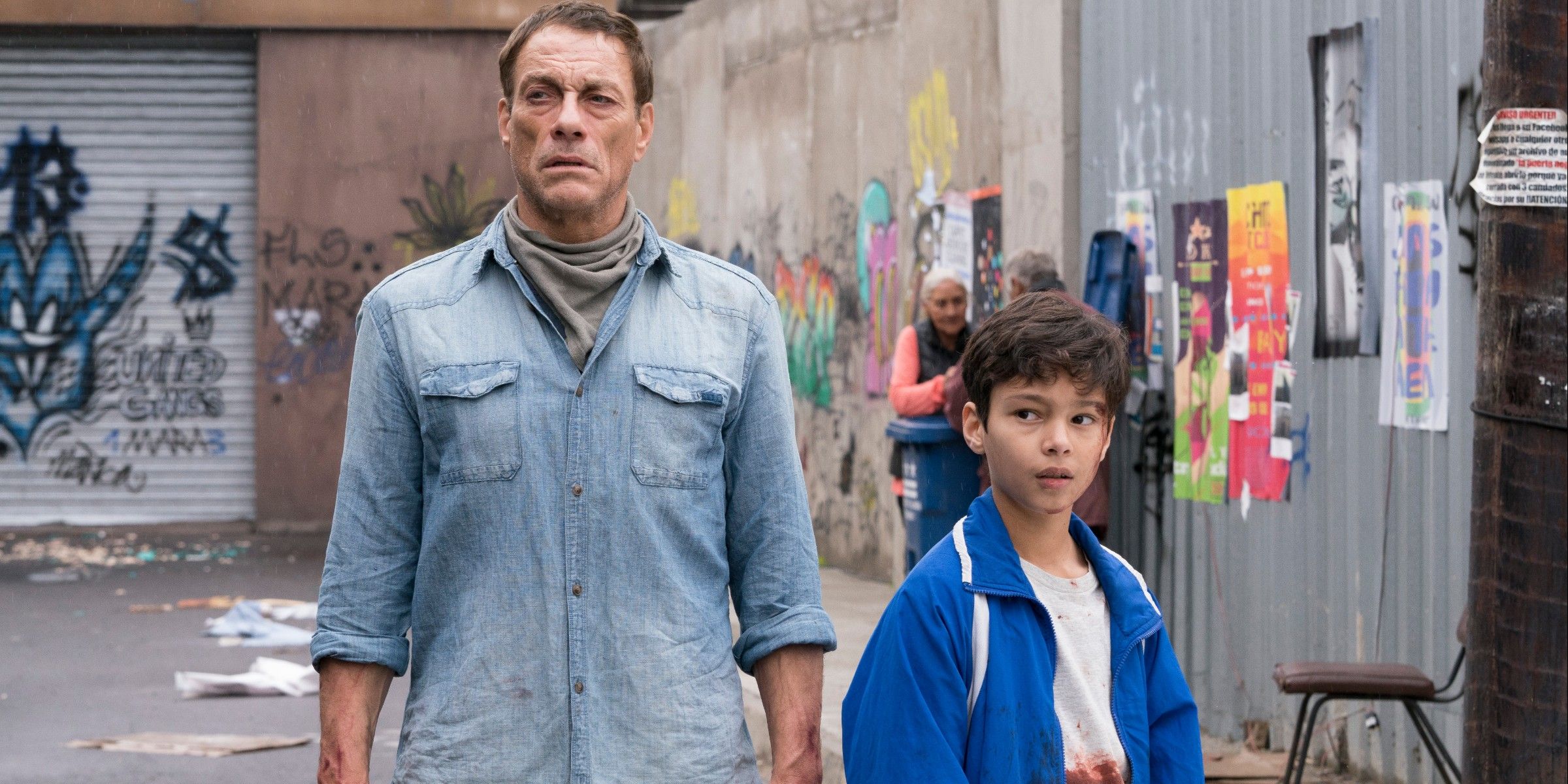 Jean-Claude Van Damme delivers a dramatic turn as a soldier with PTSD in the trailer for We Die Young. The film is based on director Lior Geller's own short Roads, which sets a Guinness world record for most awards won by a student film during its run on the 2008 festival circuit. For his feature-length adaptation, Geller swaps his short film's Israeli backdrop for Washington D.C., but keeps the story of a teenaged boy who works for a dangerous drug lord and seeks help from a traumatized veteran, after his younger brother is hired to work for the same gang.
The subject matter gives We Die Young a little more dramatic heft than Van Damme's recent direct to video offerings and shows him trying his hand at something different, much like he did on his cult meta-dramedy JCVD and Amazon's canceled Jean-Claude Van Johnson. And it's no accident that Van Damme is silent throughout the film's trailer, either. According to Geller, his character is based on a soldier he knew who lost the ability to speak, following a life-changing injury on the battlefield.
Related: Steven Soderbergh's High Flying Bird Gets a Trailer
We Die Young is currently scheduled to premiere in select theaters and on demand in early March. The film's leads are joined by a supporting ensemble that includes David Castañeda - who stars in Netflix's The Umbrella Academy comic book TV series next month - in addition to Once Upon a Time's Joana Metrass. You can watch the trailer below, then check out the movie's synopsis.
Jean-Claude Van Damme shines in this gritty action thriller set in a crime-ridden barrio of Washington, D.C. When ruthless drug lord Rincon and his MS-13 gang recruit 10-year-old Miguel to work as a runner, big brother Lucas is desperate to keep Miguel safe. Fleeing for their lives, the boys are rescued by a veteran with PTSD named Daniel (Van Damme), who helps them find their revenge.
After quickly setting the tone with a flashback to the incident that left Daniel (Van Damme) permanently damaged, the trailer shifts into voiceover narration from Lucas (Elijah Rodriguez), as he explains the ins and outs of life in D.C. and the city's thriving criminal underbelly. It's only downhill from there, as the trailer shows Lucas' younger brother Miguel (Nicholas Sean Johnny) getting pulled into the same nightmarish experience as his sibling, prompting Daniel to try and do something about it.
By changing the setting from Lod (in Roads) to Washington D.C., We Die Young risks losing something in translation, as far as its story's social context and political subtext are concerned. Similarly, Van Damme's character could come off feeling like a white savior in the film, if his arc isn't handled correctly. Those challenges aside, it's good to see the movie intends to say something meaningful, while also allowing Van Damme to continue mixing things at this stage in his career.
We Die Young premieres in select U.S. theaters and On Demand on Friday, March 1.
Source: Lionsgate
This entry was posted by Screen Rant on January 21, 2019 at 9:01 am, and is filed under TV News. Follow any responses to this post through RSS 2.0. You can skip to the end and leave a response. Pinging is currently not allowed.