What to Expect from Narcos: Mexico Season 2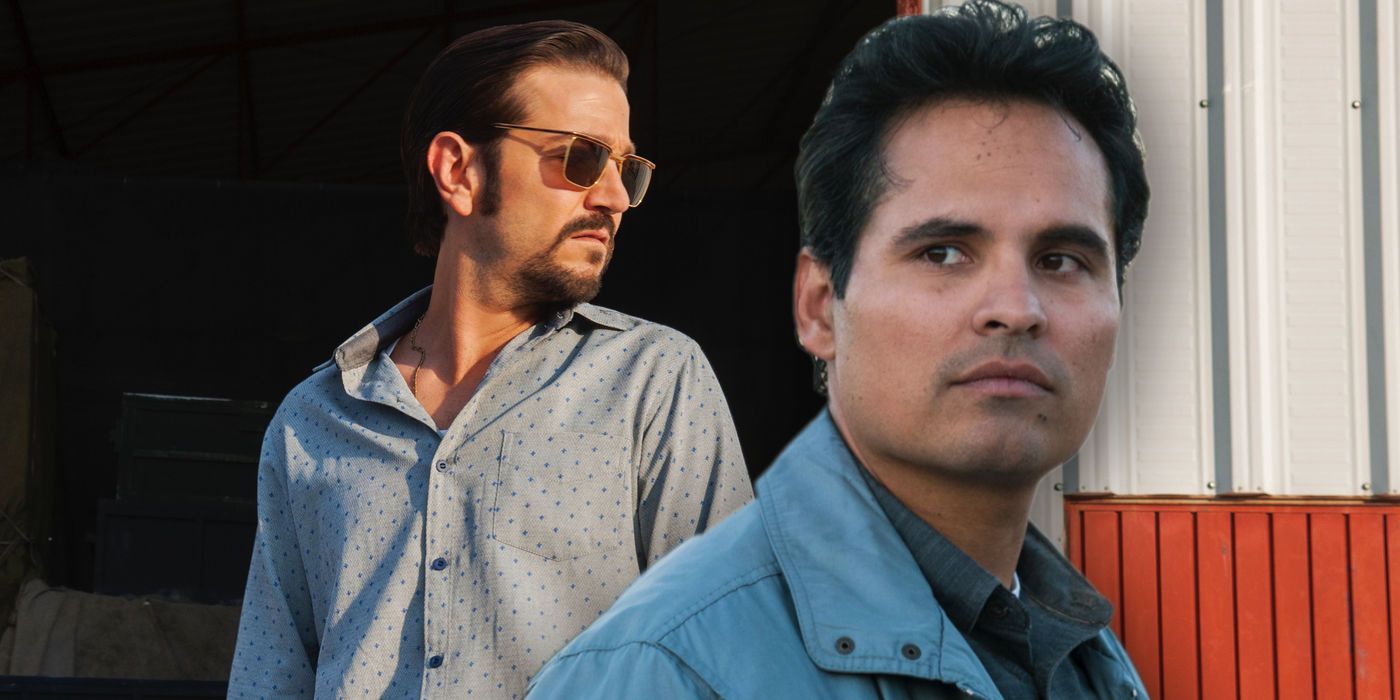 Narcos: Mexico season 2 is on the way, but what can fans expect to see in it? Narcos: Mexico is a companion series to the Colombia-set Narcos TV series, which explored the rise and fall of drug kingpin Pablo Escobar. Narcos: Mexico, though, focuses on the first Mexican drug cartel formed in the mid-1980s, and how the death of an American DEA agent created a cultural war.
In Narcos: Mexico's primary roles, Diego Luna stars as Miguel Ángel Félix Gallardo - the founder of the Guadalajara cartel - and Michael Peña as Enrique "Kiki" Camarena, a Mexican-born U.S. DEA agent working at the Guadalajara office. The plotline examines Gallardo's ascent, and also the destruction of a marijuana plantation, based on leaked information from the undercover Camarena.
Related: Narcos: Mexico's New Stars & New Setting Deliver A Riveting New Season
In the final episodes of Narcos: Mexico season 1, Gallardo loses power and gains it back, thanks to a series of calculated moves including the torture and investigation of Camarena. By the season 1 finale, the U.S. government decides to take a more aggressive approach, thus leaving Gallardo to rethink his strategy while assessing possible moles within his organization, which is a storyline that will continue in Narcos: Mexico season 2.
NARCOS: MEXICO HAS BEEN RENEWED FOR SEASON 2
Last December, Netflix officially renewed Narcos: Mexico for season 2, just three weeks after its premiere. One week later, Luna was officially announced as a returning cast member, which is no surprise given the character's arc and Gallardo's real-life storyline. Additionally, Narcos: Mexico's season 1 narrator, Scoot McNairy, was also announced as a returning cast member. In Narcos: Mexico's season 1 finale, McNairy made his first on-screen appearance, thus teasing a larger role in season 2. Of course, it's unclear how far Netflix plans on taking Narcos: Mexico since the original series was transformed into a companion show after only three seasons on the air.
WHEN WILL NARCOS: MEXICO SEASON 2 RELEASE?
Given the scope of Narcos: Mexico's story, it could be some time until season 2 premieres. It's also important to factor in the inherent danger of filming in Mexico, evidenced by the 2017 murder of location scout Carlos Muñoz Porta - a crime that has still gone unsolved. In December 2017, both Luna and Peña were originally cast, with the series premiere coming 11 months later. So, it seems likely that Narcos: Mexico could theoretically return by the end of 2019, but that would certainly depend on the availability of its core cast. Peña has multiple movies coming up, and Luna is slated to appear in Disney Plus' Rogue One: A Star Wars Story prequel series.
WHAT WILL NARCOS: MEXICO SEASON 2'S STORY BE?
Based on the Narcos: Mexico season 1 ending, McNairy will undoubtedly have a main role as undercover DEA agent Walt Breslin. Now that Gallardo has gained more power and visibility, the U.S. government has officially set in motion Operation Leyenda, which will feature state of the art technology and more aggressive investigation tactics. Narcos: Mexico's season 1 finale shows McNairy's character arriving in Mexico and meeting with fellow agents, who are instructed to learn, memorize, and burn documents that identify the main players in Gallardo's organization. 
Beyond the inevitable showdown between Gallardo and the DEA, there's a question of how much attention the supporting characters will receive. For example, the now infamous drug kingpin Joaquín "El Chapo" Guzmán has a small character arc in season 1, and historical facts suggest that he'll play a pivotal role in Narcos: Mexico season 2. Furthermore, viewers can expect to see more of Gallardo's nephew, Benjamín Arellano Félix, who - in real life - became one of Mexico's biggest suppliers of cocaine. Narcos: Mexico season 2 will most likely chronicle Gallardo's activities leading up his 1989 arrest.
This entry was posted by Screen Rant on January 21, 2019 at 9:01 am, and is filed under TV News. Follow any responses to this post through RSS 2.0. You can skip to the end and leave a response. Pinging is currently not allowed.