What to Expect from Sex Education Season 2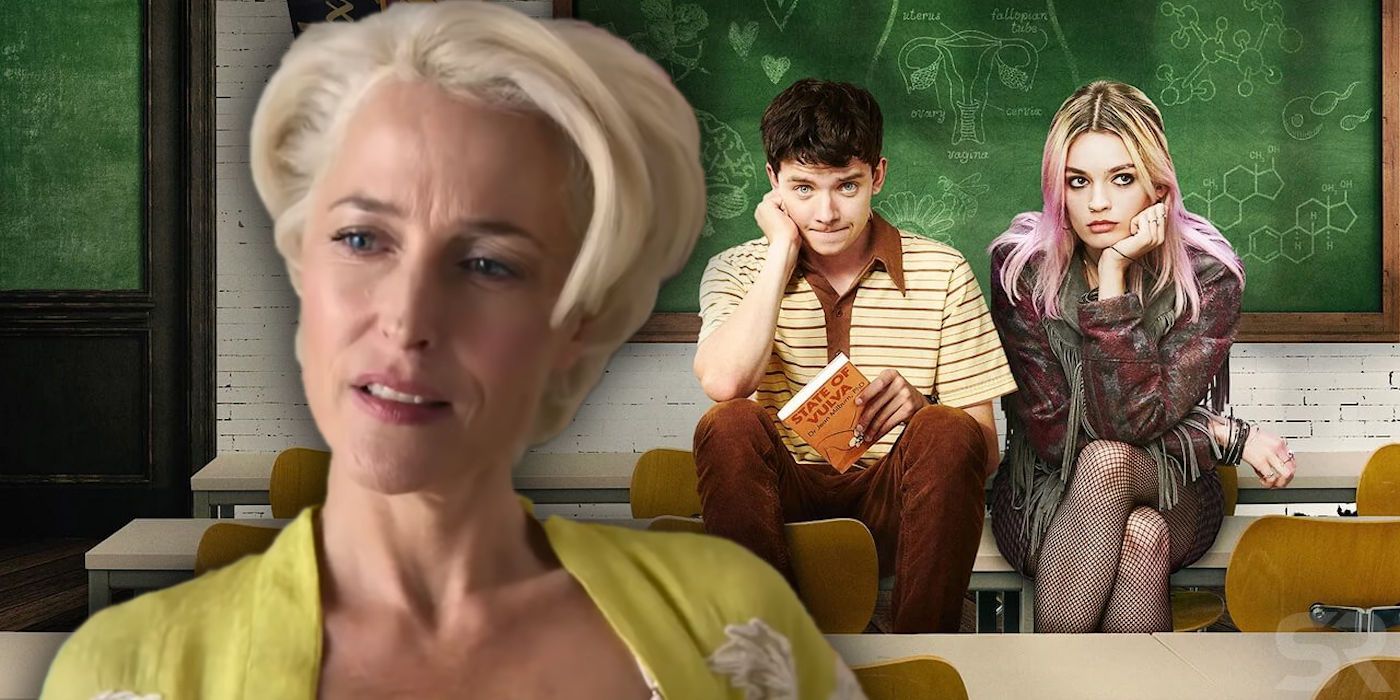 Netflix's Sex Education season 1 is out now, but what can fans expect from a potential season 2? As a British comedy-drama series created by Laurie Nunn, Sex Education is something different for Netflix subscribers, but it rises up above its simple, awkward premise to deliver heartfelt beats of drama with some hilarious moments sprinkled throughout. But Sex Education's narrative threads will need to be strengthened to avoid genre cliches and blatant foreshadowing in season 2.
Sex Education season 1 follows Asa Butterfield's Otis Milburn (whose mother, played by Gillian Anderson, is a sex therapist) and Emma Mackey's Maeve Wiley, who befriends the socially awkward teen, and together they team up to provide sex therapy of their own to their fellow high school students. Of course, a premise like that makes for an interesting TV series, one that managed to get through its first season without losing much of its appeal with general audiences. So, surely that means Sex Education season 2 should happen, right?
Related: Sex Education Cast & Character Guide
Netflix Hasn't Renewed Sex Education For Season 2 (Yet)
As of now, Netflix hasn't renewed Sex Education for season 2 - but, in fact, makes sense, as the streaming platform typically waits a month or two to assess subscriber reactions, statistics, and also critic reviews. With that said, Sex Education's season 2 renewal seems entirely likely, seeing as Netflix attempts to at least give their new shows - even ones that have somewhat underperformed - two seasons to really get off the ground.
Furthermore, Netflix doesn't typically renew shows right away. For example, mockumentary series American Vandal premiered on September 2017 and wasn't renewed for another month-and-a-half. Similarly, Unbreakable Kimmy Schmidt season 3 premiered on May 2017 and was renewed for a fourth and final season a month later. So, fans can expect Netflix to make a decision on Sex Education season 2 within the next month or two.
When Will Sex Education Season 2 Release?
If Sex Education is renewed for season 2, then season 2 would most likely release in early 2020, perhaps in January 2020. Sex Education is one of the many Netflix Originals that has a low production budget, and can be filmed relatively quickly. To put things into context, Sex Education season 1 began casting in May 2018 and it's already premiered eight months later. With the series having already been cast and with production on additional seasons always being smoother than the first season, Sex Education season 2 should wrap up quickly after being renewed. With that in mind, Sex Education will presumably follow a similar production and release schedule to that of Atypical, which originally premiered in August 2017, with season 2 releasing in September 2018.
What Will Sex Education Season 2's Story Be?
Sex Education season 1's ending wraps up nicsely, as Butterfield's Otis finds love, or least romance - and so does his sex therapist mother. In addition, Mackey's Maeve shares a poignant moment with Kedar Williams-Stirling's Jackson Marchetti, suggesting that opposites do attract, and that open communication is fundamental to a strong relationship. But the major cliffhanger, it seems, revolves around Gatwa's Eric Effiong and Conor Swindells' Adam Groff, both of whom not only hook up but express genuine feelings of attraction. Unfortunately, Adam gets sent away, thus breaking Eric's heart while raising questions about Sex Education's plot points and character archetypes.
Sex Education succeeds with sharp comedy and impactful performances, but the narrative itself is highly predictable at times and relies heavily on all the all-to-trendy concept of toxic masculinity. It's no surprise that the series' repressed homosexual is correlated with the patriarchy, while the breakout star, Mackey, seems constructed from a pop culture check list. For Sex Education to truly elevate in season 2, the writers will need to focus more on smart narrative twists rather than guiding the audience along with heavy foreshadowing and predictable character details. Beyond that, there's a strong cast in place, with each storyline receiving proper attention and care. Incidentally, Sex Education season 2 could be wildly entertaining with the right guest stars.
This entry was posted by Screen Rant on January 13, 2019 at 4:01 am, and is filed under TV News. Follow any responses to this post through RSS 2.0. You can skip to the end and leave a response. Pinging is currently not allowed.