What To Expect From The Good Place Season 4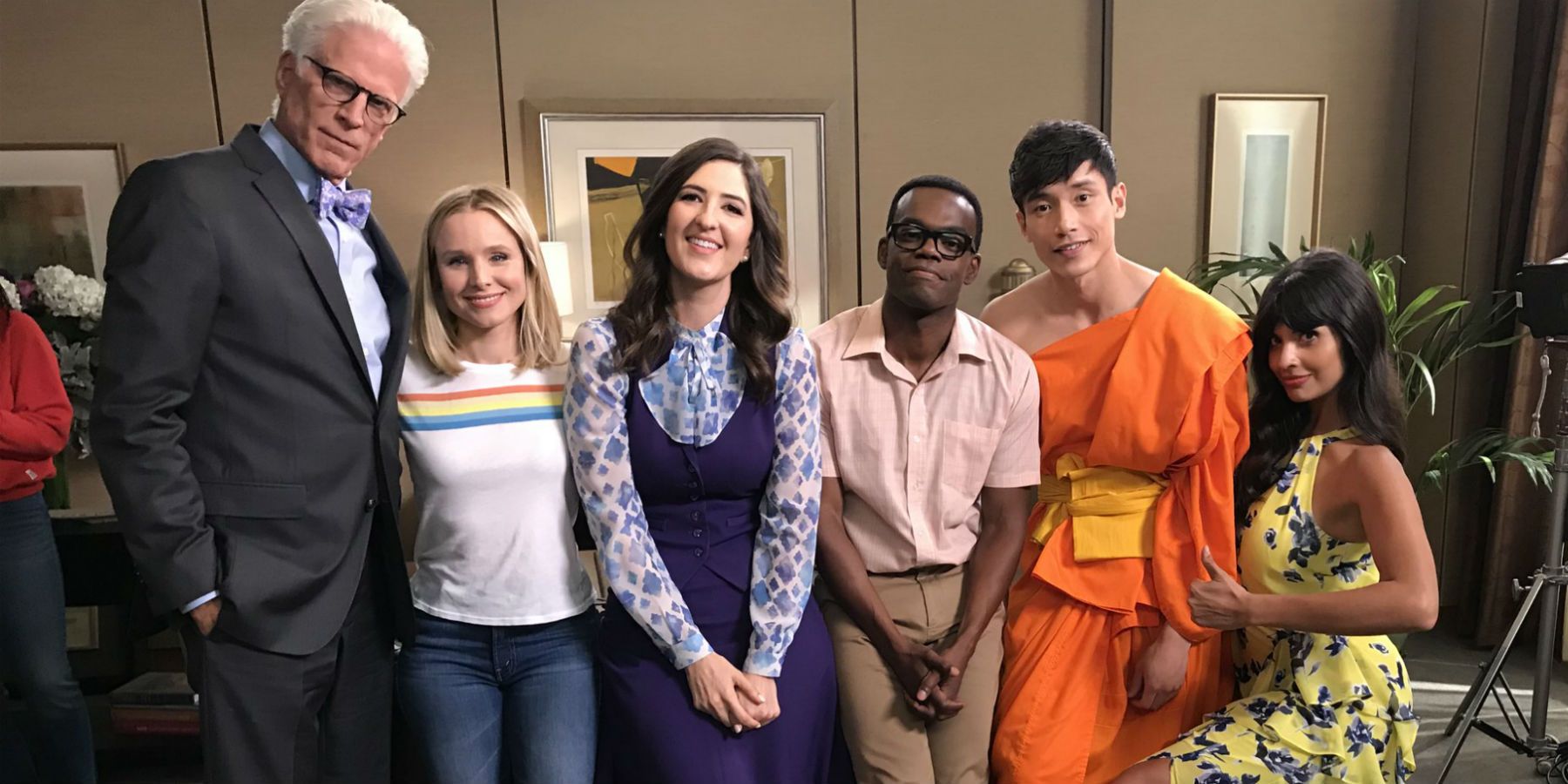 The Good Place's third season came to a close in the season finale, "Pandemonium," and fans are already looking forward to further afterlife antics in The Good Place season 4. Starring Kristen Bell and Ted Danson, the comedy series has been a rollercoaster ride of twists and status quo shifts since its premiere in 2016, and this latest season has been all about Michael, Eleanor and the gang trying to get to the bottom of what's wrong with the afterlife's points system.
As part of a deal arranged by the Judge, Michael has a new opportunity to prove that Earth's points system is broken by taking a new group of four people and testing to see if they can improve themselves in an afterlife that isn't plagued by Earth's endless complexity. So, what can we look forward to in The Good Place season 4?
Related: Every Clue To The Good Place's Points System Twist
The Good Place Has Been Renewed For Season 4
Don't worry, you're not going to be left on a cliffhanger. Though ratings have dipped since season 1 (in part due to competition from Young Sheldon over on CBS), The Good Place has been renewed for season 4. It's unclear how many more seasons the show will go for, but speaking on Conan this week, star Kirsten Bell said that The Good Place creator Michael Schur has told her how it will end - so it's all definitely going somewhere.
When Will The Good Place Season 4 Premiere?
The Good Place season premiere dates have been very consistent since the show's debut, so we can actually say with near-certainty that The Good Place season 4 will premiere in the latter half of September 2019. Season 1 debuted on September 19, season 2 on September 20, and season 3 on September 27, so look forward to the return of Team Cockroach at around those dates this year.
What Will The Good Place Season 4's Story Be?
"Pandemonium" introduced two of the four new residents that the Soul Squad will be trying to turn into better people in season 4: John, a catty celebrity gossip columnist who tormented Tahani on Earth with his rumors and callouts, and Chidi's ex-girlfriend, Simone. As it turns out, it wasn't an accident that these two were chosen; the Bad Place sent them as a petty way of tormenting our heroes even further. The other two residents will presumably be people with a connection to Eleanor and Jason, which is certainly intriguing. Who exactly will Shaun dig up to torture The Good Place's resident trash bags?
Meanwhile, Eleanor is once again caught in a lie - that she, not Michael, is the architect of the "Good Place" neighorhood they're in. In order not to ruin the experiment, she will need to maintain this lie for a whole year. To make matters worse, she won't even have her boyfriend to confide in any more, since Chidi has had all his memories of Eleanor wiped and is essentially restored to the same person he was at the start of season 1. It wouldn't be at all surprising if season 4 features a love triangle with Chidi, Eleanor, and Simone, since Chidi has already fallen for both of them once in his previous lives.
In many ways, The Good Place season 4 has been set up as a redux of season 1: a Good Place neighborhood with more than meets the eye, four lost souls seeking redemption (even if they don't know it), and Eleanor trying to keep a massive secret. If season 4 does end up being the final season, there would certainly be some poetic symmetry to the show.
This entry was posted by Screen Rant on January 24, 2019 at 5:01 am, and is filed under TV News. Follow any responses to this post through RSS 2.0. You can skip to the end and leave a response. Pinging is currently not allowed.