What's The Song In The John Wick: Chapter 3 Trailer?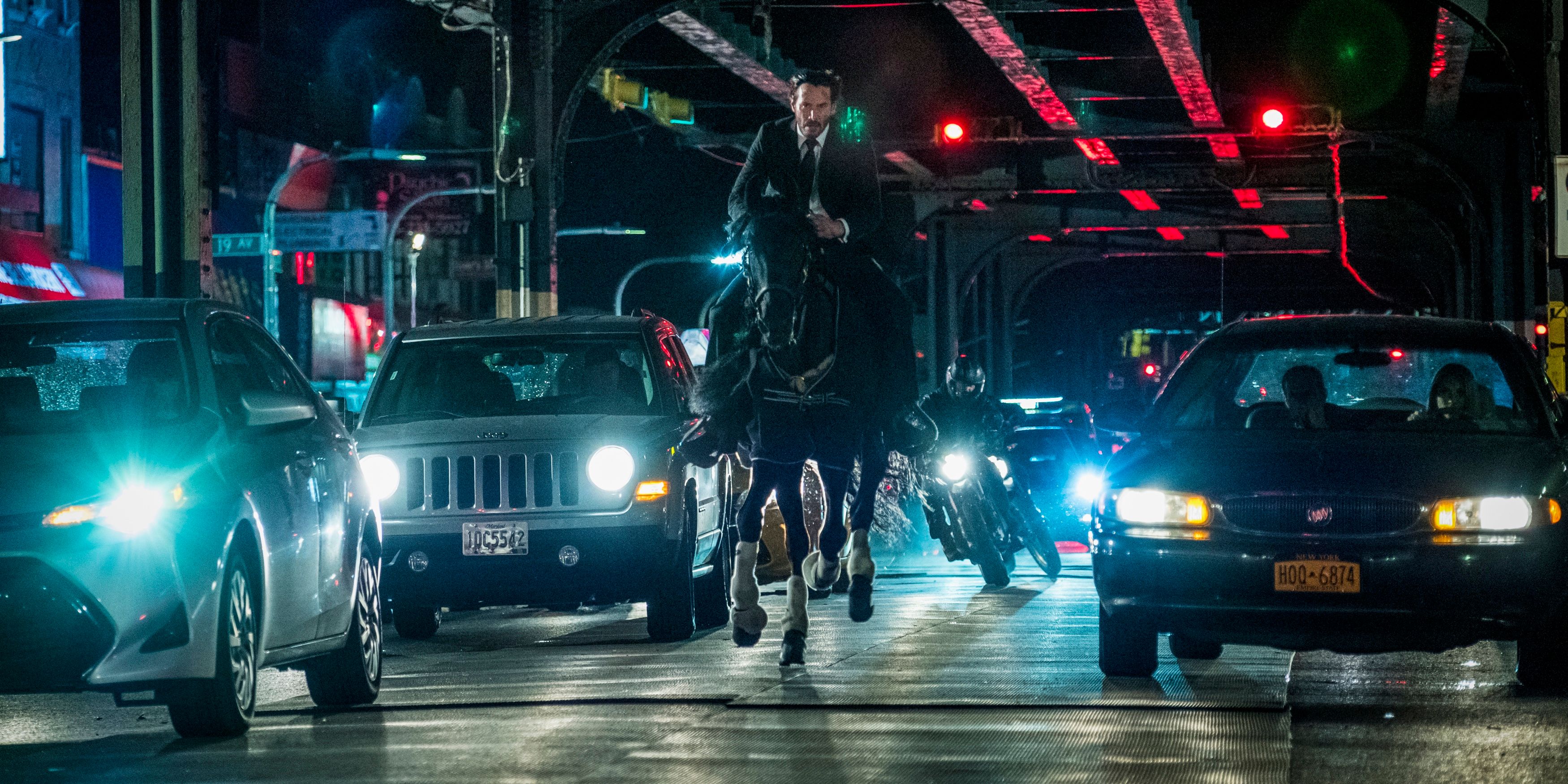 The John Wick: Chapter 3 - Parabellum trailer is here, and it sports an old school tune to play over the images of violence. Keanu Reeves returns once again as the Baba Yaga this summer in what could be the final installment of the fan-favorite franchise that started back in 2014. Using Chapter 2's cliffhanger ending as a jumping off point, Parabellum (the Latin phrase for "prepare for war") basically sees John Wick take on the world as he fights for his life. Due to his violating of Continental rules, John is excommunicado and has very limited options at his disposal.
After slowly building buzz over the past several months by unveiling still images of new and returning characters, Lionsgate kicked marketing into high gear today with the release of the first trailer. As one would expect, it features plenty of creative action sequences where John uses everything from a gun to a book to kill those standing in his way. The footage is more than enough to get fans excited, but to top it all off, the marketing department made a brilliant choice for the trailer song.
Related: Screen Rant's 50 Most Anticipated Movies of 2019
Andy Williams' rendition of "The Impossible Dream (The Quest)" plays over the trailer. Performed by a plethora of artists over the years (including Frank Sinatra and Elvis Presley), the song first gained popularity in 1965 due to the play Man of La Mancha. Williams recorded his version for the 1968 album Honey.
UPDATE: The newly-released second John Wick 3 trailer includes a remixed version of Antonio Vivaldi's classical composition "Four Seasons (Winter)".
Lyrically, one would be hard-pressed to find a better song to describe Parabellum. "The Impossible Dream" details a person's quest to "fight the unbeatable foe... no matter how hopeless." That's a rather accurate summation of John's situation in this film. Because of the choices he made, he's now facing extraordinary odds as he desperately seeks for a way out and to live a peaceful existence. That's all John's wanted since the first film, but his previous life kept causing complications. Hopefully he's able to finally get what he seeks, though it certainly won't come easy.
The use of a traditional song also gives the trailer a classic, almost poetic, feel. That's rather fitting, seeing that most action movie fans would agree that the action in the John Wick movies are poetry in motion. In many ways, this franchise is a throwback to a different era, so it only makes sense the marketing would reflect that. Getting an extensive look at John Wick: Chapter 3 - Parabellum would be thrilling enough, but the use of "The Impossible Dream" elevates the trailer and makes it a work of art on its own. Ideally, the final film will be able to live up to the high expectations this set.
This entry was posted by Screen Rant on January 17, 2019 at 9:01 am, and is filed under TV News. Follow any responses to this post through RSS 2.0. You can skip to the end and leave a response. Pinging is currently not allowed.