Why A Fortnite Character Would Be Perfect For Smash Ultimate DLC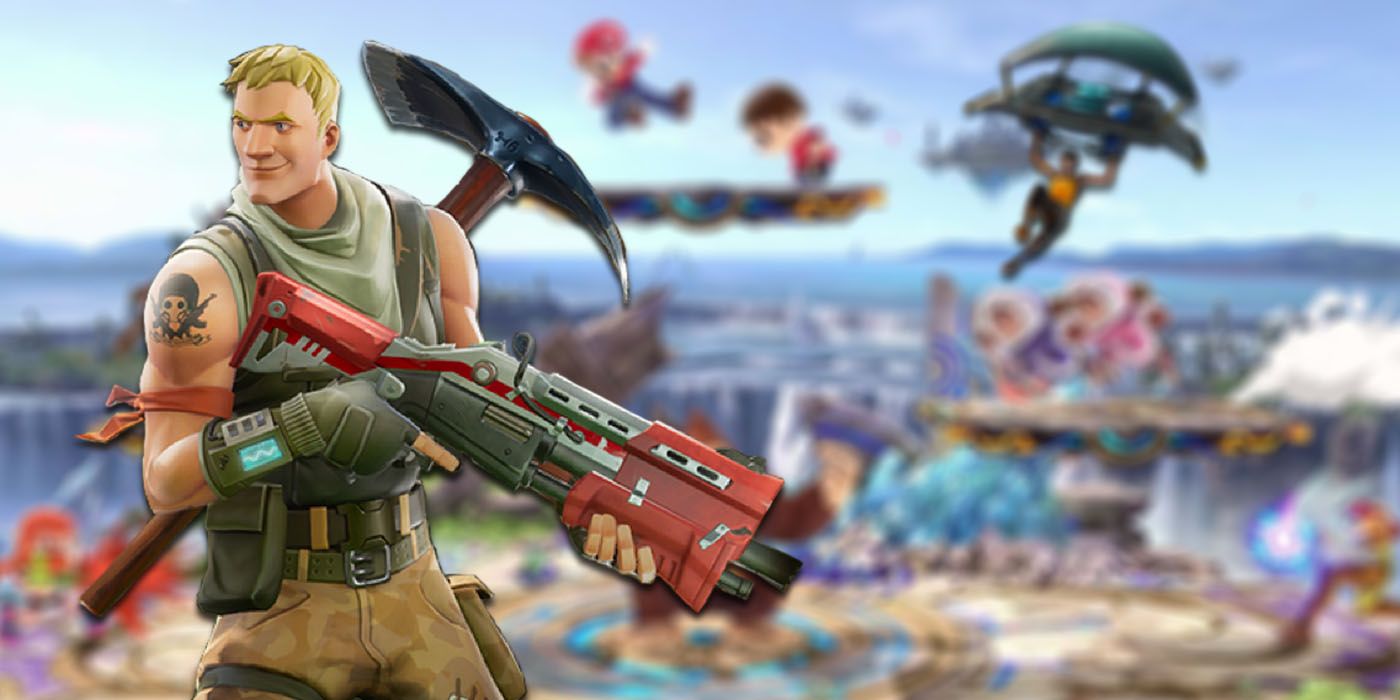 Super Smash Bros. Ultimate could benefit from adding a Fortnite character to its roster. The premise of Fortnite having anything to do with Nintendo's all-star party game is a point of contention, as many Super Smash Bros. fans believe that Epic Games' battle royale title hasn't earned its place in the crossover fighter. Despite the fact that there are other characters that fans are rallying behind – like support for Banjo and Kazooie in Smash Bros. Ultimate – having a Fortnite character would be the most beneficial from a business perspective.
This wouldn't be a move to appease Super Smash Bros. Ultimate players in its inclusion, but rather one that would benefit Nintendo by garnering ample attention and media coverage. This past November Fortnite hit 8.3 million concurrent players. That's an insane number of users to support simultaneously, but the fact that Epic Games achieved this means that the brand has some serious pull with consumers. So, why should Smash fans get behind such a proposition? Well, it does a few things for them.
Related: Best Super Smash Bros. Ultimate Characters, According to Tournaments
An announcement like this is big news to casual gamers. Having a Fortnite character join the likes of Pikachu and Mario in Super Smash Bros. Ultimate generates interest from general consumers that may not have given a second look at Nintendo's fighting game and platform, the Switch. This holds especially true if the Fortnite character is DLC, as Nintendo stands to generate even more profits. This then makes it more likely that fans will receives a second Fighters Pass, which would give them another shot at seeing favorites like Geno and Waluigi realized as playable fighters. Add in an exclusive Smash-inspired Fortnite skin as crossover content and both companies will prosper immensely through direct in-game marketing.
The clear choice for inclusion is the default Fortnite character Jonesy. The hero could wear a number of different costumes from the game, ensuring that the spirit of the infamous multiplayer title is captured well. The moveset would also be drastically different from anyone else on the roster, as Jonesy could build walls and utilize a wide range of fun weapons from Fortnite to wage war with members of Super Smash Bros. Ultimate's icon-heavy roster.
Looking at the supposedly leaked DLC characters for Super Smash Bros. Ultimate, Fortnite is nowhere to be seen. This is sure to leave many Super Smash Bros. fans relieved. It's also ironic that the author of this article, yours truly, penned a piece about how the leaked Smash Ultimate DLC characters are disappointing and then went on to write this.
Still, if fans can set aside the unreasonable rage associated with thought that Fortnite is a game for casual gamers or that it doesn't deserve representation in Super Smash Bros. then they'd see the logic in this move. It's just smart business: Epic Games gains validation as a proven IP and the chance of bringing more Switch owners into the world of Fortnite. Nintendo then gains headlines, DLC revenue, and the potential to acquaint more players with the world of Smash Bros. – as well as all other corresponding properties intertwined with the franchise. It's a win-win for both parties; that much is undeniable.
This entry was posted by Screen Rant on January 15, 2019 at 7:01 am, and is filed under TV News. Follow any responses to this post through RSS 2.0. You can skip to the end and leave a response. Pinging is currently not allowed.