Why Aquaman Will Be First DCEU Film To Pass $1 Billion (And Not Batman)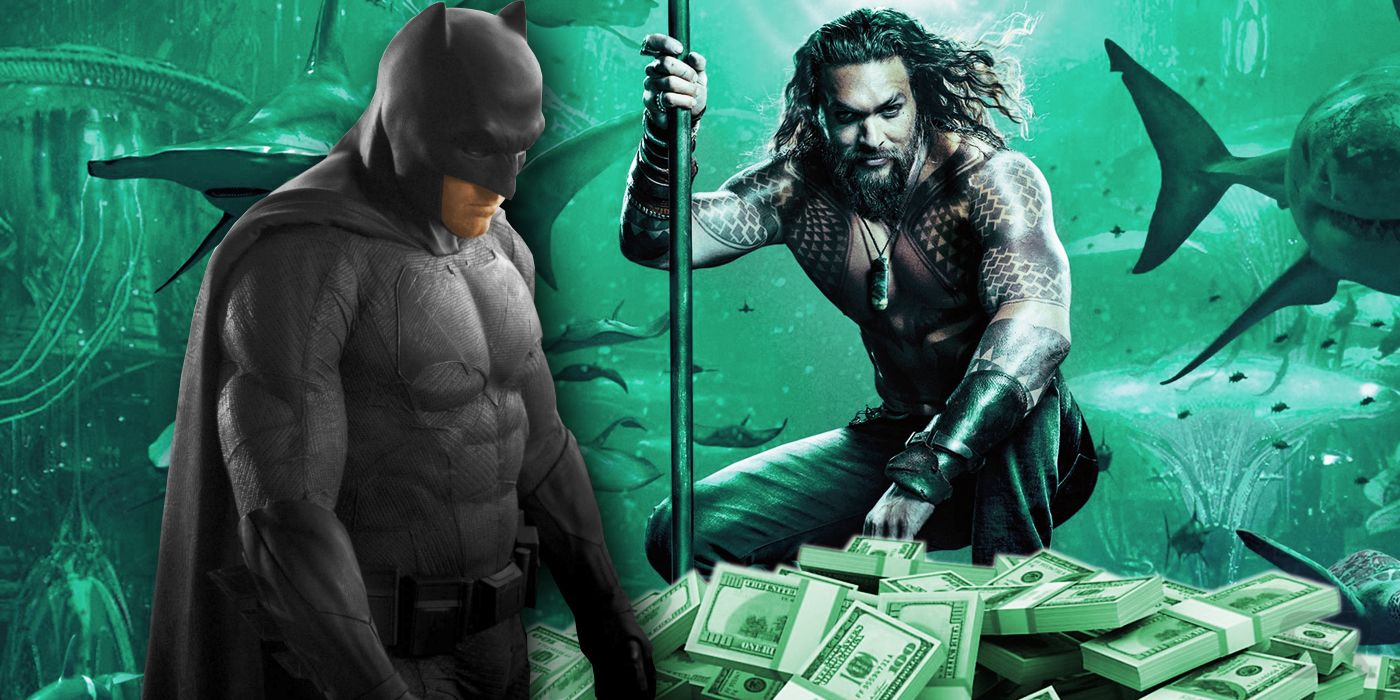 To the surprise of many, Warner Bros. and the DCEU's Aquaman is going to pass $1 billion at the worldwide box office, becoming the first film in the franchise to do so. Before its premiere, many critics and industry experts had dismissed Aquaman's financial hopes as suspect at best. The film was entering the Christmas market against tough competition with mixed levels of anticipation and it was coming off the back of further conversations that the much beleaguered DCEU was on its last legs.
Yet the film dramatically surpassed all conservative predictions for its commercial grosses, both domestically and internationally. It easily beat its competitors, Mary Poppins Returns and Bumblebee, at the box office, and the film has held on strong during a dry January where competition is sorely lacking. In part thanks to its incredible success in China, it didn't take long for Aquaman to surpass the grosses of Justice League, Wonder Woman and Suicide Squad. Now, it's going to become the first film in the DCEU to pass the $1 billion mark. It's doubtful anyone at Warner Bros. could have predicted that outcome.
Related: Aquaman Can Teach Marvel One Big Lesson About Releasing Movies
DC films have made plenty of money in the past, but Aquaman is the first under the banner of the DC Extended Universe to gross over $1 billion worldwide. While the franchise has, to date, made over $4.7 billion worldwide from 6 films and is the 12th highest grossing franchise ever, it still lags noticeably behind its competition. The three Avengers movies alone have made $4.9 billion. It is a curious change in the market that making such a staggering amount of money is no longer considered special but the industry-wide expectation. In 2018 along, five films grossed over $1 billion worldwide, three of which were Walt Disney Company properties. Aquaman isn't just a big deal for the DCEU: it's a boon for Warner Bros.
So, why is Aquaman the first to swim past $1 billion? What does Arthur Curry have that Bruce Wayne no longer seems to?
This Page: What Aquaman Did Different To Previous DCEU Failures
Non-Batman & Superman DCEU Films Are Proven Successes
Box office success is not incompatible with Batman or Superman. Two-thirds of Christopher Nolan's Dark Knight trilogy grossed over $1 billion worldwide. However, that franchise was a contained unit that was not intended to spin off into other characters, so the stakes were different. It was industry headline news when Batman v Superman: Dawn of Justice failed to gross $1 billion worldwide, simply because that has become the new norm in blockbuster cinema. It did not help Warner Bros. that so many DCEU films have had mega budgets that require nearing $1 billion as a bare minimum for breaking even. The most commonly used math for gauging a movie's financial success is double the production budget to account for marketing and publicity costs. Justice League officially cost around $300 million, although many reports put that number far higher thanks to reshoot costs, and it only grossed $657.9 million.
Aquaman is on much more solid ground in this regard, with a reported budget of $160-200 million, but its success is also a sign of fascinating change, both in the blockbuster market and at home in Warner Bros. Who could have predicted even five years ago that the new age of DC cinema would be commercially defined not by Batman or Superman but Wonder Woman and Aquaman? That is the new norm.
Related: Every DCEU Movie Ranked From Worst To Best (Including Aquaman)
Wonder Woman made $821.8 million worldwide, compared to the $746.8 million made by Suicide Squad the year before. Batman v Superman: Dawn of Justice made more than both these titles - $873.6 million - but is still considered a financial disappointment thanks to its huge budget and the larger expectations placed upon its shoulder. Both it and Justice League were positioned more as the key foundations of the DCEU, with the surrounding films as add-ons to the burgeoning franchise. Instead, similar to how Marvel has turned the Guardians of the Galaxy into superstars, it's the lesser-known but far-from-disinteresting characters who are driving the sub.
Aquaman Had Big International Appeal
The key to Aquaman's success lies mostly in how well it did internationally, but especially in China. The American studio system has spent the past decade or so grappling with the tenuous but undeniably powerful hold that one country's box office clout has on their success. It's the fastest-growing movie market on the planet and one that has become a major focus for the blockbuster market. Films that didn't perform so well domestically can be saved by Chinese audiences and indeed spark sequels and new franchises; both Transformers and Pirates of the Caribbean became five film franchises in part because of their massive success in China, which greatly overshadowed often disappointing domestic numbers.
Industry experts have been waiting for the bubble to burst on the Chinese market for a couple of years now, but in 2018, it proved especially powerful in relation to two superhero movies that many had written off as flops in waiting. Venom was the first, breaking records in the country and had the second largest opening for a superhero movie after Avengers: Infinity War. Then there was Aquaman, which released in China weeks ahead of the US and had the highest ever opening gross not just for a DCEU movie but for a Warner Bros. release; it overtook the entire lifetime gross of Wonder Woman there in a mere three-day space. Foreign numbers account for a massive 72.4% of Aquaman's lifetime gross. While the film continues to play well domestically, it, like most films of its kind, remains heavily reliant on international markets.
Aquaman Followed A Marvel Release Strategy
It can be easy to overplay one's hand when promoting a film of this scale. Many superhero films and similarly styled blockbusters are prone to revealing too much in marketing. The DCEU is somewhat notorious for this but they played a much stronger game with Aquaman, keeping most of the film's secrets out of marketing.
The film was also helped by doing what Marvel do so well: dropping the review embargo early to build hype - smartly, Warner Bros. seemed to know what kind of film they had on their hands and did not seek to hide those qualities - with an early international release to build box office. By the time the film premiered in the US, the reviews were strong and the headlines spoke loudly of that amazing success in China. It never hurts to open to good buzz or general feelings of positivity, something that the DCEU has struggled with for the most part. They're prone to hiding their films or trying to shield them from criticism in a way that only encourages more negative buzz.
Read More: Why Marvel Movies Always Release A Week Later in The US
Aquaman, like Wonder Woman, bucked the trend for a number of reasons, but it helped that the studio knew how to give it the strongest chance possible in that opening weekend.
It Turns Out Aquaman Is A Cool Hero
Aquaman is often considered the punching bag of the DC universe. Sure, he's a mighty all-powerful underwater monarch but he also talks to fish, but many viewers' first thoughts about Aquaman are still of a camp figure that could never stand up to the might of Superman or the moody force of Batman. Many of the fans of the character were also skeptical of Arthur's reinvention for the DCEU, with Jason Momoa seemingly embodying more of the Snyder-esque grey tinted realism that felt decidedly anti-Aquaman. Fortunately, James Wan's film not only has no interest in recreating that aesthetic, he also gets that Aquaman is super cool in the most delightfully silly way possible.
Neither the film nor the marketing tried to downplay the inherent weirdness of Aquaman's concept. This is proudly a film about a world where people ride sharks like they're horses, where Mera wears jellyfish dresses, and where, yes, Jason Momoa talks to fish. Aquaman is a movie having way too much fun with its silliness to be worried about being cool but it still manages that through sheer joy. In a year where everyone's superheroes disappeared to dust with a click of Thanos's fingers, Warner Bros. played a smart hand by putting their most vibrant film in the Christmas slot, understanding that audiences probably wanted something more appealingly silly. Frankly, there's nothing cooler than a film or hero that doesn't try too hard to be and just is.
The next question for Warner Bros. will be if they can replicate this financial success with future films. Shazam! is three months away and has more conservative expectations riding on its shoulders, and there's still a whole extra year to wait for Wonder Woman 1984. Now that they've accomplished the billion-dollar goal, the DCEU has viable routes forward that may keep the franchise alive long after so many had written it off, and it's all thanks to Aquaman.
This entry was posted by Screen Rant on January 11, 2019 at 8:01 am, and is filed under TV News. Follow any responses to this post through RSS 2.0. You can skip to the end and leave a response. Pinging is currently not allowed.