Why Disney Is Releasing Glass Internationally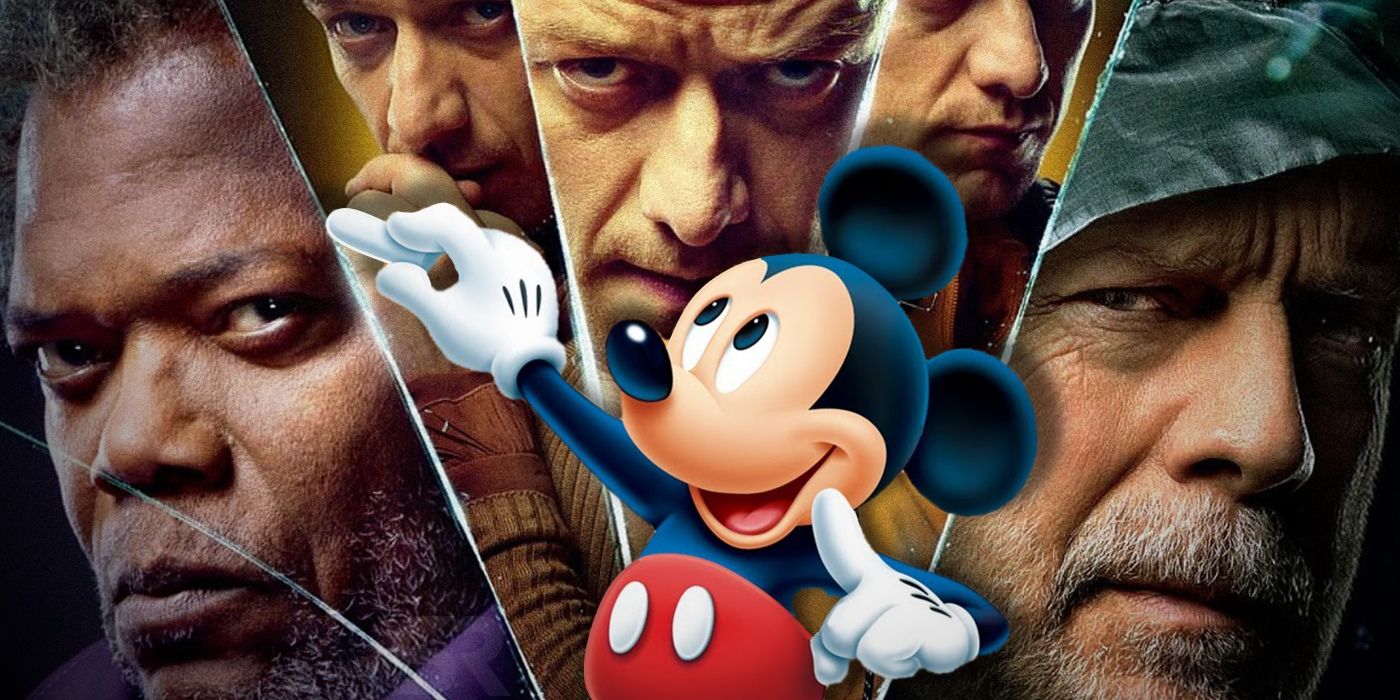 Marketing materials for Glass let you know it's the latest film from Universal, so why is Disney releasing it internationally? Over the past decade, the Mouse House has become the most powerful studio in the industry, amassing a media empire that includes the Marvel Cinematic Universe, Pixar, and the Star Wars franchise. They're a box office powerhouse that's made a habit of rewriting the record books recently, and there's no slowing them down as they look to have an even more lucrative year in 2019. With huge tentpoles like Avengers: Endgame, Toy Story 4, and Star Wars: Episode IX on the horizon, Disney is the one studio that doesn't need another one of the most-anticipated titles of the year.
And yet, they do - from a certain point of view. M. Night Shyamalan's unlikely superhero trilogy comes to a close this week when Glass finally releases, culminating the story that began way back in 2000's Unbreakable. International viewers may notice that Disney is handling overseas distribution, and there's actually a very good reason for that.
Related: Theory - James McAvoy's Split Character Was In Unbreakable All Along
Unbreakable, believe it or not, is a Disney film through and through. It was distributed by Buena Vista and produced by Touchstone Pictures. The Touchtone banner is a subsidiary of the Mouse House that typically specializes in movies that have an older target demographic than typical Disney fare. Unbreakable certainly fits that bill, seeing that it offers a grounded, dramatic spin on the superhero origin story. Other Touchstone releases include the Robin Williams classic Good Morning Vietnam, Robert Zemeckis' groundbreaking technical achievement Who Framed Roger Rabbit, and Shyamalan's own sci-fi picture Signs.
Split, the surprise stealth Unbreakable followup, was a Universal release for Blumhouse Pictures. In order to pull off the memorable twist and have Bruce Willis' David Dunn appear in the final scene, Universal needed the approval of Disney. For Glass, the various parties involved stuck a deal that saw Universal handle the domestic release and Disney take over international distribution. It's nice to see the studios were able to come together and reach an agreement, joining forces for what should be a profitable endeavor for both. Glass is projected to perform very well at the box office, though it'll be interesting to see if the negative word-of-mouth impacts its commercial prospects.
In a way, this is similar to the revolutionary deal between Sony Pictures and Marvel Studios that saw Spider-Man become a part of the Marvel Cinematic Universe. Under the terms of that arrangement, Marvel is one of the credited producing companies on standalone Spider-Man movies (like Homecoming and this summer's Far From Home) while Sony distributes. Unfortunately for Disney, their partnership with Universal won't be as long-lived as what they have with Sony. Shyamalan has already said he has no interest in making a Glass sequel, so this is a one-off for fans to enjoy.
This entry was posted by Screen Rant on January 14, 2019 at 12:01 pm, and is filed under TV News. Follow any responses to this post through RSS 2.0. You can skip to the end and leave a response. Pinging is currently not allowed.