Why Star Trek 4 Has Been Canceled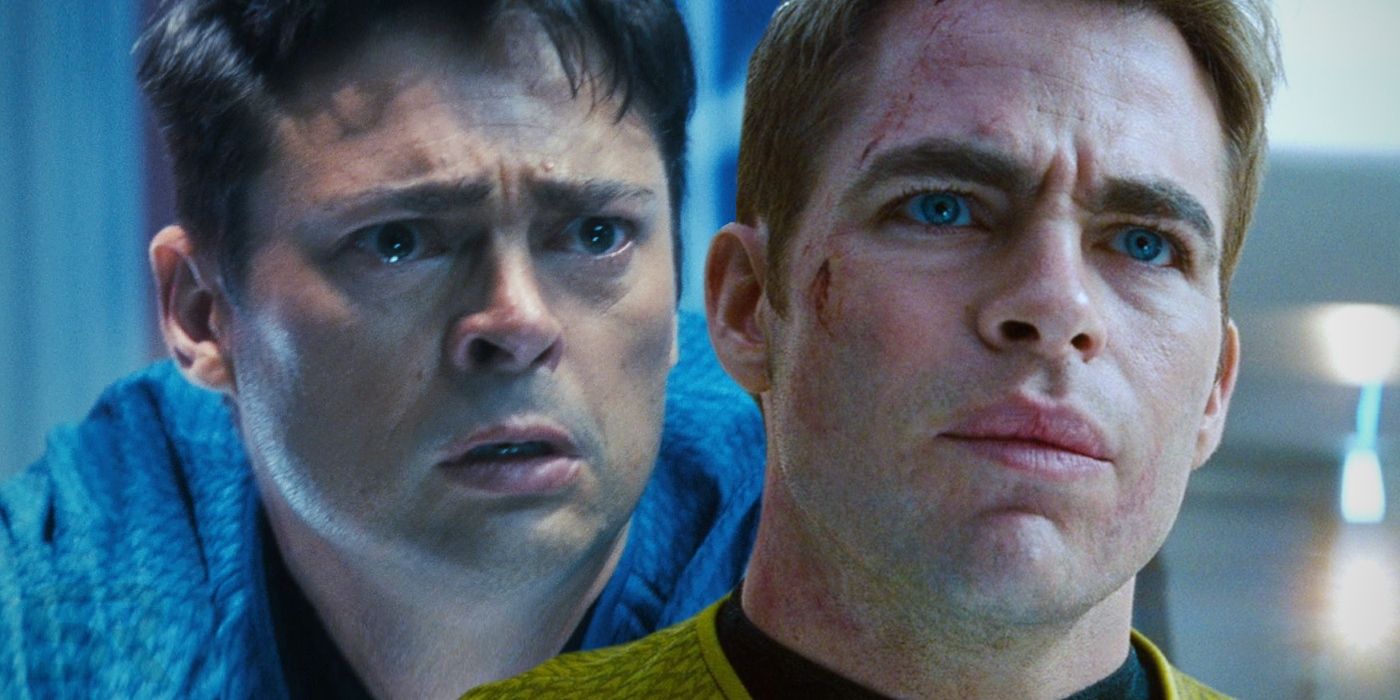 Paramount recently made the decision to indefinitely shelve Star Trek 4, but why did that happen? Ten years ago, the iconic sci-fi franchise was awarded a new lease on life thanks to J.J. Abrams' acclaimed reboot, which reinvigorated the property with an all-new younger cast. In addition to stellar reviews, the film also earned $257.7 million at the domestic box office and remains the highest-grossing Star Trek movie of all-time. The real trick of the reboot was that it introduced Trek to a new generation of fans, appealing to general moviegoers with big screen spectacle and high-quality entertainment. With the Star Wars prequels now past, Hollywood had a new space opera to love.
The success of 2009's Star Trek ensured sequels would be made, and the first of those arrived in the summer of 2013 with Star Trek Into Darkness. While that film proved to be much more divisive than its predecessor (largely because of Wrath of Khan parallels), it was still a commercial hit after bringing in $467.3 million at the worldwide box office. A third movie, Star Trek Beyond, premiered in 2016 to celebrate the franchise's 50th anniversary, and a period of uncertainty followed. Though there were plans in place for a fourth installment, no real progress was ever made and now the project is essentially dead. There are a few reasons why that is.
Related: CBS Wants Star Trek TV Shows Airing All Year Long
Star Trek Beyond Underperformed
Most importantly, the aforementioned Star Trek Beyond did poorly at the box office. The film earned just $343.4 million worldwide against an $185 million production budget, which wasn't enough to reach its break-even point (roughly estimated at $370 million). By most accounts, Paramount ended up losing money on their investment, which was a troubling development since Beyond received positive reviews from critics and fans. Some consider it to be the best entry of the rebooted series (officially dubbed the Kelvin Timeline), so it's a wonder word-of-mouth wasn't able to carry the picture to profitability. Co-writer and star Simon Pegg blamed a lackluster marketing campaign, which got off to a terrible start with the infamous "Sabotage" teaser trailer that made the film look like a generic action flick as opposed to Star Trek. Additionally, Into Darkness backlash didn't help matters and might have killed enthusiasm some had.
There's something else at play here. In December 2015, Disney released a little film called Star Wars: The Force Awakens, which shattered just about every box office record in the book, received critical praise, and revived one of pop culture's most legendary touchstones. Star Wars and Star Trek have been compared endlessly for decades, and it's apparent the return of the former all but ended the latter. Remember, Abrams' Trek movies were widely considered to be Star Trek in Star Wars clothing, relying more on the pacing and style of the Skywalker saga than traditional Star Trek. That angered some purists, but it certainly filled a void. However, when Star Wars started up again and got into the business of annual tentpoles, it was game over for Star Trek. There was no longer a widespread demand for a new Trek movie because everyone was excited for the next Star Wars film. Studies have shown that casual moviegoers pay to see only a handful of films in theaters, so with multiple Marvel installments, DC entries, and Star Wars, Trek didn't have much of a place in the hierarchy anymore.
Star Trek 4's Director Moved On
After Abrams called the shots on the first two Kelvin Star Trek movies, Justin Lin was handed the keys for Beyond. Lin did an excellent job with the material, but he became a hot commodity afterwards. He toyed with directing Space Jam 2 and is now in place to helm the final two installments of the Fast and Furious franchise. So, Lin was never a realistic possibility for the Star Trek 4 job. Neither was Abrams, who despite having a deal with Paramount, opted to hop aboard the Millennium Falcon once more and direct Star Wars: Episode IX for Lucasfilm. After a search, the job eventually went to S.J. Clarkson, who was set to become the first female director of a Star Trek movie. Only problem is she didn't stick around for long.
Related: William Shatner Thinks Chris Pine Deserves More Money
Members of the Star Trek cast expressed excitement for Clarkson's involvement, but with the film dragging through development, she decided to look elsewhere for work. Clarkson was recently pegged to direct the pilot for HBO's upcoming Game of Thrones prequel series. That will obviously keep her occupied for quite some time, so Paramount was going to have to look elsewhere for a replacement. Obviously, they felt it wasn't worth the effort and chose to pull the plug on Star Trek 4 altogether. Perhaps if Clarkson stayed attached, the studio would have attempted to move forward, but there were other issues they were dealing with that plagued pre-production.
Chris Pine & Chris Hemsworth Dropped Out
Before Star Trek Beyond opened, plot details for the fourth movie started to come out. In another twisty time travel narrative, the movie would have seen Pine's Captain Kirk cross paths with his father George, played by Hemsworth. George Kirk died at the beginning of the 2009 film in a self-sacrificial gesture to save the Kelvin crew. It had the potential to be a fun spin on the Indiana Jones and the Last Crusade formula, but it sadly never came to be. Last year, Pine and Hemsworth reportedly dropped out of the project due to contract negotiations with Paramount.
The parties involved were stuck at an impasse. Because of Beyond's box office, Paramount was interested in keeping the Star Trek 4 budget down, which meant the actors needed to agree to pay cuts. Only problem is Pine and Hemsworth had seen their profiles grow exponentially thanks to their roles in the DC Extended Universe and Marvel Cinematic Universe, respectively. They wanted to be paid like the A-list stars they are, commanding sizable salaries. Paramount (understandably so) refused to budge on their stance, so the two Chrises left. While Star Trek sports a sizable ensemble, the Kelvin Timeline's focus has been mainly on Kirk, following his arc from rebellious youngster to seasoned captain. It would have been difficult to make the movie without at least Pine, and recasting was never really an option. Fans shouldn't take this to mean Pine killed Star Trek 4 (see: our section on Beyond's box office), but Paramount felt it wasn't worth pursuing without the headlining name involved.
Paramount's Leadership & Other Star Trek Movies
Clarkson's Star Trek 4 was not the only new Star Trek film in development at Paramount. Famed director Quentin Tarantino has been developing a movie since 2017, with The Revenant writer Mark L. Smith handling the screenplay. With Tarantino working on his Once Upon a Time in Hollywood (which opens this summer), there hasn't been much headway made on that project yet, and it's not even known when Tarantino would truly begin working on it. However, with the film said to feature the Kelvin cast, perhaps Paramount decided it would be best to have only one Star Trek film on the table for the time being, rather than have two in the pipeline. The latest update only made mention of Star Trek 4, so as far as we know, Tarantino's movie remains in the works.
Related: Everything We Know About Tarantino's Star Trek Movie
Paramount has also been under the leadership of new studio chief Jim Gianopulos since 2017, one year after Beyond tanked at the box office. With the studio in a bit of a commercial rut (Mission: Impossible - Fallout was the only Paramount release of 2018 to cross $200+ million at the domestic box office), Gianopulos is managing the business by minimizing risks. After all, he sold off both Annihilation and The Cloverfield Paradox to Netflix (the former was still theatrically released in the States), so it was never likely he was going to sign off on another expensive Trek picture. Fortunately, Gianopulos does have the burgeoning Quiet Place franchise to develop, with a sequel to the 2018 horror hit planned for 2020. Those movies can be produced for low budgets, making it much easier to turn a substantial profit. Other than that, Paramount's hoping this year's Terminator reboot can be a hit and can always make another Mission: Impossible.
-
2009 was an odd time for blockbuster cinema. The MCU was still in its infancy and far from a guarantee. The Dark Knight Rises was still three more years away. Everyone thought Star Wars was over. Star Trek came out at the right time and gave people a slick action film worth getting excited about. But as time went on, it was unable to compete with the larger tentpoles that emerged, such as The Avengers and Star Wars. The void Star Trek (which never set the box office on fire to begin with) had filled was no longer there and it was stuck trying to play catchup. It's been a sad turn of events for Paramount's one-time cash cow, but hopefully when (or if) it returns, it'll be stronger than ever.
This entry was posted by Screen Rant on January 11, 2019 at 2:01 am, and is filed under TV News. Follow any responses to this post through RSS 2.0. You can skip to the end and leave a response. Pinging is currently not allowed.