Will Smith & Martin Lawrence Reunite in Bad Boys 3 Set Photo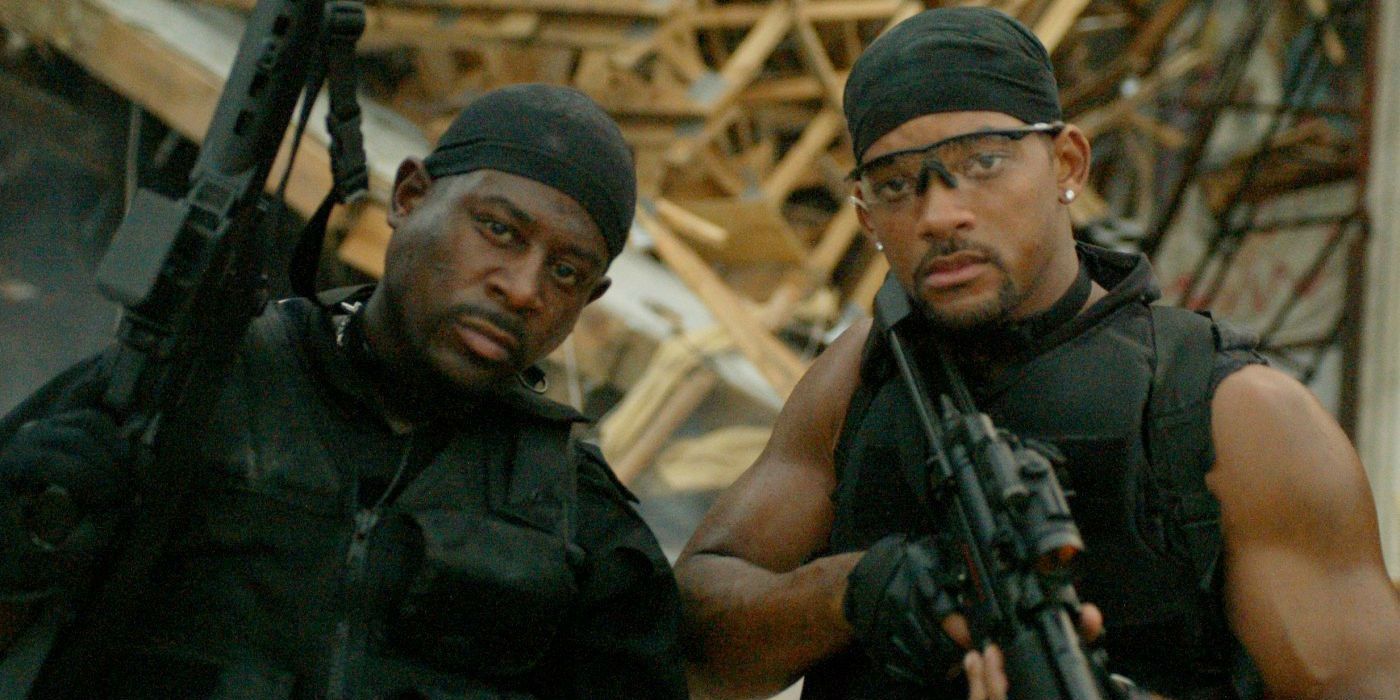 Will Smith and Martin Lawrence are finally reunited in the first set photo from Bad Boys For Lif3 (aka Bad Boys 3). While the movie went on to become a surprise hit, the studio producing Bad Boys had little faith in it. It had actually started life as a comedy vehicle intended for Dana Carvey (Wayne's World) and Jon Lovitz, but the lead roles eventually went to Smith and Lawrence. It also marked the debut of Michael Bay, who hated the script and encouraged his leads to improvise as much as possible. Thanks to the duo's comic chemistry and Bay working wonders on a modest budget, the movie quickly became a blockbuster.
Smith, Lawrence and Bay reunited eight years later for Bad Boy II, which had a much bigger budget. The film received mostly negative reviews at the time, aimed at its juvenile humor and long runtime, but it soon grew a cult following and was namechecked repeatedly in Edgar Wright's Hot Fuzz. While Bay planned to return for a third film, he soon became busy with the Transformers series. Joe Carnahan was attached to the project for a while before departing, but after many delays, the film is finally shooting under the direction of Adil El Arbi and Bilall Fallah.
Related: Will Smith & Martin Lawrence Prep For Bad Boys 3 By Binging The Originals
To prep for Bad Boys For Lif3's first day of shooting, Smith and Lawrence recently watched the first two movies together. Now Backgrid (via Digital Spy) have revealed the first photo of the pair filming the sequel. The new movie finds former partners Mike (Smith) and Marcus (Lawrence) being hunted down by a vengeful mercenary after they kill his brother.
It's taken a long time for Bad Boys For Lif3 to come together, but there was a period where it looked like the movie would fall apart. When the movie was first announced back in 2015, Sony's original plan was to release a third movie in 2017 and Bad Boys IV in 2019, but as development wore on it became clear that wasn't feasible. Following the departure of Carnahan in 2017, Lawrence seemed to think the movie would never happen, but thankfully for fans of the series, it managed to come together.
The franchise will also be branching out to TV this year, with Gabrielle Union reprising her role as Syd Burnett - Marcus's sister - from Bad Boys II in a series called L.A.'s Finest. The show will follow Syd's move to L.A. where she's partnered with a strait-laced cop played by Jessica Alba. It's unknown if there are any crossover plans between the show or Bad Boys For Lif3, and the airdate for the series has yet to be confirmed.
Source: Backgrid (via Digital Spy)
This entry was posted by Screen Rant on January 16, 2019 at 8:01 am, and is filed under TV News. Follow any responses to this post through RSS 2.0. You can skip to the end and leave a response. Pinging is currently not allowed.