Will Star Wars 9 Get A Trailer (& Title) At The Super Bowl?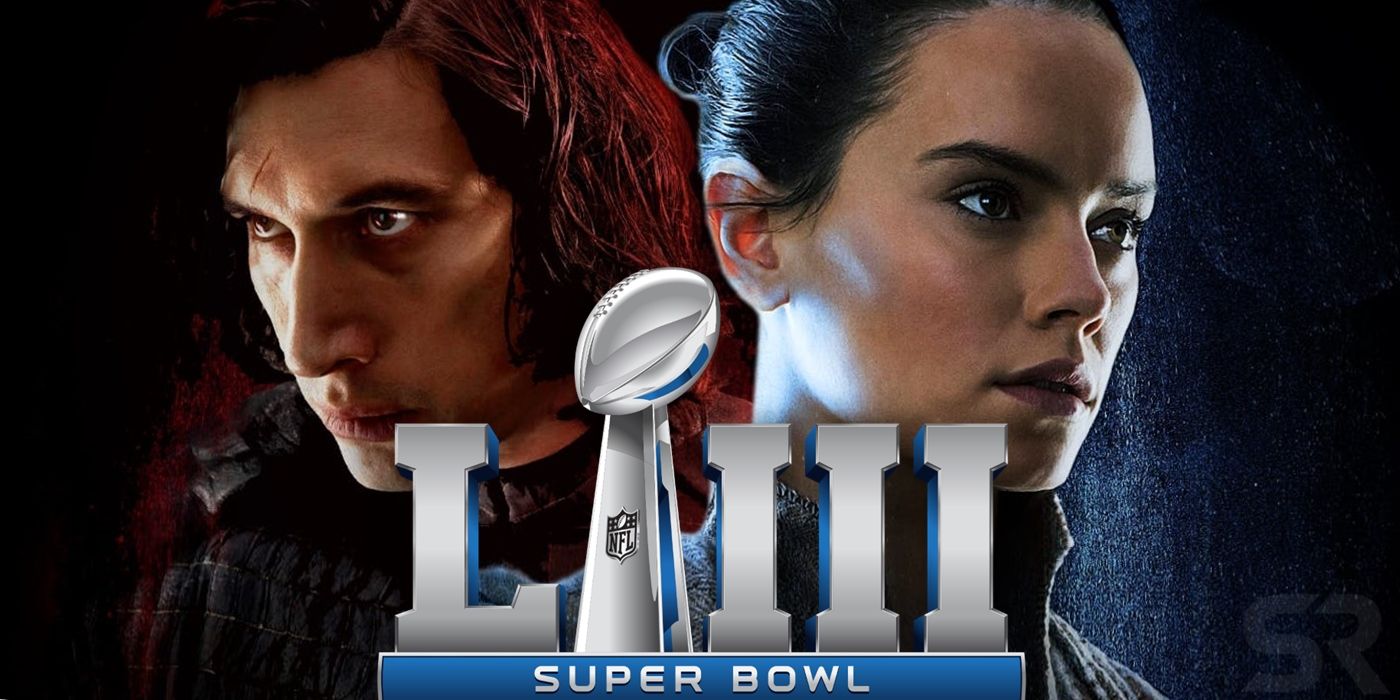 The Super Bowl always sees several high-profile movies debut new footage, but will Star Wars: Episode IX be one of them this year? The highly-anticipated conclusion to the Skywalker saga is winding down production, with principal photography expected to wrap at some point in February. In typical Lucasfilm fashion, several details about the film (including the official title) are being kept under wraps, though it's only a matter of time before viewers learn about these key aspects.
Star Wars Celebration takes place in April, where Episode IX will almost assuredly be a centerpiece (i.e. a panel with a trailer). But fans of the galaxy far, far away are an impatient bunch and would rather find things out sooner than later. The Super Bowl is essentially a national holiday and provides movie studios with an ideal platform to generate buzz for their upcoming projects, so there's hope Star Wars 9 will be one of the many films that unveil a TV spot - perhaps one that even reveals the title.
Related: Every Reveal From Star Wars 9's Set Photos
There is precedent for Star Wars at the Super Bowl. It was only a year ago Lucasfilm showcased 2018's spinoff Solo at the NFL championship game via the first publicly-revealed footage in a brief TV spot. The next day, a full teaser trailer was online, kicking off a (very) delayed marketing campaign for the troubled production. So from a certain point of view, it's understandable why some would be expecting a look at Episode IX during this year's Super Bowl. However, it's important to keep in mind that the situations are not exactly one and the same.
Solo was a summer release, hitting theaters in May 2018. Even though the film wrapped production in October 2017, Lucasfilm did not release any official marketing materials prior to the Super Bowl in February 2018. The studio had three months to premiere and needed to work overtime to raise awareness for Solo. Given the timetable, the Super Bowl fit as the best option. Disney and Lucasfilm were guaranteed a massive audience right away. In the case of Episode IX, there's no rush to put something out right away. J.J. Abrams' trilogy finale doesn't open until December, more than 10 months after the Super Bowl is played. Lucasfilm has plenty of time to put together more of a traditional, slow-burn promotional campaign for Episode IX. Remember, The Force Awakens, Rogue One, and The Last Jedi (all December releases) did not have Super Bowl spots. Commercials during the big game are incredibly expensive (even for a powerhouse like Disney), so studios need to be smart about how many they buy (and which films they want to spotlight). Giving attention to something closer like Avengers: Endgame makes more sense.
This isn't to say there won't be any Episode IX footage at the Super Bowl (nothing has been confirmed yet), but at this point in time, it seems unlikely. As stated above, Lucasfilm probably has big plans for Celebration, where Star Wars can really dominate the entertainment news cycle and not be lost in the crowd of other blockbusters looking to make a splash. Solo, as some will recall, didn't exactly light up the box office - with lackluster marketing primarily to blame. Since Lucasfilm is looking to course correct here with Episode IX, they may just stick with what they know works from previous years and hold off on the major reveals until Celebration. There still might be something from Episode IX in February, but it'll likely come after the Super Bowl.
This entry was posted by Screen Rant on January 22, 2019 at 11:01 am, and is filed under TV News. Follow any responses to this post through RSS 2.0. You can skip to the end and leave a response. Pinging is currently not allowed.