Woman at War Trailer Teases Iceland's Acclaimed Comedy-Drama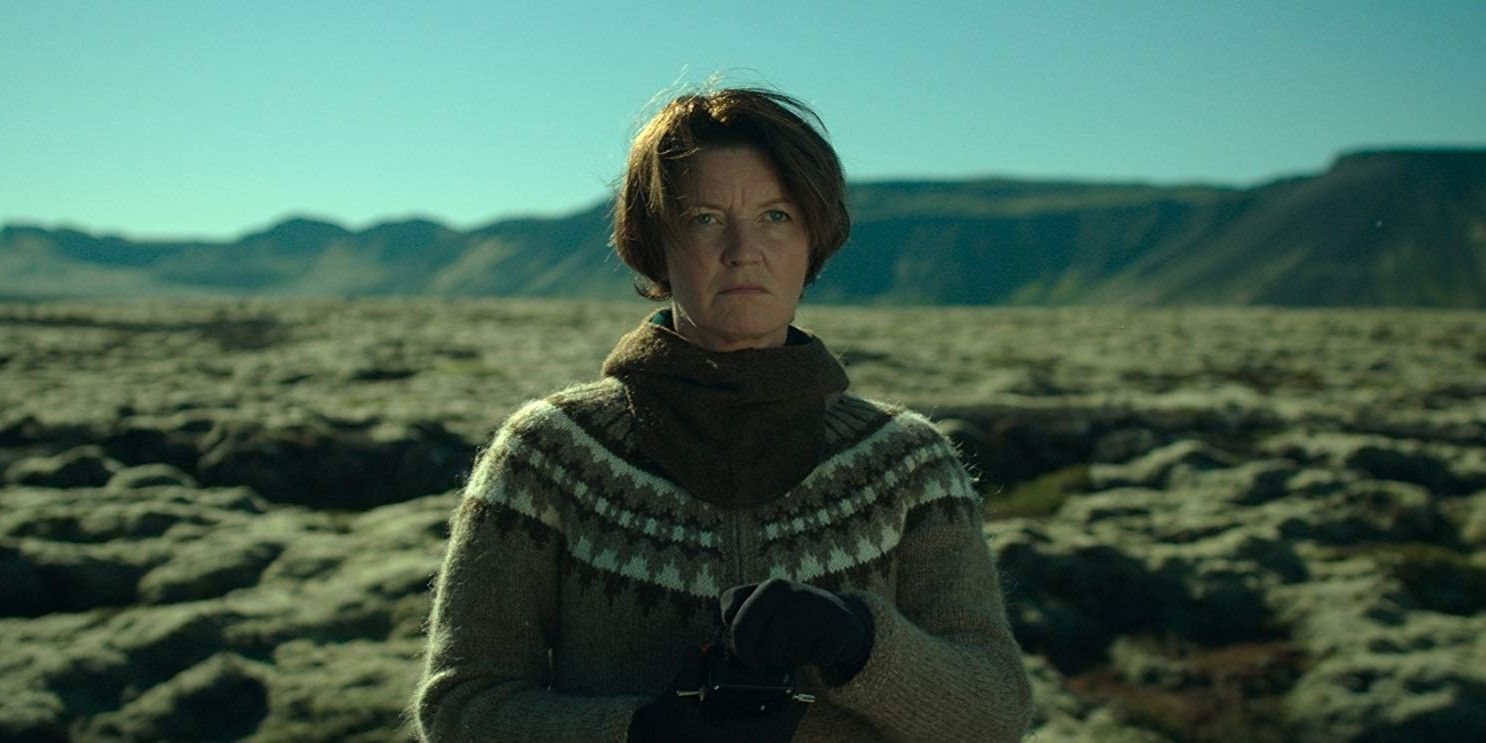 Halldóra Geirharðsdóttir wages war against an aluminum plant in the official trailer for the Icelandic comedy-drama Woman at War. The project, which Benedikt Erlingsson (who made his feature debut on 2013's Of Horses and Men) directed and cowrote with Ólafur Egilsson (The Oath), was Iceland's official entry for Best Foreign Language Film at the 2019 Academy Awards and premiered at the 2018 Cannes Film Festival, right before its theatrical release in Iceland last May.
Woman at War revolves around Halla (Geirharðsdóttir), a fifty-year old choir conductor who leads a double life as an environmental activist known as "The Woman of the Mountain". As Hall secretly carries out a one-woman war against a Rio Tinto aluminum plant in the Icelandic highlands, she eventually succeeds in getting the Icelandic government to pause on making a deal that would allow the company to build a brand-new aluminum smelter in the region. However, just as she begins to plan her most elaborate operation against the corporation yet, Halla is hit with life-changing news: her application to adopt a child has at long last been accepted and she is about to become the mother of a young girl from the Ukraine.
Related: Hotel Mumbai: Dev Patel Stars in Terrorism Docudrama
The U.S. trailer for Woman at War is now online, ahead of its domestic bow later this year. Take a look in the space below.
Woman at War has been well-received by critics so far, as illustrated by the various pull-quotes in this trailer. Among other things, the film's creatives and star have been commended for tackling serious global environmental issues in a thoughtful manner, without ever coming off preachy and/or heavy-handed. Indeed, the trailer suggests Woman at War is a visually handsome dramedy that's entertaining and informative in equal measure, between its compelling story, Geirharðsdóttir's multifaceted performance, and the majestic shots of the Icelandic landscapes where the movie was filmed.
Perhaps unsurprisingly, there's already a U.S. remake of Woman at War in the works. The film is being directed and headlined by Jodie Foster, who only just made her return to the big screen in last year's under-seen (but admirable) sci-fi noir pastiche Hotel Artemis, after a five-year absence. Foster has continued to direct in recent years and Woman at War has all the ingredients (a complex female protagonist, social issues, satire) that've come up in the Oscar-winner's work throughout her careers on both sides of the camera. Of course, for those who'd rather just watch the original movie, they'll be able to when the Icelandic Woman at War makes its way across the pond.
Woman at War is expected to hit U.S. theaters sometime in 2019.
This entry was posted by Screen Rant on January 16, 2019 at 10:01 am, and is filed under TV News. Follow any responses to this post through RSS 2.0. You can skip to the end and leave a response. Pinging is currently not allowed.