Yes, The Shazam Suit is Padded (Like Every Superhero)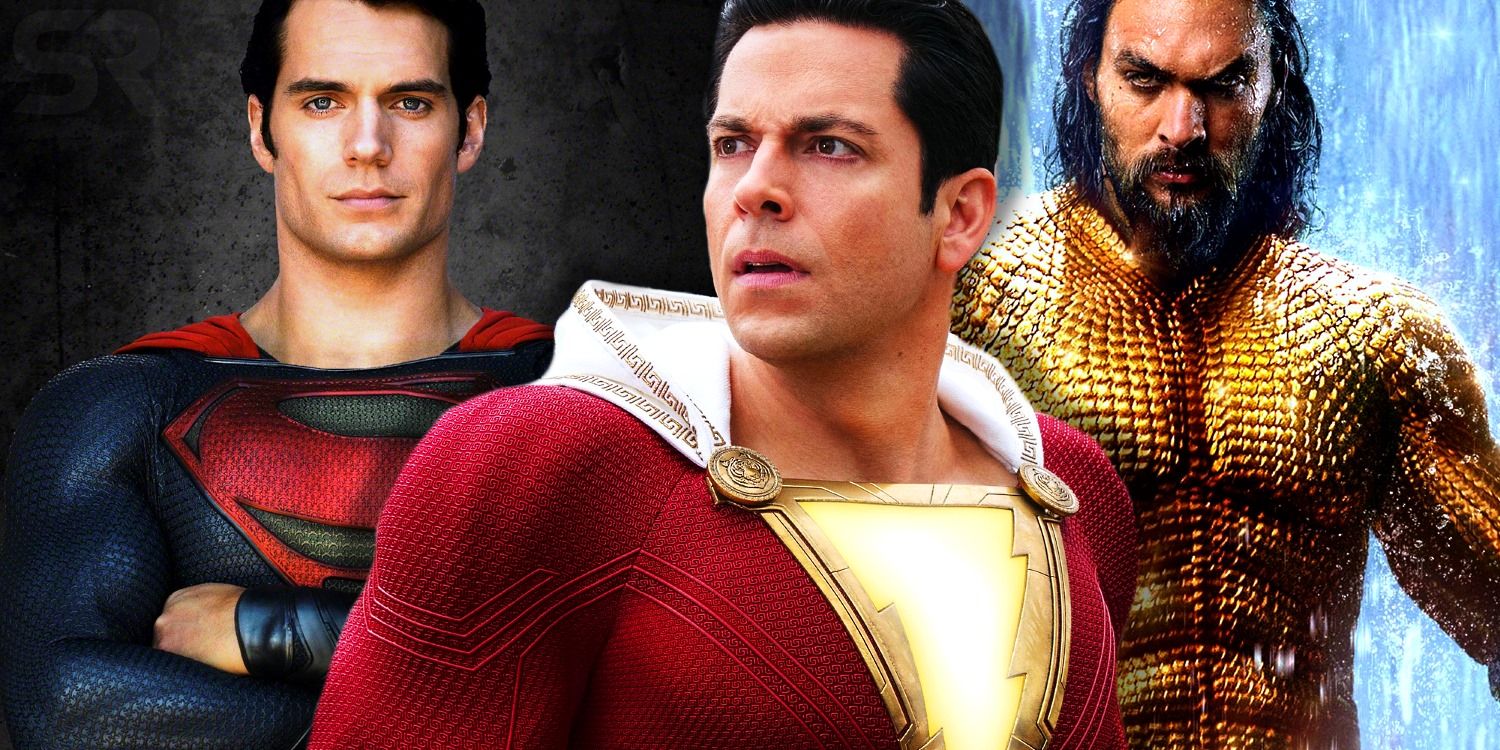 The debate can be settled, comic fans: yes, the Shazam! suit is relying on a structured underlayer to help star Zachary Levi look bigger than Superman. But anyone who thinks that "fake" muscles in a superhero costume are something new needs to come back to reality.
To be clear, it isn't our own analysis or investigation that has unearthed this secret. No, this confirmation comes directly from Shazam! costume designer Leah Butler, freely volunteered during our visit to the set of the movie early last year. But it isn't the victory or vindication that Shazam-suit "truthers" may claim it to be, and doesn't take anything away from the muscle packed on by Zachary Levi. From the sound of Butler's comments, if you see an actor claiming that it's only their body filling out a skintight supersuit... there's probably a costume designer behind them rolling their eyes.
RELATED: How Shazam! Will (and Won't) Connect To The DCEU So Far
As part of our set visit, we and a dozen other online journalists has the chance to examine the hero's uniform up close. We would recommend interested readers be sure to check out our detailed breakdown of the Shazam! suit with full quotes from Butler. But given the bulging muscles of the suit spotted in Shazam! set photos, and Levi's response to those claiming he hadn't actually gotten into superhero shape, the question was bound to come up.
Obviously Zack is in great shape, but does the costume enhance the superhero look or is it all natural?
Leah: Well, the only all natural person ever, in history, was Christopher Reeve. So there's your answer. Okay? Now, maybe Dwayne Johnson [attached for DC's Black Adam] would be, I'm not sure. I don't care who it is right now, everyone has [some underlayer]. But Zack got in incredible shape, so we were very thankful that he was able to do that, and his form has really helped so much and really showing our Shazam the way he should be. I think Zack has worked really hard--I don't know if you've seen the photos [laughs]--but he's done a really great job. So I just wanted to make sure you know that.
The comments from Butler will echo those who brushed off the claims of "fake muscles" immediately, since they're one of the movie industry's least kept secrets. When Henry Cavill first dropped jaws by packing on muscle as Zack Snyder's Man of Steel, and STILL relied on a hard underlayer to give him rigid abs, and arms carved from stone, the debate should have been over. But look deep enough into any super-costume, and you'll learn the same thing: in the battle between a muscular actor and a sturdy, resilient, compressing, skintight bodysuit, the manufactured fabrics always win.
That point was soon made by Butler's specialty costumer Federico Cervantes, the man tasked with getting Levi's Shazam! suit camera ready. And having worked on films like Man of Steel, Black Panther, Watchmen, and Spider-Man 3, his words carry weight. Especially when he clarifies that getting an actor into shape isn't just about how much they look like a superhero on screen:
These guys have to get in shape, because if you don't work out, the suit's gonna work you. Especially for action. Sometimes it's like wearing a rubber band, because there's a lot of resistance and the first thing we try to tell everybody is they're gonna be uncomfortable, put it that way. It's that pressure in the shoulders, and back straighteners... the outer suit is really compression, so we have to make sure that everything's in place, and things work smoothly.
For our part, we're willing to bet that those doubting Zachary Levi's size might change their tune after standing next to him. Or revisit Levi's shirtless Shazam! training selfie and remember he's standing over 6'3", the same size of Ben Affleck's Batman--a comparison we regret bringing up since there are probably still people who think the Batsuit was merely fabric, too. Even then, the fact that whenever Shazam stands beside the Justice League superheroes, he should look the most exaggerated in his physical form only needs Levi to believably fill out the sculpted suit.
Of course, all of this will likely be forgotten once Shazam! hits theaters, and lets the most rabid theorists devote their time to more than just the hero's wardrobe. The day can't get here soon enough. Stay tuned to Screen Rant for more Shazam! set visit coverage, including interviews, previews, and some theories of our own.
This entry was posted by Screen Rant on January 24, 2019 at 12:01 pm, and is filed under TV News. Follow any responses to this post through RSS 2.0. You can skip to the end and leave a response. Pinging is currently not allowed.