Zombieland 2 Plot Details Reportedly Revealed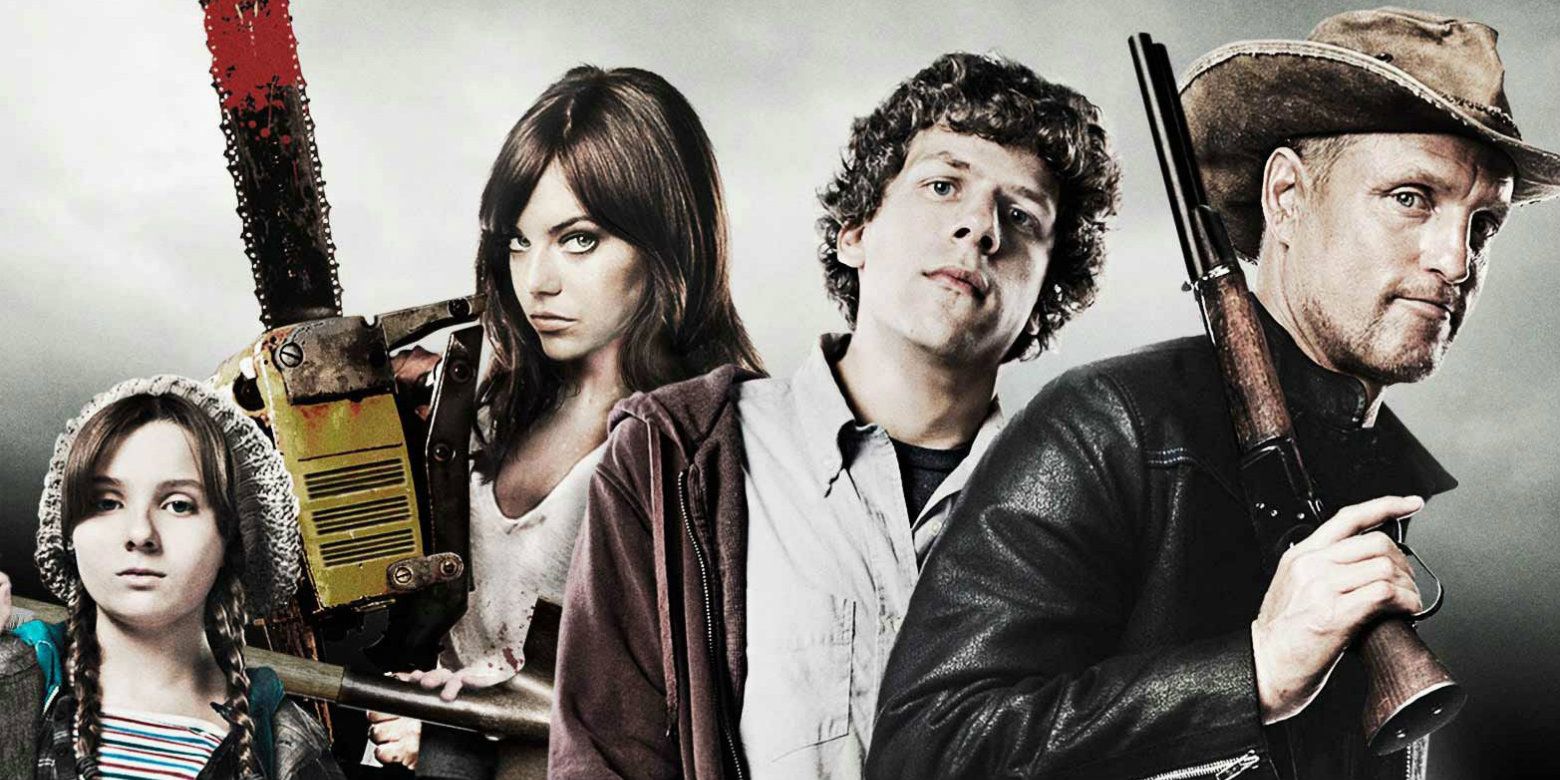 New plot details for the upcoming sequel Zombieland 2 have reportedly been revealed. Zombieland 2 is the long-awaited sequel to the 2009 zombie flick that starred Jesse Eisenberg, Emma Stone, Woody Harrelson, and Abigail Breslin. Rumors about the development of Zombieland 2 have been in the news for years, but it finally looks like the project is moving forward.
After the failed Zombieland TV show in 2013, fans were even more so itching to get a proper sequel to the original film. At one point there was a rumor that the movie had already been test screened, meaning Zombieland 2 had already been filmed, but the co-creator of Zombieland, Rhett Reese, was quick to put that rumor to rest. Just a week after this, a legitimate sequel to Zombieland was officially announced with Ruben Fleischer directing, and the four original cast members returning. Now, the plot details for the film have seemingly been revealed.
Related: Here's The Current Status of Zombieland 2 From Its Director
According to Super Bro. Movies, Zombieland 2 will further tell the story of Columbus, Tallahassee, Wichita, and Little Rock as they make up camp in the White House. The story will revolve around Colombus and Wichita getting into a fight that breaks up the makeshift family, causing Little Rock to leave with a man named Berkeley, played by Avan Jogia. As the group ventures off to find Little Rock, they encounter new kinds of zombies including, "Homers (dumb ones), Hawkings (smart ones) and Ninjas (deadly ones)". Tallahassee is also said to encounter another female zombie hunter that matches his skill set named Nevada.
Besides the four main cast members, Bill Murray is also reportedly set to return, along with his Ghostbusters co-star Dan Aykroyd. Zoey Deutch has also joined the cast in an undisclosed role. Writers on Zombieland 2 have debunked the rumor about Zombieland Too being the title for the film, and Fleischer previously confirmed that filming would begin for Zombieland 2 this month in Atlanta.
Details surrounding Zombieland 2 have started to creep out of the woodwork in recent months, but these new plot details give fans a good idea of what the film will actually be about. If Zombieland 2 keeps its cast small as the first film did, it's possible that Deutch will be playing the zombie-hunter named Nevada that was mentioned in the plot details. Now that writers Rhett Reese and Paul Wernick are finished on the Deadpool movies and Fleischer's Venom film has come and gone from theaters, it isn't surprising that they are returning to the world of zombies for Zombieland's tenth anniversary.
Source: Super Bro. Movies
This entry was posted by Screen Rant on January 21, 2019 at 7:01 am, and is filed under TV News. Follow any responses to this post through RSS 2.0. You can skip to the end and leave a response. Pinging is currently not allowed.