Black Adam & Shazam Fan Art: Dwayne Johnson, Zachary Levi's Disney Characters Suit up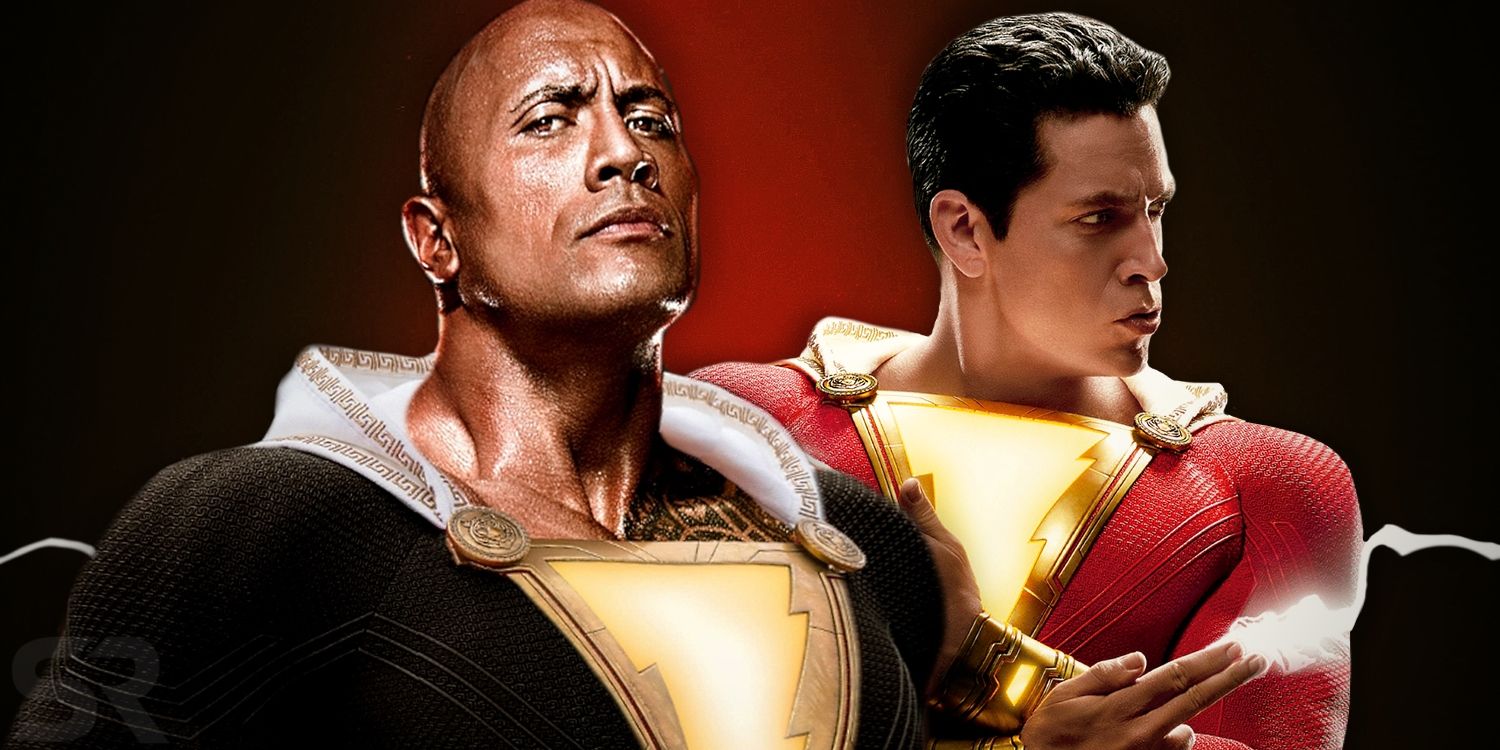 Two of DC's major characters have received the Disney treatment in a new piece of fan art. Zachary Levi recently suited up as the titular superhero in the latest DCEU outing: Shazam! Dwayne Johnson, meanwhile, has long been attached to play his comic book nemesis, Black Adam. Many fans expected the infamous villain to make at least a post-credits cameo in the recent film, but, reportedly due to Johnson's suggestion, it wasn't to be. The character's backstory was teased, however, seemingly setting up the solo Black Adam film which is currently in the works. The film recently announced that Jaume Collet-Serra would serve as director. According to Johnson, Black Adam will film next year.
Prior to that, both Levi and Johnson made their mark within the animated world of Disney. Levi voiced the arrogant, sarcastic Flynn Rider in 2010's Tangled. He reprised the role in the sequel short Tangled Ever After and then again in Tangled: The Series. The franchise served as a fresh take of the Rapunzel fairytale, with Mandy Moore voicing the long-haired princess. Johnson, meanwhile, voice the equally arrogant demigod Maui in 2016's Moana. The film went on to win two Academy Awards.
Related: Shazam 2 Can Make Black Adam a HERO, Not a Villain
Artist BossLogic decided to cross the streams of the disparate properties, however. Posting the artwork directly to Instagram, it depicts Maui and Flynn Rider suiting up as Black Adam and Shazam, respectively. The piece comes with the hashtag "Whatif" and perfectly blends traits both characters. Rather than enemies, the infamous comic book enemies look instead like quite the formidable team. Although there is an extra level of menace in Maui's eyes. Check out the full post below:
The piece has already garnered a few celebrity fans, including Seth Green and Deadpool's Ryan Reynolds. The latter will have some experience in merging with Disney, with the character of Wade Wilson being one that Disney now owns after acquiring Fox. How the typically R-rated Merc with a Mouth will fit into the MCU remains the subject of much speculation, with some believing that Spider-Man: Far From Home could set up his introduction. Whatever the case, the potential for hilarious new team-ups are endless. Green, meanwhile, served as the voice of Howard the Duck in both Guardians of the Galaxy films. The character later made a wordless cameo in Avengers: Endgame.
Despite Disney's ever-expanding, all-consuming empire, it's unlikely that they'll get a hold of DC characters any time in the future. As such, idea of what if Flynn Rider was chosen by The Wizard and Maui was the previously chosen champion destined to become his nemesis will remain solely a work of BossLogic's imagination. Disney will instead have to focus on their planned What If animated series. The first season of which will explore a world in which Peggy Carter received the super soldier serum instead of Steve Rogers. Still, seeing Black Adam and Shazam together will serve as a brief respite from waiting to see the characters officially clash on the big screen. Or at the 2019 MTV Movie & TV Awards, which Levi is scheduled to host and at which Johnson will receive a generation award.
More: All 30 Upcoming & In-Development DC Films
Shazam! will be available via Digital on July 2 and via Blu-ray on July 16; Black Adam has yet to receive an official release date.
Source: BossLogic
This entry was posted by Screen Rant on June 14, 2019 at 5:06 am, and is filed under TV News. Follow any responses to this post through RSS 2.0. You can skip to the end and leave a response. Pinging is currently not allowed.