How Much Will It Cost To Stay At Disney's Star Wars Hotel? A Lot!
Disney is developing a Star Wars hotel for their Florida resort, but early price indications make for eye-watering reading. Earlier this year, Disney finally opened its highly anticipated Galaxy's Edge theme park. Set on the fictional planet of Batuu, Galaxy's Edge offers guests a complete, immersive Star Wars experience with two major attractions, a Mos Eisley-style eating establishment and even alcoholic beverages for the very first time. Despite the hype and the star-studded opening, Galaxy's Edge hasn't had an entirely smooth debut. The park attracted criticism for selling clothing that guests weren't allowed to wear on-site and first month attendance figures have been lower than predicted.
Late last year, reports emerged revealing the Disney was looking to expand on its Star Wars park adventure by constructing a new hotel. Modeled on a luxury Galactic Starcruiser, the hotel, like Galaxy's Edge, is designed as an immersive experience. Concept art shows that rooms won't just be decorated with Darth Vader wallpaper, they'll be constructed to mimic the spaceship cabins seen in the Star Wars movies. Venturing even further down that immersive path, the hotel will have few windows, only screens depicting outer space, and will feature alien crew members and timed "events" such as being boarded by the First Order.
Related: Everything We Know About Star Wars' Obi-Wan Kenobi TV Show
That may sound like a dream holiday for the Star Wars faithful, but the honor of being woken up by a man dressed as Kylo Ren at 3am doesn't come cheap. As reported by designboom, guests will be restricted to a 2-night stay and estimates for current room prices stand at $1,400 per person for both nights, potentially rising to $3,300.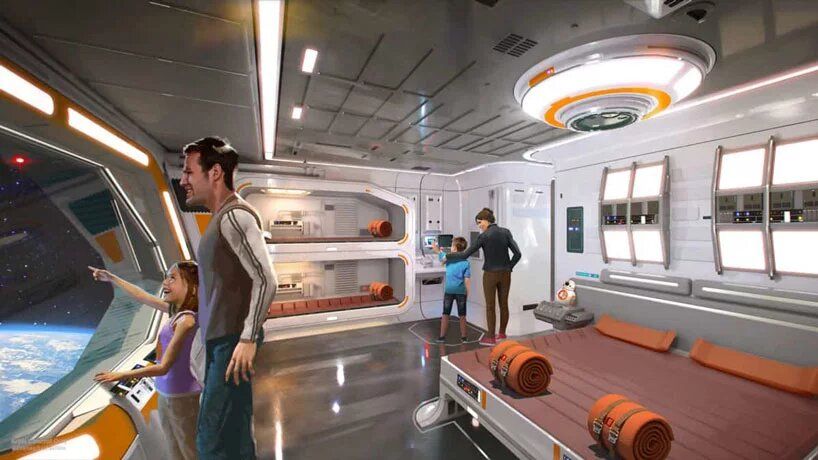 The average Disney hotel stay would usually set guests back around several hundred dollars a night, so even using the minimum estimate, the Galactic Starcruiser will apparently cost almost double the price of a regular hotel in the same area. The highest estimates would put Disney's Star Wars hotel on par with some of the priciest establishments in the locale. However, there are obviously plenty of bonuses that can't be found at your local Best Western, such as the immersive interaction, the franchise theme and additional attractions such as lightsaber training and starship tours. Whether these activities are worth taking an extra hit to the pocketbook largely depends on your level of Star Wars fandom.
For some, the prospect of a full three days living in a galaxy far, far away is worth virtually any price, and this may be what Disney is banking on. For many tourists who aren't dedicated Star Wars fans, however, a vacation hotel room is a haven away from the manic hustle of Florida's theme parks and the intense weather. Is there really a market for a hotel that has very few real windows, a sterilized futuristic design and a battalion of Stormtroopers between you and the elevator, especially after a busy day in the crowds and queues of the Magic Kingdom?
More: What Star Wars 9 Needs To Do To End The Skywalker Saga
Source: designboom
This entry was posted by Screen Rant on September 11, 2019 at 4:09 am, and is filed under TV News. Follow any responses to this post through RSS 2.0. You can skip to the end and leave a response. Pinging is currently not allowed.