Bayley Slays Inflatable Buddies, Wins WWE SmackDown Women's Title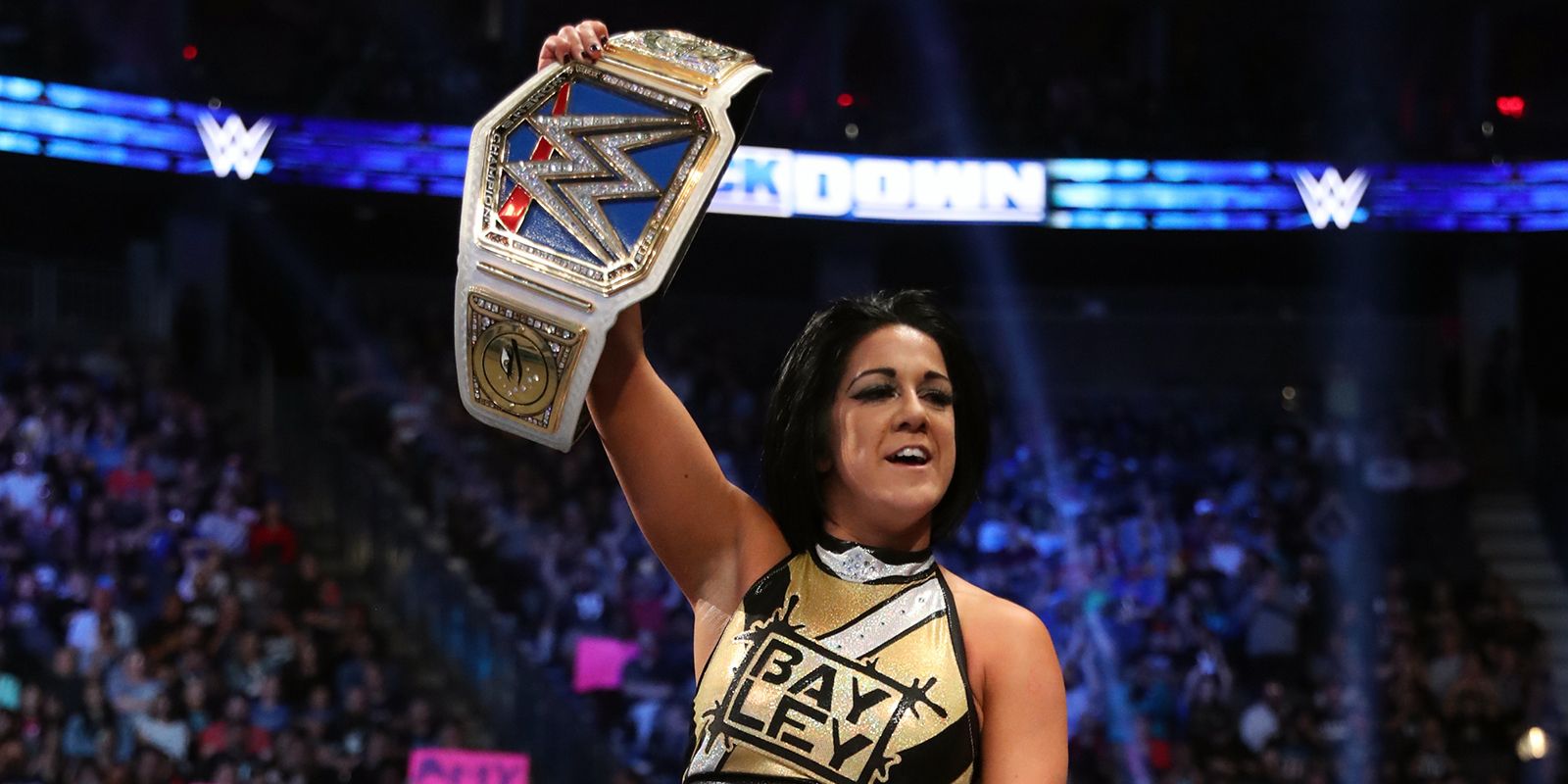 WWE Superstar Bayley had an eventful Friday night on Smackdown: She debuted a new haircut, along with new entrance music, she recaptured the Women's title, and she murdered the inflatable tube men that have been a part of her journey for years.
It's quite the turn for the performer many compared to John Cena, in terms of her positivity and appeal to the youngest generation of WWE viewers. But since leaving NXT and debuting on Raw in late 2016, Bayley has never captured the same sense of magic that she did as part of WWE's developmental system. Some blamed the way Bayley was presented, credibly citing the fact that someone like Vince McMahon would predictably and fundamentally misunderstand the goodness of Bayley's character. Others saw flaws in Bayley herself, believing she lacked charisma whenever she had to speak at any length. While Bayley's main roster run has been far from a failure, and while she's had ups and downs like any other performer, it's generally agreed that she hasn't turned into another John Cena: an inherently good role model for young children who still believe in the larger than life athletes they watch on-screen. That possibility is, for the moment at least, also dead.
Related: WWE Went All Out To Beat AEW - And Failed
On Friday's edition of Smackdown, which also included the first part of a two-night draft, Bayley faced Charlotte in the main event for the blue brand's Women's title. It was an opportunity for Bayley to reclaim the championship she lost at the Hell in a Cell event. The differences were evident right away. Bayley was sporting a shorter hairstyle, forgoing her usual ponytail and headband. Her entrance music was different as well. Then, before the match even started, she took a pointy object and started stabbing away at her blowup buddies. Check out the carnage, in full, below.
It's worth noting that Bayley has already been a villain (a 'heel', in wrestling terms) for the past few months, ever since she sided with Sasha Banks and attacked Becky Lynch with a steel chair. But, before now, she insisted that she was still the same person. Her hairstyle hadn't changed, her entrance music was still upbeat, and those tube men were still happily waving around in the sky. By the time Smackdown ended, that was all gone. For good measure, after winning her match and regaining her gold, Bayley grabbed the microphone and referred to those in attendance as 'bitches'.
Bayley clearly had fun with the change, but it does point to an issue with WWE's writing. When a talent moves up from NXT to either Raw or Smackdown, which have different writers and a different creative process, they lose so much of what made them popular in the first place. Bayley's gimmick, her character, the thing people liked about her, was how she started out in NXT as a shy, socially awkward fan who would gush around big stars like AJ Lee. Over time, she grew in confidence and had admirers of her own that looked up to her.
It's an uplifting, simple story. It's a shame that it never really worked on a grander stage. On the other hand, John Cena had to turn into a heel first before he achieved his status as a consistent, constant hero. Maybe Bayley will follow a similar trajectory.
More: Hulk Hogan Wants To Return For One More WWE Match At WrestleMania
Source: WWE
This entry was posted by Screen Rant on October 12, 2019 at 8:10 am, and is filed under TV News. Follow any responses to this post through RSS 2.0. You can skip to the end and leave a response. Pinging is currently not allowed.